While student-athletes spend a lot of time training and practicing plays, sometimes the missing piece requires the right person cheering to tip them over the edge to victory. Frederick High School is known to have one of the best student sections in the district, known as "The Rowdy Crowd." But some of the athletic programs aren't getting the attention and support other popular sports programs receive. One of these sports is wrestling. 
Frederick High School's wrestling team is led by Head Coach Anthony Medina, and their regular season wrapped up after going 1-5. They concluded their last home dual on Senior Night Friday, February 4th of 2022. They'll have regionals this upcoming weekend February 11-12.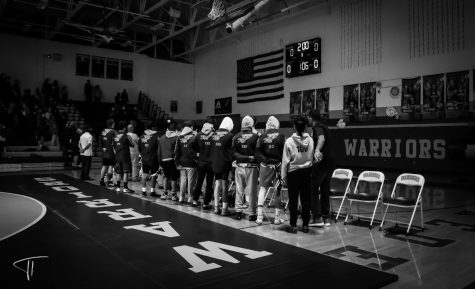 Though the team has plenty of great athletes, Mead conquered the Warriors 59-16 on Senior Night last Friday. Due to the lack of weight classes at FHS lots of the matches during duels and tournaments led to forfeit, hence the tough loss.
However, despite the regular season coming to an end, Coach Anthony is still optimistic. He quotes, "I'm happy with our team I know that once we fill all the weight classes we will have a real shot at hanging with and beating some more established teams. We're young this year with most of the team being freshmen but despite that, we show great promise. If this class sticks together Frederick will make real waves in the future."
"Some challenges our team has had to face is the lack of wrestlers near the end of the season when people start to leave. It gets tough to practice but if we all keep going hard we can get through it strong," senior Alex Carrillo states.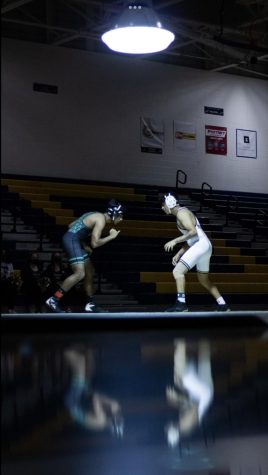 The season outcome wasn't intended, but lots of the team members placed in Saturday tournaments. The team overall had a lot of individual success. "I think TONS of people should be involved with wrestling. It teaches people self-control and you face challenges that you might not face in any other sport. I think our student section should at least show up once to see what wrestling is like and maybe it will get more students to come to watch!" Senior Mikey Espindola quotes.
While speaking with some of the seniors, it made me realize that we need more participation in the wrestling program whether it's on the mat or in the crowd. "Wrestling isn't for everyone, that's for sure. It's a hard, yet entertaining sport so at the very least every student should be able to come to cheer the wrestling team on." Senior Sawyer Harnig quotes
Watching some of the duels and tournaments from the crowd can be so much fun, you can feel the crowd's energy, thrill, and excitement.
Coach Anthony states, "The team has battled injury, sickness, and but above all loss. We wrestled all season with half a lineup, but we pulled together and still beat some teams head to head. We preach the values of sacrifice and positivity."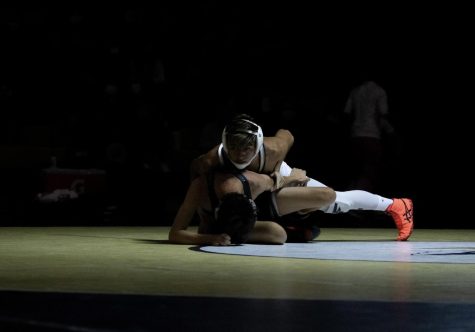 "Despite losing most of our matches purely based off of giving up 6 points per weight class we couldn't fill, the team pulled together and really stepped up. If anything I feel it brought us closer together."
Coach Anthony believes this season is building ground for years to come. "A team that can lose together quickly realizes they can win together. Next year we plan on trying to recruit more to fill those weight classes. We plan to put Frederick on the map and build excitement and support within the school."
Despite a tough season, the team has battled it out, and the future looks brighter than ever. "This is one of the strongest freshmen classes Frederick has had since I began coaching here. It's only a matter of time before things really take off."