Frederick Quill & Scroll

The Quill and Scroll International Honor Society for High School Journalists is a student organization intended to promote and reward journalistic excellence. Founded on April 10, 1926 at the University of Iowa, Quill and Scroll offers students with scholarship opportunities, faculty advisers with teaching resources, and accomplished young journalists with national recognition.
Frederick's chapter of Quill and Scroll was founded in the spring of 2019, and Quill and Scroll membership is considered the equivalent of lettering in the area of journalism.  Frederick's journalism program includes work on The Frederick Blueprint (the school yearbook), the Frederick Lantern (the school news website), the Frederick Firefly (the school literary magazine), and the Golden Eagles Broadcast Network.
To become a member of Quill and Scroll, a journalism student is required to:
be a sophomore, junior, or senior
have above a 3.0 GPA or rank in the top third of their class
must demonstrate exemplary work for a school journalism program
To satisfy that last requirement, Frederick requires students to pass at least two semesters of a journalism-based class (Yearbook, Journalism, or Broadcasting) and to earn ten points in an activity-based point system developed by the Quill and Scroll faculty advisers. While points are tabulated in the separate areas of yearbook, publications, and broadcast, a student only needs ten points overall.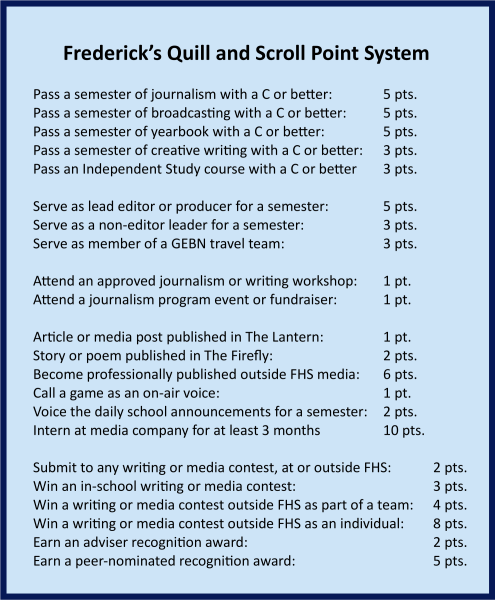 Upon meeting the requirements and going through an induction ceremony, a student becomes a member of Quill and Scroll. After accruing 30 points in one of the three areas of media, a student earns a quill pin in addition to their membership pin (gold for broadcasting, silver for publications, and bronze for yearbook). A graduating senior who still has above a 3.0 GPA and earns 60 points (including 10 points during senior year) will be granted commencement cords for the graduation ceremony.
For more information on Quill and Scroll, please contact: