Track Season Running With Full Head Of Steam
The Warriors Track & Field season is in full swing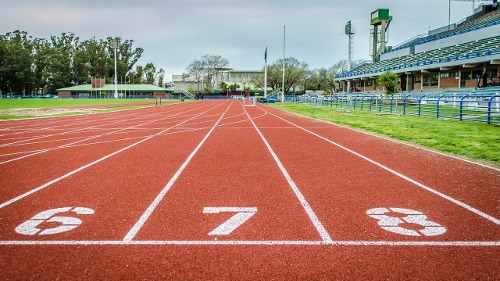 ---
Track & Field may not grab as much public attention compared to other team sports at Frederick High. However, if you ask the students, it's still a sought-after and anticipated sport during the spring.
Many athletes at Frederick High that are in Track & Field predominantly use the sport to stay in shape and gain more athleticism for their primary sports during the off-season. But Track is more than just that. Head Coach Mrs. Mares quotes, "I think the best part about Track is there is a place for everybody willing to come out whether it's in the field events or different running events, it doesn't matter what your level of experience is there is a place for you."
Last year, the 4×400 team won the state title. It will be tough to follow that up this year, but the Warriors are up for the challenge. So far, the season has been a success for the athletes, as they've improved their personal times and gotten in better shape. Most importantly, the athletes have grown closer together and forged new relationships.
Freshman Payton Torres quotes, "Track has helped build new friendships with people you may have never met. Spending time with each other and doing events together also helps build a lot of relationships."
Senior Mikenna Hoffman states, "Being on the Track team has forced me to burst my bubble as an introvert and interact with people on the daily that I normally wouldn't, which has created a ton of friendships which I know would not have otherwise existed."
It's been an up and down season, yet each team member has personally contributed to the success of building the team and making it stronger with their hard work. Coach Mares adds, "we are right now in the second half of the season, so I'm looking forward to everybody reaching their best times and distances."
One of the challenges the team has faced this year is the weather. With the inconsistent wind and temperatures, it's been hard for the team to be at its full potential. Coach Mares states, "with the meets, Varsity has been pretty lucky with the weather but JV has run into some very windy conditions. But they've still been great, they competed hard.
Though the weather can be a challenge there's so much more that goes into Track and what makes it so difficult. Senior Alex Carillo states, "The difficulty really comes from the mental aspect of the sport. Near the end of any race, it's a fight. When your legs feel exhausted it's really tough for athletes to push through it and that's what makes it so difficult.
Tons of students also take advantage of running Track as a sport to stay healthy and strong during their off-season from their primary sport. Sophomore Jayson Tyler states, "I use the track as essentially my off-season workout program, it really helps me become more athletic in general and helps me build more of a stamina for other sports."
Though Track is a good tool for an off-season sport, it can also benefit you in other ways like receiving recognition and confidence, "I use Track to help stay in shape, and practice on my running form. It also benefits me because college coaches always encourage you to do more than one sport in high school," Junior River Lakey adds.
The team is always working and seeking improvement, towards their end goals. Coach Mares quotes, "We have a bigger team this year and with a bigger team, there are bigger pockets of trying to figure out what the commitment of the team is. I think half of our team is working on a commitment to a high school sports team which is five to six days a week. But then the other half of those who are familiar with being committed to a high school team, we are working on dropping those times and getting to the state week."
The next Track meet will be held on April 22nd, hosted at Frederick High. Show the other schools what Warrior spirit is about and get rowdy for our track athletes!