Hailey Simmons is a remarkable student. Although Hailey Simmons is a reserved person who sets an excellent example, once you get to know her, you'll find that she is incredibly spontaneous and someone you'll always want to be around. Hailey is an all-around student-athlete because in addition to playing softball and tennis, she also draws and paints with remarkable talent. 
As a sophomore who transferred to Frederick High, Hailey Simmons has worked hard in the classroom, the art studio, the tennis court, and the softball diamond. In addition to her successes, Hailey has tried a handful of sports such as soccer and basketball, "I stopped playing soccer when I got to high school and then stopped playing basketball after freshman year. Currently, I am playing softball and tennis. I grew up playing tennis with my grandpa so when I got to high school I really wanted to play so that's what I did."
Hailey has always valued tennis, and she has fond memories of playing a lot of tennis with her grandpa. Hailey enjoys playing tennis for enjoyment as much as competition; she always looks forward to it as a way to decompress and pass the time. Hailey earned a tennis letter her freshman year at Horizon High, where she played number 1 doubles. After transferring to Frederick, she continued to hold a varsity spot since she continued to play number 1 doubles. However, Hailey was destined for a change, and she immediately began performing number 1 singles her junior year. "Tennis has always been just for fun and it is such a light environment so it has always been easy for me. Hopefully once the season starts this year I will be 1 singles again."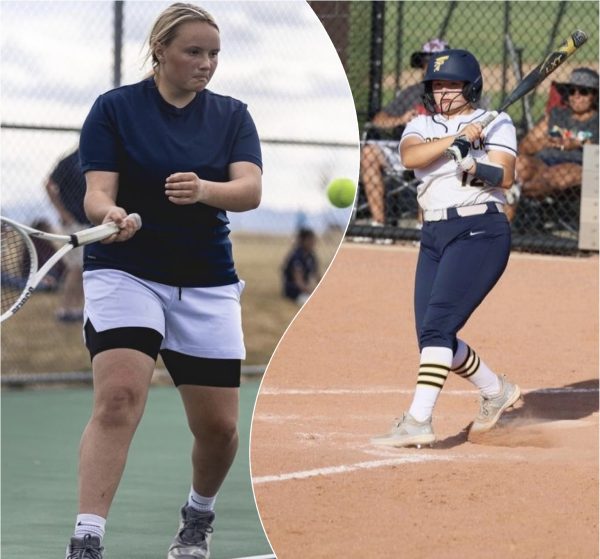 When it comes to softball, Hailey has been playing for as long as she can remember. She also enjoyed playing the sport for fun. However, once she began playing high school softball, she had to adjust to a more competitive environment. Despite this adjustment being challenging, Hailey was more than capable of doing so. In addition to lettering her sophomore, junior, and senior years after relocating from Horizon to Frederick, Hailey also garnered All-Conference and honorable mention All-State her junior year. "Softball has been with me since I was 6 years old. My dad has always been my coach and all he focused on with us was to have fun playing the game, so the transition to high school was a little tricky. The good thing was that I played comp soccer so I knew what it was like to be yelled at and to be more serious." Hailey hasn't decided yet whether or not she wants to play softball in college, and if she does, she'll probably decide later this year.
Hailey enjoys watching movies or youtube and doing art in the process when she's not playing sports. As she got older, Hailey developed a passion for art. Her artistic talent is undeniable, and if she has a pencil and some paper, nothing can stop her from producing a work of art. "I really really enjoy making art and I can not see myself doing anything else in the future. Just the thought of being able to do something that I love so much as a job makes me very excited for what's to come. My style of drawing is pencil and a thin point sharpie. I don't usually use color. I love to draw grunge things, dinosaurs and dragons."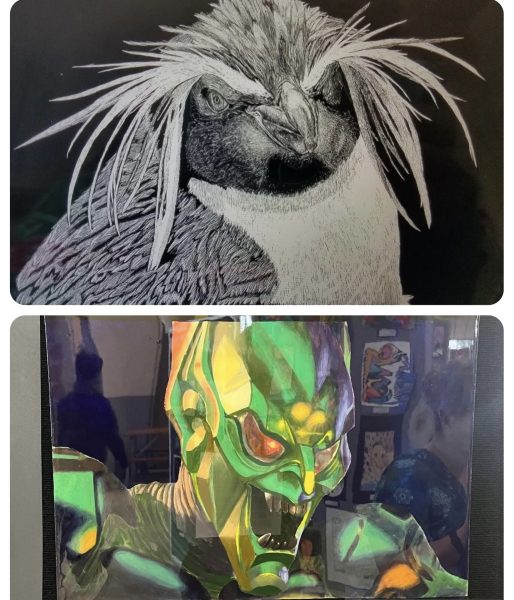 Even though Hailey was born with a natural talent for the arts, she is constantly striving to advance her knowledge and skills. She has received a lot of instructor input at Frederick, and that has pushed her in the right direction. "I have taken many art classes and I am taking quite a lot right now. In the past I took beginning drawing, advanced painting/drawing and intermediate crafts. Beginning drawing really showed me how to get started with artwork. It focuses mostly on the basic skill and it really helped me get started with creating accurate pieces. Advanced painting/drawing just took my skills to the next level. The classes I am taking right now are AP art, beginning ceramics, and crafts. AP art is really challenging my artistic thought. It is not all about the skills, it is about coming up with the subjects and stories of your piece. Each piece needs to have meaning so it is pretty difficult to come up with ideas." 
Hailey has always been very proactive, and she keeps her GPA at 4.0 and makes sure she finishes every year with all A's. Hailey's parents have a significant role in her success, performance, and thinking. "I think my parents inspire me the most. They have taught me that I do not need to be the smartest person at the school and take a bunch of AP classes to be successful in the future. They have taught me to be my own person and not let anyone change the way I think." 
While it may seem like high school was a breeze, Hailey adds that it wasn't always that way and that she had to put in a lot of effort to get the results she desired. "I honestly don't think I manage and balance my schedule that well even though I have been doing it for four years. I definitely do my best and I usually get things done when they need to be done but I have yet to master it. For me, it is the late nights getting done what I need to get done and managing all the things I do is something I need to work on for the future." 
Hailey has had an unusual high school career overall. She attended Horizon High during her first year of high school, and because Covid-19 was so awful, she found it difficult to stay motivated as she switched between online and offline settings. She describes how relocating to Frederick wasn't any simpler, but when she adjusted, she discovered that she was more at ease and confident in her surroundings, "When I moved to Frederick it was hard for me to make friends. I did not know one person going into my sophomore year and being a very shy person I struggled. Luckily sports helped introduce me to some people but it was still hard. By my junior year I finally made some friends and I really feel like I figured things out including school. I am taking a bunch of fun classes to sign off my senior year and I am very excited for the days to come." Hailey said that although it has been a wild ride, she would miss her closest friends that she has made along the way and the classmates who have supported her during her four years of high school.
While one chapter of Hailey's life is about to come to a close, she already has plans for the next one. After high school, she intends to enroll in a four-year college, though she is not yet sure where she will go. She has some ideas for the subjects she wants to study during the coming years. "I don't have a set plan on what I want to study yet but my main thought right now is to major in business and minor in art. My other thought is to just go the art direction." Hailey has always been highly athletic and has a strong interest in art. She also has a clear notion of what she wants to do after she graduates from college. "I definitely want to go down the art route or something physical. Tattoo artists have always stuck out to me as something I can see myself doing. To go the more physical route I have been thinking of being a firefighter."
Before drawing her future, Hailey gives some sage advice to students who will soon enroll at Frederick: "I would just say have fun with it. The four years you get with these people you are surrounded with go by so fast even though it may not seem like it right now. These truly are going to be the best years of your life but that is only if you let it be." Hailey hopes that others will be able to see who she is as a person behind all of the quiet and reserved moments because, once you get to know who she really is, you'll find that she's an outgoing person who also happens to be one of the funniest people you will ever meet.