Tatum Ross may come out as being straightforward at FHS, but she is so much more than that. Tatum is working hard and making a difference as a student-athlete, making sure that every day matters. In addition to being a valuable member of the varsity softball team, Tatum is steadily laying the foundation for her future and her profession. Tatum is more than simply a student athlete; she also has interests outside of softball. She likes spending time with her family and friends, playing pickleball, watching movies and binge-watching television shows in her free time.
Tatum started playing competitive softball at the age of 9 and she has continued to do so for Frederick. She aspires to continue playing in college. Tatum started on the varsity team her freshman year of high school, and she has since earned a letter during her fourth year at Frederick. During her freshman and sophomore years, Tatum took on the position of playing first base, and during her junior and senior years, she switched to become the primary third baseman. Tatum delivers a big leadership role at Frederick since she hits for power and typically bats in the power four hole in the lineup. 
"My softball highschool career has definitely had its ups and downs but I have had a great experience and I have met some of my best friends," Tatum quotes. While still enjoying the memories of highschool softball, being student-athlete has tested Tatum's time management abilities, even though she has had to overcome several challenges that got in the way. "By making sure I gave school and athletics the necessary amount of time and attention, I was able to overcome this issue," she says.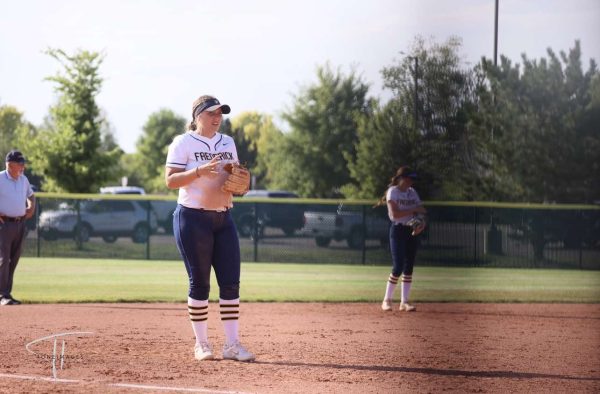 Tatum intends to continue her academic and softball career at college, although she is still unsure of her location for the fall semester. Tatum has spent a lot of time playing and soaking up the joy of softball, but she has also been around sports her entire life. After high school, she wants to study sports medicine. "I plan on studying sports medicine after highschool. I decided this because I want to stay around sports for the rest of my life." While deciding her career path Tatum chose to take sports medicine classes at CETC during her senior year of highschool because she wants to get a head start and achieve big. 
However, before crossing the stage, claiming her diploma and shaping her own way through life. Tatum says she will miss many of the memories she has made while in high school, but there are still a few she wants to make before she graduates. "I would like to return and attend state for softball my fourth year in a row and I would like to maintain good grades as well." Everything eventually comes to an end, and Tatum says that while she had a lot of friends in high school, they were the ones she least anticipated to still be friends with today. "I have made a lot of relationships during highschool and I'm gonna miss my friends and the memories I made," she says.
Tatum is a confident, extroverted leader who does and will succeed both on and off the field. But first, she reflects the actual spirit of high school and offers some wise counsel: "Make sure you soak in your highschool time, it will go fast. Simply try to stay as present as you can while continuing to put in effort and maintaining your focus." Tatum wants to be remembered as a kind and caring person who welcomed everyone, and although she has done a lot both on the field and in the classroom, that is precisely how she will be remembered, as high school draws to a close.