Most athletes need two things to get through practice: rest and food. Luckily, Frederick wrestlers get both from head coach Anthony Medina. In addition to leading the wrestling team on the mat, he also feeds them with delectable Puerto Rican cuisine from his business, Dos Medina's food trailer. Medina provides both meals and mentorship and hopes to use this combo to fuel this season's wrestling team. 
"I was blessed to have amazing coaches that really had a strong, positive impact on my life," Medina said. "I have worked with coaches that were Olympians, National champions, and Wrestling Hall of Fame members, and they always inspired me to do my absolute best [ . . . ] I can only pray that I can give back some of what they gave to me to the kids that I coach."
Medina's focus on both the bodies and the minds of his athletes is laudable, but it takes an incredible amount of effort. During wrestling season, Medina will sometimes work seventeen-hour days between his business and his coaching: "We wake up [at 4 AM] and get the trailer ready to be open from 10 AM until 2 PM. Then I run home to eat and shower, and then I go to practice until 7 PM. After practice, I have dinner with my family and take care of emails before bed."
While owning his own business gives Medina some flexibility in his schedule, operating a mobile food truck is difficult. Medina only started his business six months ago and said that "currently, we will see roughly ten people per day at our spot at the American Legion in Firestone. We are brand new, so many people in the community don't know what we are about or the foods we sell."
And what is the menu at Dos Medina's? Dos Medina's serves Puerto Rican-style cuisine, including pork rolls, empanadas, loaded rice, pincho barbeque, and fried plantains. They also have a few American-Caribbean fusions popular in Puerto Rico like loaded papas fries and Rican chili dogs — both of which are popular among Frederick wrestlers.
"I have always wanted to run my own business. I didn't know exactly what I wanted to do until I was settled here in Frederick," Medina said. "After living here for nine years, I saw a need in the community for different food options. I want to really make a difference and thought we could achieve this by bringing traditional Puerto Rican food to the area. I also wanted to do something that would allow me to continue coaching while also supporting local events and causes."
For Coach Medina, coaching is as important as his business. He works tirelessly every season to ensure that his players receive the respect and care they are due, both on the mat and in their regular lives. "Anthony is always a get-things-done coach with a fun attitude," said junior wrestler Diego Rangel. "At the same time, he always cares about athletes physically and mentally. Coach always pushes me to be better than I was." 
Medina trains his players using a competitive yet positive approach. While he always looks for ways to develop the entire team, he spends time connecting to each player who steps onto the mat. "I hope that they know they can always talk to me, that I'm genuinely here for them," said Medina. "But they know I am honest, and I will challenge them to always try to do better and stay positive. I just hope that they respect me like I respect them, and give me the same effort that I'm putting into helping build this culture of success for every one of them."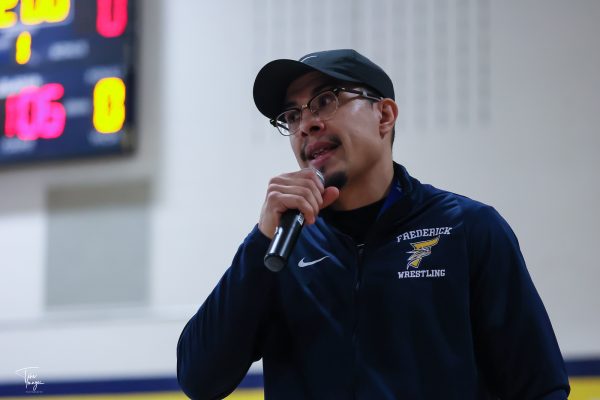 While Anthony is ready to lead his team to success, he has to build a team first. While the wrestling team has been small compared to other Frederick sports, Medina hopes this will change and that more students will give wrestling a try. "I want to put our wrestling team back on the map. I see the talent walking these halls and how the community is growing, and I know we have what it takes to become successful while representing our community with pride at regional and state tournaments."
By growing his team and laying a solid basis for the squad, Medina hopes to provide opportunities for all of his players. He wants each wrestler to graduate from high school with a positive wrestling legacy as well as life-changing experiences. "Coach Anthony is a great coach and a great guy to be around," said junior Carter Gale. "He and I get along great. He also works one-on-one with me and the other team members to improve our wrestling skills. But more importantly, when I don't believe in myself, I know I can always rely on Coach Anthony to believe in me."
Medina owes a lot of his own success to wrestling — not that the sport taught him how to cook, but it did teach him how to relate to others. Medina said, "Since I started my food trailer, I have made connections with numerous small business owners in the area who were also wrestlers. The sport doesn't just help you grow your athletic skills – it provides you with methods and skills to help you grow and succeed after graduation. Learn skills that will affect your whole life and set you on a path to achieve your dreams." 
Of course, it helps when your dream is as delicious as a food truck, and Frederick's wrestlers are always willing to help Medina's business by stopping by Dos Medinas for a bite to eat. "My favorite food is the peril bowl," says junior Diego Rangel, "because the Spanish rice always hits the right spots, and that pork is to die for."  Junior Carter Gale added that"since there isn't much Puerto Rican food available in our town, I would definitely recommend coaches food trailers to other people." 
"It always makes my day when a team member stops by," Medina says, because for him, the team is about building a community. "I want to lead FHS Wrestling to consistent success and make it so that long after I'm gone, we will be a force to be reckoned with.  I also want to supplement the development of the team and help kids develop skills that will make them successful in life. I also have my firstborn son to consider. He may choose to walk these halls himself, and if he chooses to wrestle, I want him to be part of a program with a culture like ours."