Frederick Conquers Mead, Advances To Final Four
The Warriors took down the Mavericks by a score of 66-56 last Saturday night
Follow the playoff journey for our Boys Basketball with the articles below
On an unforgettable Saturday night in a sold-out gym, the Frederick Warriors made history on March 5–beating their adversaries, the Mead Mavericks, for the first time in over nine years. It's Frederick's biggest win in decades. The Warriors asserted their authority, quickly dismantling their enemies and thunderously proving their superiority. With the 66-56 victory, Frederick solidified their unprecedented season and squashed any doubt that they are championship contenders. Frederick will continue their remarkable run in the playoffs–advancing to the final four of the Colorado 4A State bracket. Meanwhile, the Mavs' bid for back-to-back championship runs has ended.
Beating Mead didn't come without its challenges. Since the 2013-14 season, the Warriors have faltered routinely against their crosstown rivals. Admittedly, Mead is a talented team. Last year they won the state title. What's more, is they managed to bring back all their key players to this season's roster.
Just two weeks ago, Frederick squared off against the Mavs in the league championship game, where they were quickly overwhelmed. In that matchup, Mead's Elijah Knudsen torched Frederick with an entourage of three-pointers while James Shiers provided suffocating defense. However, this time around, Frederick was more prepared, according to interim Head Coach Jeff Conway. "Last time we threw half-court trap on them, and they got their shooters wide open. So this time, we said to ourselves, 'we're not running that at all tonight!' Playing [Mead] the first time around helped us know what we needed to do this time around."
The new defensive scheme worked. Knudsen, one of the top shooters in the entire state, only hit one outside shot all game. In fact, he only managed to chip in a couple of field goals all night. His last game will be a disappointing blemish on an otherwise legendary high school career.
Meanwhile, Frederick showed no signs of backing down. They were fueled by revenge. Senior Alex Sturn, who finished with 17 points, said, "After we lost a couple of weeks ago, we've been looking forward to this. We knew we could beat them. All we had to do was clean up some things, and we knew we could beat this team, even at their own place." Sturn was instrumental in Frederick's victory. He snatched rebounds, kept James Shiers at bay, and couldn't seem to miss. Everybody needs an Alex Sturn on their team.
Bryce Conover also erupted, going off for 14 points. He shot the lights out of the gym, nailing four 3-pointers. Nearly every one of his shot attempts ended in cheers for the Frederick faithful. Bryce was ecstatic, to say the least. "I'm so excited to have beaten such a high-caliber team. This is the greatest feeling I've ever felt. This is awesome."
With the statement victory, Frederick moves on in the playoffs. They'll play the Pueblo South Colts on Friday at the Denver Coliseum. Junior Micah Wittler says, "It's insane to think we're one of the top four teams in 4A! That's a testament to the guys in the program–every person from bottom to top. The coaches, the players–it's testament to all the work we've done all year."
The Colts will be the biggest challenge on the Warriors' path yet. They are undefeated and boast a once-in-a-generation player–Maurice Austin. He's only a sophomore, but he leads the team in points, rebounds, assists, and steals. It will be tough to eke out a win, but if anything, the Warriors have proven they are more than capable of the challenge.
Leave a Comment
About the Contributor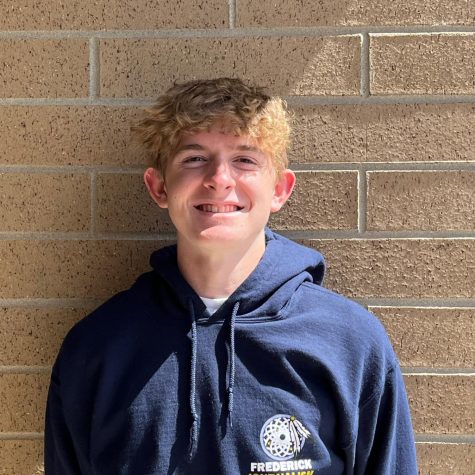 Joshua Bailey, Editor in Chief
Joshua Bailey is a senior at Frederick High. He runs cross country and track, is involved in choir, and is a member of the Church of Jesus Christ of Latter...