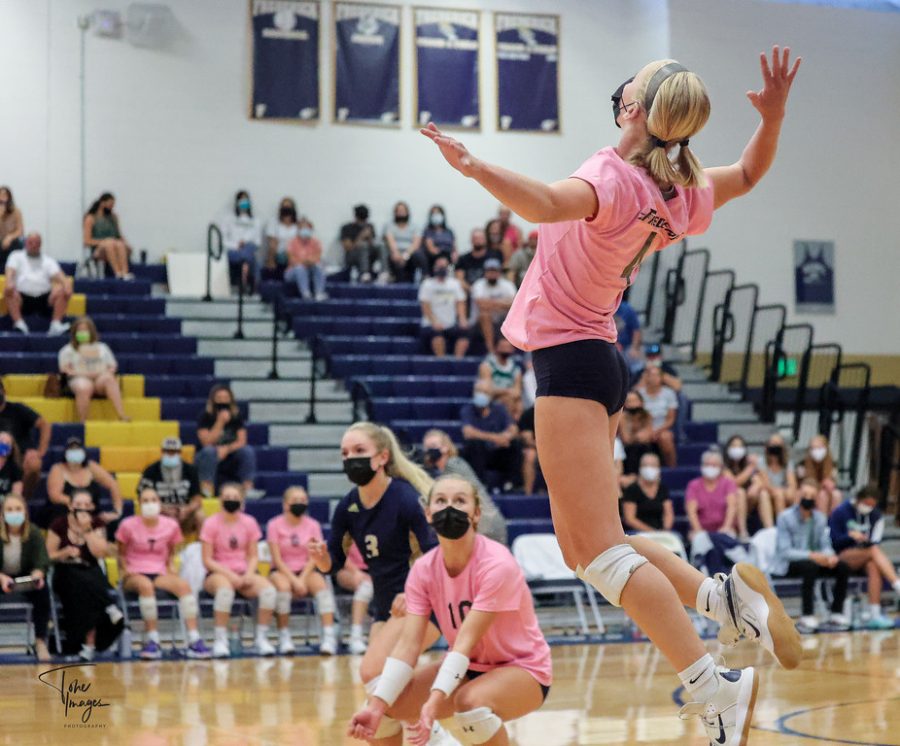 KINLEY LINDHARDT: "Set" For Success
Get to know Frederick's star volleyball player, and where she is headed next
Know this about Kinley Lindhardt–she's more than just an athlete. Sure, she's got the perfect composition of an elite volleyball player: exceptional hitting form, vertical ability, quickness, and an extraordinary understanding of the game. But those aren't her only strengths. She possesses infectious, vibrant energy. Kinley doesn't just accept adversity–she embraces it. That's why she's not just the best volleyball prospect at FHS; she's one of the best in the entire state.
Kinley's bubbly personality makes her easy to work with, both on and off the court. In volleyball, team communication and morale are crucial. Kinley's character not only makes her presence advantageous, but a must-have on any team she plays for. As Kinley pointed out, volleyball, "isn't just about the skill level. It's about the chemistry."
Her skill and personality paid off quickly as she entered high school–she made varsity for volleyball as a freshman. Kinley admits, "I wasn't expecting to make varsity, but the seniors really took me under their wing. It was super fun. All the girls were super nice to me."
Her accolades wouldn't stop there. By her senior year, she was a top Colorado prospect. At one point, she was top five in the state in kills. She made CHSAA All-State Honorable Mention as just a sophomore, not to mention All-State Second team as an upperclassman. Most importantly, Frederick enjoyed unprecedented success during her reign. At one point, the Warriors won 26 out of 30 games. They beat Mead in back-to-back seasons. They swept nearly every opponent. Put simply, Kinley's senior season was the best in Frederick's history. Her journey to success didn't come without hard work, however. Kinley's strategy for improvement is "by watching others. I really like playing with people that are better than me, because I can just sort of look at what they do and try to figure out how to mimic that."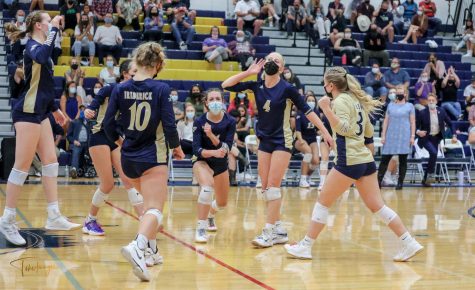 While Kinley is an exceptional volleyball player, her true love lies in beach volleyball, a sport that is almost completely different in all facets compared to regular indoor. "I grew up playing indoor volleyball," Kinley says. "One summer, my friend was like, 'come play beach!' I tried out, and never looked back." She explains that both beach volleyball and indoor are "two completely different worlds." Those differences entail a smaller court size, four fewer players, different hitting and serving styles, and a reimagined offensive and defensive scheme.
By her junior year, Kinley committed to a Division-1 beach volleyball program–California State Univerisity Northridge. She explains that her decision process was influenced by "the school itself. They have a cool six-year law program. I also just love the location. It's in a wonderful area, down in LA, 30 minutes from the beach." Kinley also reassures that "I knew that it would be in my skill range. I know that I'll see the court my freshman year."
The most noticeable quality that sets Kinley apart is her optimistic influence on others. She's inherently happy, helping her avoid conflict and establish a positive impact on just about anyone who knows her. Her lively and enthusiastic personality makes her one of the most amiable seniors in the class, and will bode well with her as she moves on to new adventures in an unfamiliar land.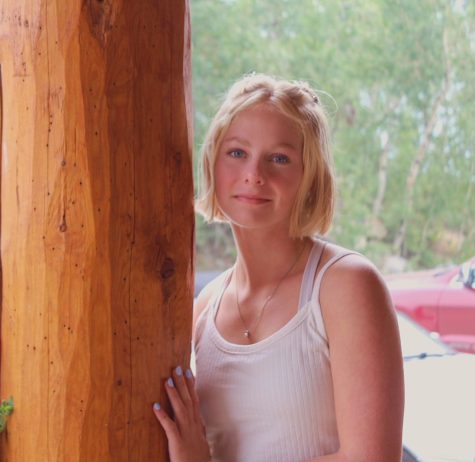 As Kinley reflects on her high school experience, many memories stick out in her mind. "Going to State has to be number one. That was the best feeling in the world," she says. It's been a phenomenal high school career for Kinley. "I feel like my high school experience was very ideal. I feel like I did everything I wanted to do: to be a good athlete, get good grades, be social and make time for my friends. I feel very satisfied with my senior year. I don't have any regrets."