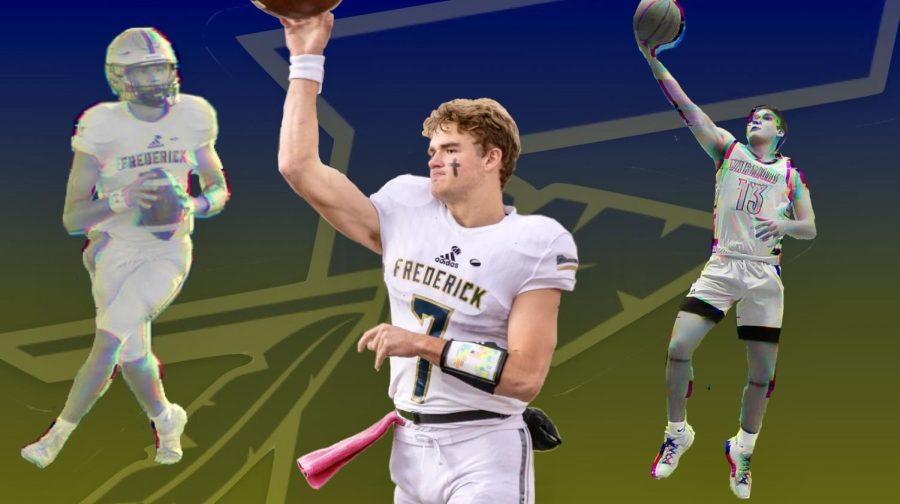 BRYCE CONOVER: Frederick's Golden Athlete
The story of Frederick's star athlete, and his journey to excellence
Under the glow of Friday night lights, senior quarterback Bryce Conover steps into the chilly November air. It's Frederick's first football playoff game in two years, though Bryce is used to the pressure by now. 
Bryce takes the snap, drops back, and fakes a handoff. This maneuver happens in an instant, but to Bryce, the game slows down. Quickly pacing back to the thirty-yard line, Bryce's eyes dart down the field. His quarterbacking IQ is unmatched, something that has helped him in leading the Warriors to a historic season. That same IQ is on display tonight, as Bryce and company have put on an unruffled offensive clinic, scoring on each of their possessions and torching the hornet defenders. Conover scans the defense, and notices his top receiver–Alex Sturn–making a break for the corner of the endzone. 
IQ isn't Bryce's only strength, however. He takes advantage of an unprecedented skill set. It's a combination of athleticism, poise, leadership, and finesse. It's that same athleticism that allows him to excel on the basketball court–snatching rebounds, diving for loose balls, and racing up and down the gym. It's that same poise and composure that has trained Bryce to handle the impending pressure on the pitching mound in baseball. And at this moment, Bryce takes advantage of his finesse, as he snaps his wrist forward and flings a beautiful, spiraling bullet forty yards downfield into Alex Sturn's outstretched hands. Touchdown. 
Rise to Stardom
Four years ago, Bryce had never played organized football. Sure, he had the perfect DNA of a quarterback–confidence of a natural-born leader, inexhaustible willingness to learn, and a personality more contagious than any variant of Covid. But according to Bryce, playing high school football never crossed his mind until a mentor from Bryce's middle school days–Officer Dunker–suggested that he try out for quarterback. "I just went out there freshman year," says Bryce with a chuckle. "And I guess I ended up being pretty good at it."
And good he was. Bryce quickly rose among the ranks of the football hierarchy at Frederick. During Bryce's first two years of high school, he backed up Jake Green, a legend among Warrior athletics. Coach Peeples, the head coach during both quarterback's campaigns, said, "Bryce was just as good as Jake [Green]. Bigger. Faster. I knew he was a college athlete for sure." 
Even despite all the pressure mounted on Conover's shoulders, Bryce still maintained a refreshingly childlike, whimsical sentiment towards everything he faced. Alex Sturn, Bryce's star teammate in both basketball and football, agrees. "Bryce is so special because of his attitude. He's such a funny guy and he's just a really great dude to have on your team," says Alex. "That being said, Bryce has laser focus and works incredibly hard." 
"He takes things seriously, but it might not be outwardly shown because he's always got a smile on his face. He communicates through smiling," says Coach Peeples. "I had to learn when he was working hard and when he wasn't because he always had a smile on his face."
The Journey To College
"I didn't know what it'd be but I've always known that Bryce could play at the next level. I knew whatever he puts his mind to he could accomplish it," said Conover's lifelong teammate, Alex Sturn. The journey to Bryce's college signing at Western Colorado wasn't easy, however. Only around 7% of athletes ever go on to play in college, and that includes schools such as DIII College of Saint Benedict in Minnesota to larger schools like Ohio State and Alabama. Bryce admits, "Most colleges didn't take a shot at me after my junior year." 
However, Bryce would get noticed by schools after leading the Warriors to an unprecedented season during his senior year. Under Bryce's reign as the quarterback, Frederick defeated their arch-rivals, Mead, for the first time in school history. They made a deep playoff run. They obliterated any opponent in their way. "That football season was so special because we had a chip on our shoulder. We had something to prove and we had a group of motivated guys. Bryce was one of our biggest leaders," says Alex Sturn.
According to Bryce, he had no trouble receiving college offers after "they saw me finally make some plays my senior year."
Why did Bryce choose Western Colorado? "I was pretty hesitant about Western until I went on my official visit," Bryce says. "The people that I met while I was there were super nice. Super down to earth. I think the people is what drove me to go there." 
A Bright Future
What will Bryce take away as his best memory from high school? "Definitely after beating Mead. You know, it's not really the actual game that brings the best memories. It's afterward when everyone is coming up to you, we're jumping, we're celebrating. It's something I'll never forget."
His mentors and coaches are confident in Bryce's future. "I think he'll be extremely successful, especially after going through one of the best high school programs in the state. He bought into our program, and I'm looking forward to how he will continue to develop."
Whether it be his quarterbacking play or his infectious personality, Bryce will find success no matter what, even if it is one snap at a time.