Bittersweet Time At Basketball Playoffs
Both the boys' and girls' basketball teams advanced in the playoffs last week
Follow the playoff journey for our Boys Basketball with the articles below
The girls' and boys' basketball teams both seized a couple of playoff victories over the course of last week, overcoming a plethora of pressure heading into the contests. The boys' team hadn't won a playoff game since the 2013-14 season–that drought ended to the tune of cheers and a standing ovation last Saturday night. In the same token, it was the girls' first playoff win in four years, though their season ended last Friday following a playoff loss in the second round.
However, that's not to say it hasn't been a successful season for the girls' basketball team. In fact, it's been the Warriors' best season in over a decade–at least in terms of winning percentage. Their playoff-win drought ended last Tuesday, following a dominating win over the Weld Central Rebels, the final score being 52-14. Their relentless defense, which included 19 steals on the night, prompted them to victory. Megan Majeres also found her shooting stroke, nailing seven three-pointers, four of which came in a single quarter.
Despite the season ending after a loss to Grand Junction Central last Friday(by a score of 55-43), the Warriors deserve commemoration after their first winning season in several years.
The boys' basketball team also dominated during their first playoff win in years. They defeated a very stout Severance squad by a crushing score of 67-40. Frederick's stifling defense was suffocating and stout, punishing any offensive attack the Silver Knights had planned. The only bright spot for Severance was their star player, Ty Adam, who recorded a double-double and 17 points on the night. Other than Adam, the rest of the Silver Knights only combined for 23 points.
Meanwhile, the Warriors' offense was rolling. Alex Sturn made his presence known, dropping 19 points and eight rebounds. Jacoby Conway and Harry Singh also chipped in 17 and 11 points, respectively. The Warriors spread the ball around well, totaling 20 assists on the night. Overall, it was an impressive performance, sparking momentum that Frederick can hopefully carry into the next round of the playoffs.
The Warriors will square off against the D'evelyn Jaguars, who carry an 18-5 record. On paper, Frederick should win that matchup–they average more points, assists, blocks, steals, and rebounds per game. However, the Jaguars are not a team to be overlooked. Against common opponents, the Jaguars have a better record than Frederick. It will be a difficult game. But based on the Warriors' season thus far, they should be ready for the challenge.
Leave a Comment
About the Contributor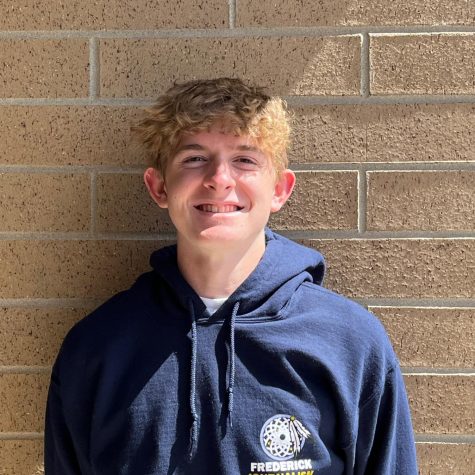 Joshua Bailey, Editor in Chief
Joshua Bailey is a senior at Frederick High. He runs cross country and track, is involved in choir, and is a member of the Church of Jesus Christ of Latter...