SCOUT EDITORS: 'Write' Off Into the Sunset
Two seniors from the Lantern are set for the future.
While the end of the school year is right around the corner and coming to an end, recognizing the journalism class of '23 graduates is crucial. This year the Frederick Lantern was home to both Kierstyn Vejrostek and Ryley Anderson who both were core staff members, as they brought something unique and different to the Lantern. While journalism did reflect itself in these students' lives, it's not all they are capable of doing well. Both of them made a great impact on the journalism program and at the school; they definitely helped set up the future for the Lantern.
Crunching Numbers 
Kierstyn Vejrostek joined journalism her senior year, and she became the sports editor and was also a staff member. Kierstyn always made sure all the sporting events and scores were up-to-date, she also wrote some pretty good articles. Kierstyn joined journalism because she wanted an English credit to finish English early.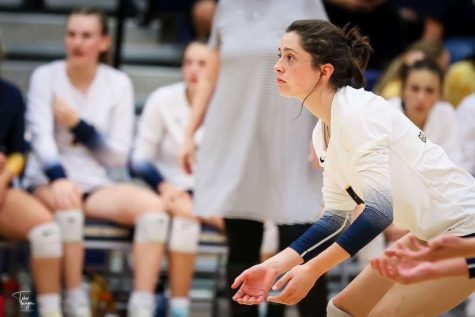 When it came to journalism itself, Kierstyn really enjoyed the environment of journalism and all the inside gossip that most people don't even think about. "I enjoy hearing all the drama that goes on in journalism. It was a good way to start my mornings."
Kierstyn brought a few great qualities and skills to the Lantern; she did a great job keeping the sports scores and events up to date, and she spent the majority of her time making sure they were accurate and updated. When she wasn't spending her time on the sports scores, she was able to write articles for the Lantern. She enjoyed the opportunity to write what she wanted: "I think the last of us article review was literally my favorite article I wrote out of all of them."
While Kierstyn learned lots of time management skills, she also learned more about her writing skills, and she has improved tremendously with her writing since the beginning of her senior year. She finds it funny yet very helpful: "I've learned the difference between then and than; Mr. Coon was strict about that."
One thing to know about Kierstyn is her time management. She has a lot of fun memories from high school and her senior year, but one thing in particular is her attending class on time. "My favorite memory from my senior year is when I was late to the first day of school for the senior sunrise, and I think that's what started me being late for the rest of the year." Apart from journalism, Kierstyn was a starting defensive specialist on the varsity volleyball team. "I like playing volleyball, but now that the season is over, I like doing other things like walking my dog, rock climbing, which is really fun, and working."
After high school, Kierstyn is planning on taking a gap year, and she wants to adventure and do bouldering, "Its really fun climbing stuff." She also wants to work and save money. While Kierstyn is taking her time before deciding her future, there is no doubt that whatever she wants to do, she will succeed. Kierstyn has an adventurous, kind, and great mindset. She is super encouraging, and she has so much to look forward to in the future.
Taking the Lead
Ryley Anderson joined journalism her senior year and took on a major role as Editor-in-Chief for the Lantern. Not to mention, she has some serious creativity when it comes to her writing skills. Besides writing, Ryley has always had creativity, and she has great photography skills, which helps out in all types of photojournalism. After being on the yearbook staff for four years, Ryley says she joined journalism to earn her quill and scroll points so she can walk the stage with quill and scroll cords once she graduates. Not only did she decide to take on journalism, she also took creative writing her senior year.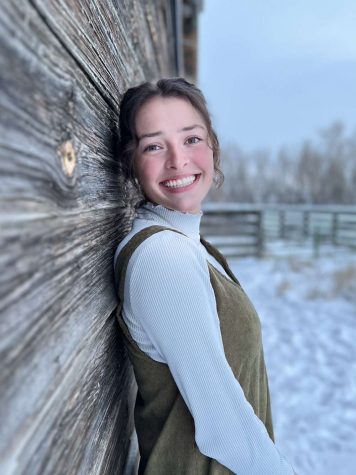 Ryley enjoys journalism for many reasons, the main reason was because the class was really fun:"I enjoy all of the conversations we have that are very off topic and overhearing everyone else's conversations." It doesn't stop there, Ryley liked her opinions to be heard, her skills brought a lot to the Lantern, as she always brought top quality information to her writing which helped her with having such strong articles for the paper. Her favorite articles to write were opinion and review articles.
"Something I've learned is that everybody is always going to have an opposite to what you want to say, and everybody is going to try to fight you on it, so you just gotta stay true to your word and have confidence in what you're saying." Ryley wrote lots of articles this year based on her opinion, and not everyone liked what she had to say. She learned that you have to fight for what you believe in and make your voice heard.
Ryley really enjoyed her high school experience. "I think one of my most favorite moments was when I won homecoming queen and went to class every day, especially journalism and yearbook, because everyone is so fun and funny, you can just have random conversations that don't apply to anything." Outside of journalism and her high school education. She also enjoys working, playing volleyball, getting rest, managing baseball, and reading books.
After high school, Ryley plans to attend the University of Northern Colorado in Greeley and study forensic anthropology. Ryley is a hardworking, successful, creative, and strong-headed person, and she can do anything she sets her mind to. She has had so much success in the last four years and has impacted the Lantern for the better. With her fun spirit and wonderful personality, she will definitely have a bright future.
Getting the Job Done
As these two seniors high school careers are coming to an end, they both have so much to look forward to in the future. They both had very important roles in the Lantern, and they were able to work together to build a great foundation for the Lantern and its debut, since the transition from the Scout. They got the job done when it counted most and they both played leadership roles to help contribute to the Lantern. Both will be missed very much by the journalism program, but we wish them the best of luck in their near futures.