From Red Nosed to Red Faced
Frederick's film students learn that clowning around can have consequences
Yesterday, many Frederick students noticed something different. It may have been when they were coming out of the bathroom, walking the hall, or eating their lunch but they stopped once they saw it.
The clown.
During both lunches yesterday, a clown was seen walking through the commons, in science classrooms, and down several halls.  Some Frederick students laughed when they saw a clown in baggy red pants, a rainbow wig, and face paint walking around. Others stared in amazement and whispered to each other. A few students even screamed running out of rooms with tears in their eyes. But all of them wondered the same thing: why is there a clown wandering around the school? The answer involves a district competition, a history of terrifying children, and a new chapter in the battle of the sexes.
The Clown, Explained 
The clown in question was actually senior Thomas Beeker, a mainstay of the Frederick Theatre program. Thomas is currently portraying the lead role of Grombo the Clown in "Class Clown," a student film Thomas and his friends are making for their advanced acting class with Mr. Coon. On Tuesday during third period, Thomas and his friends were filming a scene for the film in a science classroom.
According to Thomas, "'Class Clown' is about a clown who's down on his luck and needs a job. He becomes a substitute teacher at the local high school and gets into all sorts of trouble because… well, he's a clown. He's all fun and games but can't really handle high school students."
The film is the brainchild of sophomore Jack Smith, who is directing the film and wrote the screenplay with help from Thomas and freshman Teagen Veile, who plays a student bully in the film.
"We started by writing all of our ideas into short scenes," Thomas said. "Jack picked up on the idea of using a clown in his scene and went wild from there. The play started as a clown lost in a city scaring everyone he goes to for directions. We then worked on shaping the ideas as a group until we got to the final script. We really think it has a chance of winning."
The film, it seems is not just a project but a way to show off their acting, writing, and filmmaking skills. But what kind of contest could be won by a student film about a hapless clown?
Well, there are actually two contests.
The Competition, Explained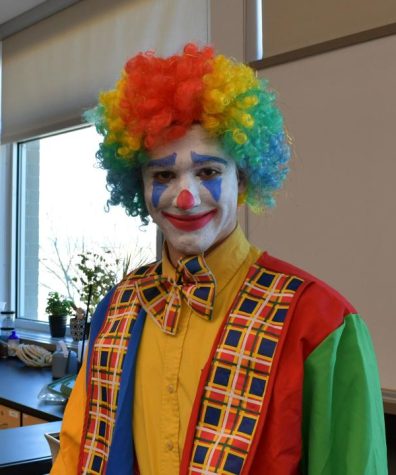 This story really starts at the beginning of the semester in Frederick's studio theatre. In Mr. Coon's advanced acting class, students get to choose between five topics to study for the entire twenty weeks: playwriting, improvisation, acting history, theater for community change, and acting for film. This year, the acting for film option was chosen by every student.
"After COVID and doing so many things remotely on cameras, there was a big desire for my acting students to figure out how to use this technology to their advantage," Mr. Coon said. "Thomas especially is interested in film acting. He's going to college for film performance and hopes to go to Hollywood one day."
For the assessments in the class, Mr. Coon obviously assigned the students to make a film, but he added some extra stakes to the project. Besides getting a grade, students in advanced acting will have their short films submitted to this year's St. Vrain Valley Student Film Festival in May. Mr. Coon has overseen Frederick's past entries into the festival through Frederick's Film Club. So his class has been getting advice on exactly what they need to do to compete and hopefully win. 
"We've gotten a lot of help from Mr. Coon on how to storyboard, how to plan a film, and how to tell a great story," Thomas said. "We've had help from quite a few teachers: Mrs. Bowes, Coach Peeples, Mrs. Smith, the counselors, the school nurse… even Dr. Fox is in our film."
Additionally, the class decided on an extra bit of competition: the class of eight decided to split into two groups for their short films, one consisting of four guys ("Class Clown") and one of four sophomore girls. Directed by Leea Beeker, Thomas' younger sister, the girls in class are creating a darkly comic film called "I Missed You", where a teen worries that his best friend might secretly be a murderer. To make the class more interesting, Thomas told us that a bet was made. 
"Whatever film gets the better grade from Mr. Coon wins. If we lose, we need to come to school during Prom spirit week dressed as goth kids to go along with Leea's movie. If the girls lose, they have to come to school dressed as clowns."
Thomas made sure to let us know that it was only a friendly bet, as each group is helping each other out by sharing equipment and acting in each other's films. Sharp-eyed viewers who have watched class clown will even spot the familiar-looking Grombo in a cameo in Leea's film.
"I'm pretty sure the girls will lose," Thomas said, "and they be clowns for a day, which would be awesome. But I don't know if we should do this now."
Here, Thomas refers to what happened yesterday… specifically the screams of terror.
The Fear, Explained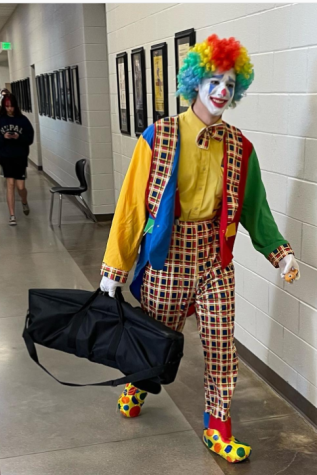 Coulrophobia–the fear of clowns–is a fairly common fear. Children and some adults react irrationally when a clown appears in view. One reason is the unsettling makeup clowns wear that hide the person behind the makeup's identity, causing curiosity and mystery.
"I love being Grombo," Thomas told us. "I was ecstatic when walking around in the clown suit. No one could recognize me, so there was no shame, no judgment. I was just a clown."
While liberating to Thomas, the inability to figure out who is never the makeup and what their intentions are can put people on edge. The makeup itself is also unsettling, as some researchers believe that the pale face of a clown makes people subconsciously think of corpses and death. Add to this the character of a clown being unpredictable and mischievous and it's easy to see why this circus staple is a nightmare for so many people.
While yesterday may have been shocking to some, the goal was not to upset anyone's day. "I had no idea people would react that much," Thomas admitted. He found out this morning when Mr. Coon told him that several students had anxiety attacks and broke down after seeing him walk around. 
"The mistake is ultimately mine," Mr. Coon told us. "I knew they were filming clown scenes, but I had no idea Thomas would be walking around the hallways in the middle of lunch and passing period. Had I known, I would've recommended they wait until classes weren't in the halls." Two of Mr. Coon's own drama students told him that they were petrified by Thomas walking around.
"This is on me, and I'm very sorry it happened," Coon said. "I should have taken the time to make sure we wouldn't panic anyone with these film projects."
Thomas, Jack, and the entire team also feel bad about what happened. "We had a conversation with Mr. Coon, and even though more filming will go on around the school this week, we've taken steps to avoid upsetting anyone who may be afraid of clowns." Signs will be on doors when filming is happening and Thomas will do his best to avoid moving around the school in full clown attire.
Still, Thomas is hopeful that the panic caused yesterday will soon leave everyone's minds. "I think if people knew it was me, [yesterday] would have been different. So I'm going make sure people see my face if I'm in the halls."
Regardless of how students feel about clowns, the Frederick Theatre and Film department hopes everyone will root for these students when they compete at the St. Vrain Valley Student Film Festival. As to their other competition, Mr. Coon could only say this: "Either way, the week of prom will be really interesting."