Learning from Defeat
Football's first home game was both a loss and a chance to grow
Friday, August 26 marked the first Frederick home football game as the Golden Eagles. The team played their season opener against the Holy Family Tigers, and though Frederick lost by a single point from a controversial catch in the final quarter, this first game will surely be remembered for years to come.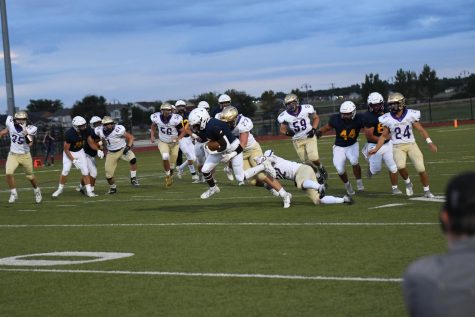 This year, Frederick has overcome tough challenges with the changing of the school mascot, having their former coach leave and a new head coach and coaching staff step in, having to learn a new playbook, and the usual struggle of losing graduating seniors and adding in underclassmen to replace them.
So much change all at once, even if for the better, has had obvious consequences on the field. According to senior Lafai Purcell, "We were prepared, [but] we just got in our own heads a little too much with the brand new season and new coaches."
Senior Jorden Fahey agreed: "We were prepared for the game physically and play-wise, but I don't think we were prepared mentally. Everyone went in cocky and didn't know how to react when [Holy Family] scored." The same could be said of the crowd, who seemed both excited and petrified with every play.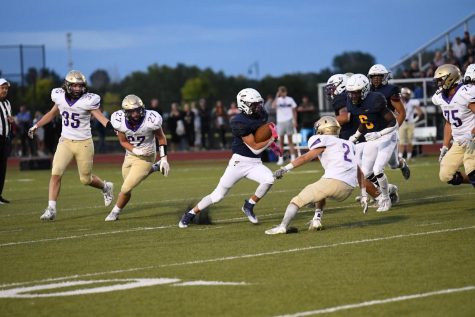 Throughout the whole game, the score went back and forth. After a tense first quarter where neither team scored, Holy Family managed a touchdown lead. Shortly afterward, sophomore Gavin Ishamel threw a 49-yard touchdown pass to Kooper Anderson, bringing the score to 8-6 after a two-point conversion.
Though senior Joseph Villani made an interception late in the second quarter to keep Frederick ahead and Holy Family at bay through halftime, the Tigers roared back with a touchdown less than four minutes into the second half.
Frederick answered this with a 40-yard touchdown run by senior River Lakey. Holy Family quickly took back the lead with a touchdown near the end of the third quarter, but Frederick tied things up with a touchdown courtesy of senior Cruz Zamudio at the top of the fourth quarter.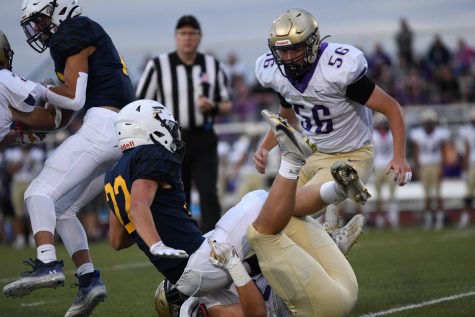 The Eagles then took the lead once more after a flawless interception by Lakey followed by another touchdown run by Zamudio, resulting in a 26-20 lead. Tragically, with less than 17 seconds left in the game, the Tigers managed one last touchdown pass to Jaxon Grable on 4th down and 1. With a successful extra point attempt by Holy Family's Will Nolan, Frederick's fate was sealed.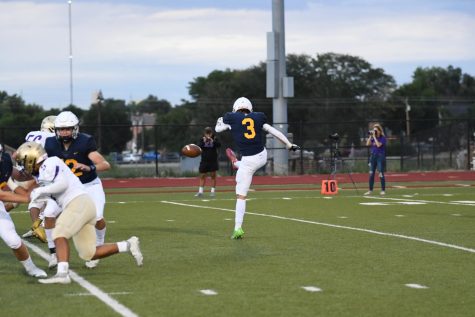 Despite the loss, the game stats show how successful the new team is. Frederick's offense had nearly twice as many rushing yards as Holy Family (257-134), had no interceptions thrown, and no fumbles. Meanwhile, Frederick's defense made three interceptions, two sacks, a forced fumble, and prevented an extra point attempt.
Still, this good news didn't shake all the players out of the frustration of a lost game.  Senior Chase Paugh told us, "After the game, what was going through my head was thinking of what I could have done better to help win."
Thankfully, the team has stayed resilient and willing to take new risks for the better of the team despite the loss. Most of the players interviewed agreed that they want to improve their third down conversions (only four of ten were successful) and increase their pass completion rate.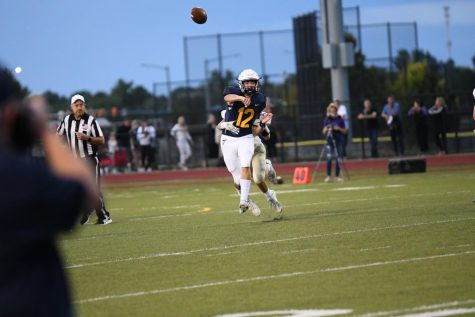 After being able to go over film, Frederick Football is working hard to fix what they need to be successful. Anderson said, "I am hoping we all start to click and everything becomes muscle memory instead of 'new' to us and then we start balling." Senior Jace Horner agreed, adding "everyone just needs to do their jobs and we will have a chance at the state championship."

Eagles Football is on the road with their next to games, first facing Monarch High School next Friday night (September 2), and then going all the way to Scottsbluff, Nebraska to face the Bearcats on Friday, September 9.

Watch full coverage of the game by the Golden Eagle Broadcasting Network below:

Courtesy of GEBN