Why Going to State Matters
Becoming a high school champion isn't just a flex–it can be life changing
Follow the playoff journey for our Boys Basketball with the articles below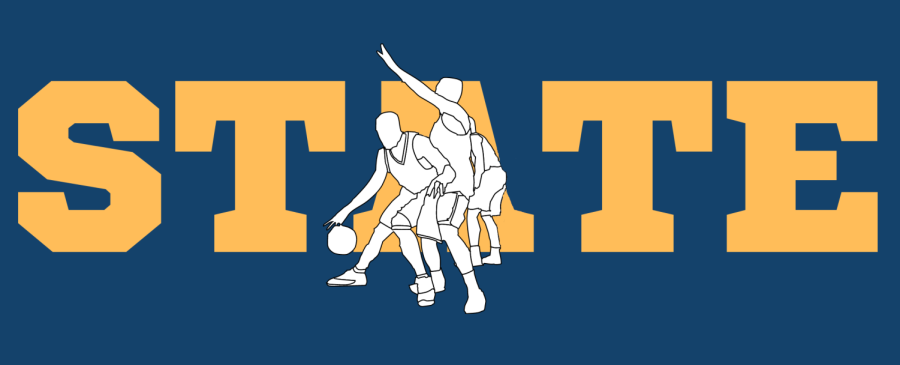 This week, Frederick High has been buzzing with energy around the 4A Boys Basketball championship games this weekend. Our Warriors have made it through a tough playoff bracket (even a close game with Mead last week) to end up as part of the Final Four. They play Pueblo South today and, if they win, our boys will be in the game of their lives at the State Championship. The basketball team is getting the full support of Frederick: Student Council has organized a spirit day and sendoff for the team while students and parents have been organizing rides down to the Denver Collesium to get as much of our Rowdy Crowd at the game.
But to students outside of athletics, this may all seem strange, or even absurd. After all, it's just a game, isn't it?
No. State is so much more than that. For the players. For the school. For the community.
Going to State is, of course, great for players. Going to State not only gives a chance to play against the best of the best but it increases their chances for recruitment and college scholarships. It gives the players an opportunity to increase their stats, which are collected on sites like PrepHoops that attract college recruiters.  The more public eye and bigger audience of State also gets the attention of colleges–you'd better believe scouts watch State games and take notes on who's got it.
Yet even for the players who don't want to play college ball and have their eye on other pursuits, there is a greater benefit to State: players get an increase in confidence because they know that they are the best around. Making State shows everyone the level of talent the team has achieved and that what they have been dreaming of and working for was worthwhile. Goals are an important thing when it comes to sports–when you've been playing the sport for years, you want to see how far your talent can take you, which is why State is definitely a goal for every player.
Beyond a team victory, State is a victory for the school. Going to state in any sport is a huge accomplishment and really can be a boon for the school. State will not only bring more notice to our school but will make more people who don't know much about Frederick learn more about our community. "Frederick," someone watching the game is bound to say. "Never heard of them. Where's that?" Then, through a Google search or a look through the CHSAA website, they'll find out who we are. As a small town that's growing fast, it's very important that we make the best first impression as we start to be noticed by organizations both in and out of going to state–organizations that may be willing to invest in our school through monetary donations, business partnerships, mentorship and scholarship opportunities for students, and open enrollment into our school.
This isn't just a guess as Frederick has already seen the effects of success at State in its non-athletic CHSAA competitive organizations like Debate and FBLA. When Frederick Theatre was selected in 2018 to bring their musical Newsies to State, our theatre program was relatively unknown across Colorado. "After that performance, we got the reputation we have today: as one of the best high school theatre programs in the state," according to Mr. Brandon Coon, director of Frederick Theatre. "Now, colleges reach out to us to place student teachers and ask our students to attend their recruitment workshops. State put us on their radar, and that reputation has given us many more opportunities."
Ultimately, what is good for Frederick High is good for the Tri-Town community. Sports give the whole community a chance for everyone to celebrate a shared success. No one says "some of those guys are going to State"–it's always "we're going to State!" Our community unites for a few wonderful days even if the team loses at State. Especially if they lose. Seeing a lifelong dream getting crushed can be devastating, and if we're being honest, it will happen to three of the four teams playing in the 4A Championship this weekend. But the players of a losing team don't have to bear the loss alone–the entire community helps them bear it and still celebrates that the team got as far as it did. It's like a marriage: the athletes and the community are there for each other, for better or for worse.
Speaking of loss, sports really were hit hard when the pandemic shortened, reshaped, and eliminated seasons over the past two years. It limited the people who could watch, which ultimately put a huge strain on the players. Not being able to feel the love from an audience of people from the community who love watching really affected school sports not just at FHS, and the community lost a way to momentarily escape their troubles right when they needed an escape from reality the most. The return of high school sports has lifted the community's spirits–it's clear from the smiling and excited faces in the stands, finally unmasked and cheering with all their might. Having the rowdy crowd, marching band, cheerleaders, dancers, and even the parents back means so much to so many.
Perhaps the members of our community that benefit the most from seeing our students at State are the youngest ones, elementary and middle school students who watch the team's ascension to State and realize anything is possible. Inspiration goes a long way, especially to young players who are in need of people to look up to. "I really like watching the Frederick boys basketball because I can learn new tricks," said Centennial Elementary third-grader Liam Paluda. "I want to learn more about basketball so I could get better and I can be like them when I get older."  Fourth-grader Shiloh Wittler, the younger sibling of Frederick Shooting Guard Micah Wittler, told us, "It's so cool to watch these games and shout 'That's my brother!'"
So yes, going to State matters. No matter the year, no matter the sport or activity, no matter if the Championship results in a win or a loss, the benefits of a successful playoff run are widespread. And the beauty is that all of us benefit and we can all participate, even if we aren't the ones on the court. Take this opportunity to don the blue and gold with pride, to share your appreciation for the team, and to clap and cheer as hard as you can during the sendoff and, if you can make it, the game. Even if you have a ton to do on Friday. Even if you aren't a sports fan. Even if you would rather get a cavity filled than watch a basketball game. Frederick doesn't get to State every year, so seize this opportunity to be part of something important and special. Win or lose, it will be an exciting weekend that will change the lives of some of our Warriors forever.
Leave a Comment
About the Contributor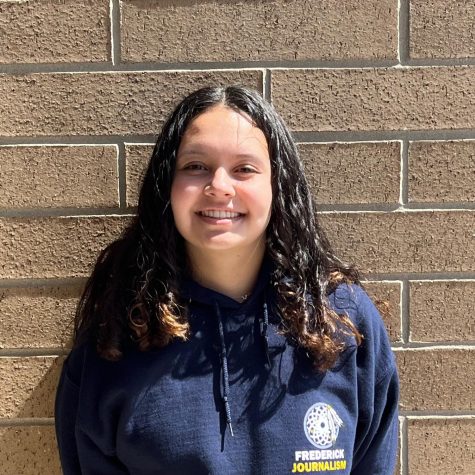 Kaya Paluda, Assistant Editor





Kaya Paluda is a sophomore at Frederick High. She is now in her second year of being part of the Frederick Scout and the Biomedical Foundations...