Cobra Kai Keeps Hitting
The latest season of the Netflix series shows that, despite its age, the series still kicks butt
The Karate Kid was one of the biggest film hits of the 1980s. The two main characters of Karate Kid, martial arts enemies Daniel Larusso and Johnny Lawrence, entranced audiences then, and still are beloved by them now. Netflix released its first season of Cobra Kai, a sequel series to that original film, in 2018. With the release of Season 4 of Cobra Kai last week, the series has shown its staying power: it skyrocketed to Number 1 on Netflix the day of its debut and received 100% approval ratings on Rotten Tomatoes within three days of the release. 
While each season has been popular, this season promised something new. From the first film to the last season, Daniel (Ralph Macchio) and Johnny (William Zabka) have been bitter enemies, running to warring dojos in town (Miyagi-Do and Eagle Fang, respectively). Yet a new dojo run by the villainous John Kresse threatens both Johnny and Daniel, leading to the two men working together to defeat their common foe… a situation that promised viewers conflict, drama, and excitement.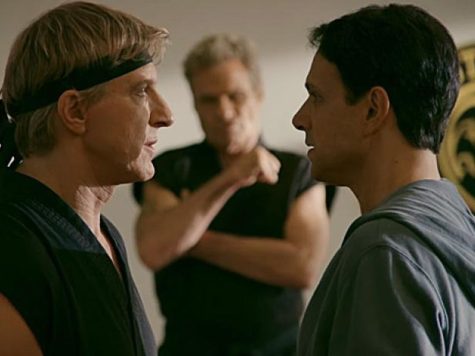 The American martial arts series definitely delivered on expectations. Each episode keeps the viewer on the edge of their seat wondering what will happen next.  The show is fast-paced (it is a karate show, after all) but the show has enough moments of introspection and stillness to pique curiosity. The twisted drama and betrayal in this season make the episodes addictive, and many viewers will surely find themselves binge-watching this in one sitting.
The success of Cobra Kai doesn't just rest on its story. The outfits are meticulously designed to match each character's personality, role, and history. The camera work is great for a streaming show, as it uses lots of quick-cutting to different angles to show different perspectives of each fight. And the fight… it is hard to describe them without spoilers, but everything is tightly choreographed and looks amazing.
The acting was probably the best part of the season. Both Macchio and Zabka have developed their characters over the past three seasons to perfection and now get to deconstruct those characters, their prejudices, and their attitudes through their new partnership. While every actor was competent and compelling, these two steal the show and connect to the audience's emotions more readily than the others.
Overall, the television series is a great binge for all viewers. It is part nostalgia, part action, part comedy, and part melodrama blended together in a way that raises the stakes higher than the series has ever before. I am genuinely curious how they will top this season next year, but as Cobra Kai has been one of the most consistent franchises in streaming, I expect it will be just as exciting and gripping as this season.