Powering The Polls
The ongoing pandemic calls for new openings in poll management.
With the election coming up in November, there's a need for the public to help run the in-person polls. However, with how the current pandemic in the United States is not regressing, it leaves many at-risk poll workers having to stay at home for the sake of their health.
Many of the current in-person poll workers are over the age of 60 (according to an article on npr.org), and age group that is at a higher risk of getting COVID-19. So, an organization called Power the Polls is recruiting younger, healthier people who can fill in for the multiple empty spots.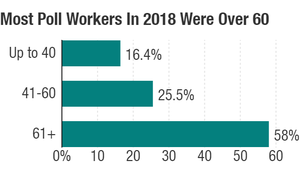 Caption: "Poll shows that majority of Poll workers are much older."
Photo Credit–v
Source: US Election Assistance Commission
This is a common issue every year, but with COVID-19 still being around, it's an even bigger issue here in 2020. With a decrease in workers, areas where voting is usually being hosted are being shut down because of the lack of workers.
Why is there such a big need for poll workers? Can't people just mail in their ballots?
For some people, no. Reasons for this include poorer communities not having very good mail service; there could be medical reasons that a voter has where they can't mail in their ballot, or they simply feel safer voting at an in-person facility. (npr.org) With more in-person poll workers, it shortens the voter lines so that people can cast their votes quickly, as well as not having to worry about the risk of infection.
So if this is so necessary, what are some ways that I can help?
If you are 16 years or older in Colorado, there is a chance that you can sign up to be a poll worker. If you can't sign up to work at the polls, then spread the word! Let your peers know about the poll situation, see if they can sign up as well! Election Day is coming up soon and these spots need to be filled! According to The Denver Channel, there's still about a quarter of a million poll workers that may still be needed. Training for this takes about 30 days.
I'm under 18. Can I still work as a poll worker?
Yes! According to the American Constitution Society, in Colorado students who are at least the age of 16 can be a poll worker if they fit under specific criteria. This includes having parental permission, not being an immediate relative of someone on the ballot, not having a conviction of an election offense, having completed the 30-day training, and being physically and mentally able to complete tasks. (American Constitution Society document)