BRAVE NEW YEAR: Frederick Learns Online for First Six Weeks
Back to school will look different this year as St. Vrain will start with online learning
NOTE: This is part of a series of articles about what students, parents, and the tri-town community needs to know about how the Frederick High experience will change due to COVID-19. See our other articles on how learning and schooling will change this year as well as introductions to our new staff and building improvements.
As COVID-cases increase in both Colorado and across the nation, the St. Vrain School District decided on Monday, August 3 that the first six weeks of the 2020-2021 school year will be taught online. "We were set for a hybrid model to start the year," Frederick Principal Brian Young told us, "but we saw through summer programs how extensive the outbreak response plan is right now."
This response involves immediately quarantining the person suspected of contracting COVID-19, contacting both building and district administration, the deployment of the district health team to test suspected cases and assess the situation and contacting everyone the person contacted in the day for possible testing or quarantine. According to epidemiology models by Georgia Tech and the University of Texas, a school of 1,000 in a locale with our risk ratio (a little under 60% as the time of this writing) would see at least two positive cases each day, which based on the spread of COVID-19 could cause an outbreak within a week.
According to Young, "We would be opening schools for a couple of days, then shutting them down for a week, then opening back up for a couple of days, then shutting down… That inconsistency is bad for students, bad for parents, and bad for teachers, so while starting the year online is not ideal and we all want our students back in the building with us, we have to wait until it's safe and reasonable to do so."
So that raises the question: what will Frederick's online schooling be like?
Attending Virtual Class
The first thing Mr. Young wants the community to know is that "it will not be like learning last spring." When the pandemic hit and school buildings were shut down, the online learning that followed was done in a completely asynchronous model–i.e., teachers would post materials and assignments and students could access them whenever they wanted to complete assignments). Now, there is an expectation that students will attend their classes virtually by logging into WebEx at certain times according to their class schedule. The schedule we will be using for online-only learning has A day class (periods 1-4) on Mondays and Wednesdays and B day classes (periods 5-8) on Tuesdays and Thursdays. Just like in regular in-person learning, these are 90-minute classes with five-minute "passing" periods and a lunch break built in between 11:00 and 11:30.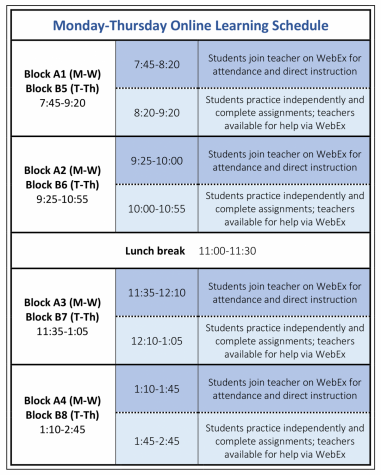 So what will these virtual classes look like? Teachers, for the most part, will be teaching from their classrooms or offices in the Frederick building, providing a close approximation to the classroom experience. Students will access their teachers through their WebEx rooms. "A big part of why we've shifted to this synchronous model is to help students by providing more structure to their day and to help parents know what their student should be doing at any given time in the day. When we eventually get back into the building, this model will make that transition much easier."
So will students have to watch a screen for 90 minutes straight? Not exactly: each class will start with every student logged and getting direct instruction from the teacher, but after receiving the instruction, students will be given independent tasks to complete with groups or on their own while the teacher will remain on WebEx in case students have questions with their work. "The lesson experience will really depend on the type of class and the teacher," Young said. A math class, for example, may start with twenty minutes of group practice and a lecture on solving a type of problem, then leave the rest of class open for independent work on a set of problems, whereas a fitness class may virtually guide a student through a full 90-minute workout.
"Every teacher in this building is a professional, and I trust that while this is a new way of doing things they will rise to the challenge and make the learning engaging and worthwhile." Regardless of how long teachers host their live lesson, students are expected to work for the full 90 minutes–and yes, attendance will be taken within the first fifteen minutes of the digital class, just as in the physical classroom.
Slightly Freaky Fridays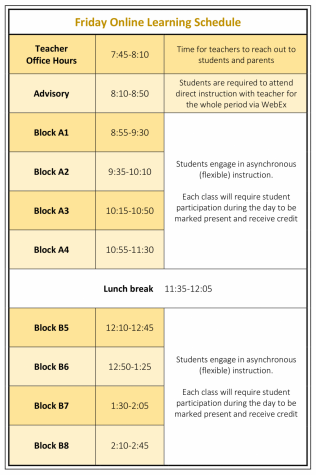 Notice that the above structure is for classes Monday through Thursdays–Fridays work much differently. "I want to emphasize that Fridays are not a day off, that attendance will still be taken, and that learning will still happen," Young told us. "However, these days are going to feel very different, as they will be focused on asynchronous learning."
So what will Friday look like? It all starts with teachers holding their Office Hours just like the spring semester; this time will be open for parents to contact teachers and vise versa. After that is Advisory, which will be more important this year than ever. "Without daily announcements and having conversations in the halls, it's hard to get important information to students. So Advisory will be a critical lifeline during our online learning." Advisory topics are also going to see a slight shift toward supporting students with COVID-19 related matters, from activities on how to stay engaged with online learning to how to keep emotionally healthy while learning at home being added to the normal routine of grade checks and goal setting.
After advisory comes an eight-period day with 35-minute asynchronous classes. Unlike Monday through Thursday classes, students are not required to log into their teacher's WebEx for class unless they have a question or have made an appointment. "Teachers are still teaching on Fridays," Young said, "but instead of whole-class instruction, this will be more individualized for students who need more guidance or time with their teacher." While teachers are working with some students one-on-one, the rest of the class will have an activity that they will have to submit that day in order to be marked as present for attendance.
Making the Grade This Year
Unlike last spring, teachers will use Infinite Campus for both attendance and grading so both students and parents can monitor progress. Instead of the 2-1-0 scoring model of last year's online work, teachers will be using traditional scoring tools such as rubrics and checklists to evaluated work. Each activity will be scored as an assessment (70% of overall grade) or learning activity (30%) as they have in the past.
This will be a relief to many students. "I absolutely hated the way grading last spring happened," senior Owen Etter told us. It was hard to get any real feedback on how we were doing and knowing that the work I was doing wasn't affecting my grade until the end made it feel very pointless."
As far as what work will be submitted and graded, it will all start with Schoology. Students will receive a syllabus for each class as usual that will outline the work and projects, and assignments will be posted through folders and modules to be completed by students. This is not to say Schoology will be the only technology teachers will use, as online learning has led teachers to find different technological solutions for various online limitations. Mass media, for example, will use free film streaming apps for their content while English will use literature from Newsela and Common Lit for many assignments. The district has been clear that they do not want to "preclude teachers from continuing to use a variety of digital learning tools" but that all classes will use Schoology as "a clear and predictable starting point for students."
A Temporary Solution?
This shift to 100% online instruction came as surprise to many students and parents, as the district has been preparing to teach a hybrid model where Frederick students would attend classes two or three days each week and spend the rest of their time engaging in asynchronous online work. According to Dr. Don Haddad, the decision to switch so close to the start of the school year wasn't easy but was necessary. In a communication to the community, he wrote, "Given the significant shift in information and the unrest that exists at this time, we do not believe that an in-person learning model would be conducive to learning and/or physical and emotional well-being." Some of the reasons he cited for the change were new pandemic modeling data showing that children "may be important drivers" of spreading the virus, the recent upward trend in positive cases in Colorado, and the "numerous communications from parents, students, teachers, and staff expressing valid concerns regarding the safety and well-being of our community."
The news that this online-only model would be for the first six weeks brings up another question anxiously asked by everyone from teachers to student to parents–what will happen after those six weeks? During the final week of September, district leadership will work with state health officials to determine if online-only will need to continue or if the school can tradition to a hybrid model similar to what was proposed this summer. "Everything is dependent on the data that we are getting from state and local health departments. Once we have a positivity rate under 5%, we can start discussions about bringing students back into the building. And we won't end class on Wednesday and suddenly come back on Thursday–we will give students, parents, and teachers notice and time to make that transition."
Of course, with a timeline for a vaccine uncertain and winter months coming, online-only learning could always return later in the year even if we return to a hybrid model with in-person learning in October. "I want students and parents to know that this is not ideal and I wish we could all be back together, but I think this all shows that we are committed to the safety and health of our students. I know teachers are preparing great lessons and digital experiences and that our community is strong enough to weather any storm."