Falling Short At State
Warrior wrestlers reflect on their time at state.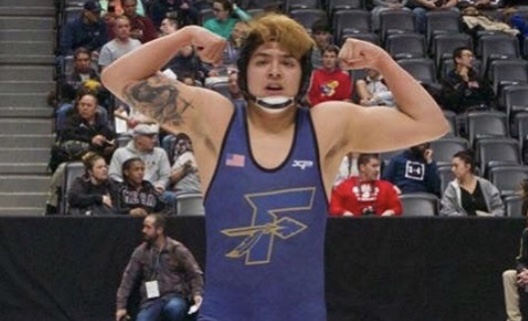 Senior Victor Rangel, junior Justin Dean, and sophomore Alex Carrillo represented Frederick High School at Wrestling State Championships at the Pepsi Center in front of hundreds of people last weekend. Making it to state is a huge accomplishment for every wrestler attending. It simply means that all of the hard work and effort put in, wasn't a waste of time, even if the outcome wasn't what they had in mind.
Unfortunately, all three wrestlers fell short of accomplishing their goals, but that's not stopping Alex Carrillo or Justin Dean from bringing home the gold next season. "My goal for next year is to be a state placer. I plan on going to camps and clubs, and overall improving my technique and speed," Carrillo told us.
"I'm going to work hard, as simple as that," Dean said. Justin Dean wrestler in the 106lbs weight class lost in his first match against a Longmont wrestler within the first five minutes. Dean lost once more in his second match within the first four minutes, giving him an overall record of 28-19.
This tournament is filled with tough and strong-willed wrestlers and anything could happen at any time, and these wrestlers had to be ready for anything. "What prepared me the most was my coaches and my mentality. When your mind isn't in the right place, you don't wrestle or do anything the same," Carrillo stated. Alex Carrillo fell within four minutes of his first match, and fell within five minutes of his second match, ending with an overall record of 25-18.
Being a senior, this was Victor Rangel's last shot at standing on the podium. Victor Rangel, with an overall record of 25-17, won his first match by 7-5 decision, a win where Rangel earned by having more points than his opponent from Discovery Canyon. Rangel moved to his second match and fell to a wrestler from Falcon High School within the first three minutes. "My wins and losses both felt good. I was upset that I didn't place, but I knew that the other wrestlers weren't better than me, I was just lacking the confidence that I needed to be successful," Rangel explained.
Victor Rangel has decided that his senior year would be his last year wrestling. While Alex Carillo and Justin Dean both have next year to work hard and aim high for state.