Taylor Swift's recent Eras tour has been a phenomenon. It recently set the world record for the highest-grossing music tour ever — while exact numbers have not been finalized, the concert is estimated to bring in $2.2 billion in ticket sales alone. The ordering issues on the first date of ticket sales have resulted in a Congressional investigation of Ticketmaster. The Federal Reserve even released a statement claiming that Taylor Swift's concert boosted local economies along her tour route by a combined total of around $4.9 billion. The concert may soon hit another high point: one of the highest-grossing movies in 2023.
Taylor Swift's The Eras Tour movie is set to open in movie theaters on October 13th exclusively in North America. This filmed performance from her Inglewood, CA leg of the Eras tour will have a run time of 2 hours, 45 minutes and a sizable 44-song setlist. Movie theaters across the US are hoping for the same financial windfall that the live tour produced for the stadiums it played, as major chains are suffering after a summer of mostly box office bombs.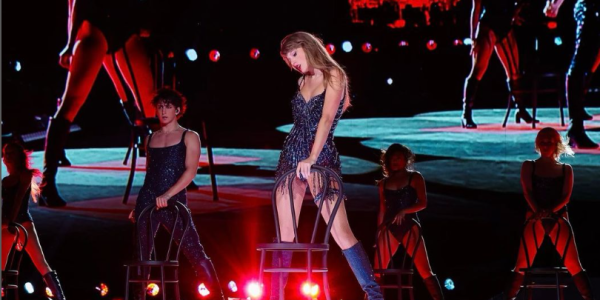 It looks like theatre owners will get it: on August 31, Swift published an Instagram post announcing the release of the concert movie; less than three hours later, the film sold $26 million in advanced ticket orders, breaking the record for the most ticket sales in a single day set by last year's Spider-Man: No Way Home. While this record is the result of higher-than-average ticket prices for the event ($19.89 for adults and $13 for children, based on Swift's birth year and lucky number respectively), it reflects the massive number of Swifties that plan on flooding theatres for the event.
But not everyone is happy about this new development. Specifically, the movie studios. As seen by the Barbenheimer craze this summer, a major film release can bury its competitors at the box office: box office analysts point to the success of Barbie and Oppenheimer as part of the reason that Mission:Impossible: Dead Reckoning and The Haunted Mansion underperformed.
To avoid a similar fate, the upcoming film The Exorcist: Believer moved from its original October 13 date to an October 6 release. Jason Blum of Blumhouse, the production company behind The Exorcist: Believer, announced the change over social media: "Look what you made me do. The Exorcist: Believer moves to 10/6/23. #TaylorWins." While this may seem good-natured, the reality is that Blumhouse had to pull its existing advertising and replace it all with the new date, which will doubtless increase the cost of an already expensive film.
More importantly, Hollywood was blindsided by this move from Swift. While movie release dates are planned years before release to avoid a crowded movie market, Swift only filmed her concert movie in early August and announced the project on August 31. Swift also received some pushback for releasing a film during a writing and acting strike. Though Swift has acted in a handful of Hollywood films and is directing her own full-length feature film, she is not a member of SAG-AFTRA and avoided any conflicts with the current strike (though SAG-AFTRA did give this film their blessing).
Taylor Swift
None of this criticism has affected fan enthusiasm. This movie is expected to make $100 million on opening weekend and has already passed AMC's advanced sales for Avengers: Endgame. According to Forbes, Taylor Swift is the second richest self-made woman in the music industry with a net worth of $740 million. This concert looks to increase that number with plenty of money going to cinemas.
This concert movie and the summer Barbenheimer double blockbuster may be signaling a major change to movie theaters: making films must-see events. The concert film sounds more like a party than a night out at the movies: Swift wrote in an Instagram post that "Eras attire, friendship bracelets, singing and dancing encouraged." Taylor wants her fans to act as if the tour film is the live Eras tour and to dress the part — a notable similarity to the opening weekend of Barbenheimer where cinemas were full of Barbie and serious historical scientist cosplay.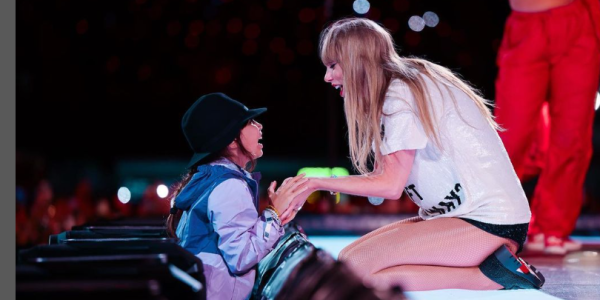 If Swift is successful (and there is no indication that she won't be), this release model and event strategy could become regular. There is arguably no music artist as popular as Swift right now, meaning that future projects may not have the same amazing sales, but even half of the recent success of this film would count as a big win for the artist, their fans, and movie theaters.
If you can still find a seat, tickets are currently on sale for the film at AMC. If you aren't near an AMC, Cinemark is allowing you to rent a private movie theater to watch The Eras Tour film for $800: this price includes seats for 40 friends anywhere you want in the theatre. There is still no word on when the movie will come to streaming or what platform will have it.