ALEXIS WOODRUFF: Eyes on the Prize
Frederick's first PTECH salutatorian shares how her motivation led to her success
Ambition and hard work are all that student-athlete and PTECH salutatorian Alexis Woodruff knows. Ever since freshman year, Alexis has had a winning mentality whether that applied to her grades or how she did in soccer: her motto has always been win, win, win. 
Currently, Alexis is involved in NHS, sources of strength, and of course PTECH as well as women's soccer program. But soccer isn't new for Alexis: "I've played soccer since I was seven or maybe even younger, going through rec leagues to competitive programs," she said.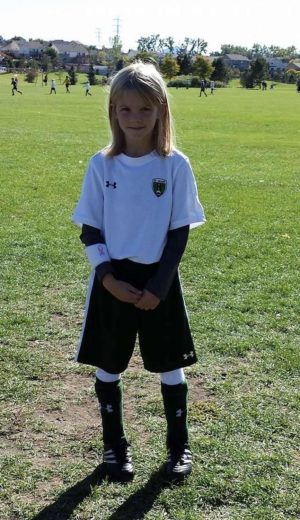 Her experience as a student-athlete contributed to Alexis developing a winner's perspective. "I always want to make my family and teammates proud. I think about all I have improved on and how much I can balance which pushes me to become the best player I can be."  
Even though she has played for as long as she can remember she doesn't plan on playing soccer after high school as she feels that "it's not something I would want to do as I get older." Alexis mentioned that what she loved the most about playing soccer was how it brought her closer to others.
 "The best part of high school sports is how close a team can become and forming bonds that are different from others. You are able to connect with teammates that are from different backgrounds or in different grades."
Alexis isn't just successful athletically but academically as well. Alexis Woodruff will be the class of 2023 PTECH salutatorian. She said, "Being a P-Tech salutatorian feels good and very accomplishing. I have worked hard and always been on myself academically so knowing all I have done has paid off is very rewarding." 
All the work and effort to finish the PTECH program was tough but was something that Alexis was able to handle. Hard work is like a second language to Alexis. 
"I can always put my mind toward something and dedicate time to get it done. I'm the type to get my work done as soon as I receive it. I enjoy school and I love that I have the opportunity to get to learn every day." 
The PTECH program gives the opportunity to earn an Associate Degree in Biochemistry alongside their high school diploma. Alexis said that the program has helped her a lot with deciding what she'd like to do with her future.
"P-Tech has helped expose me to college coursework and the workforce. Over the past summer, I worked at a pharmaceutical company and my time there helped increase my time management, communication skills, and [skills to] become more organized. It helped eliminate what I did not have an interest in and that exposure to those with different occupations. Taking different courses is what led me to study Speech Pathology."
Alexis plans on attending Colorado University of Boulder where she will study Speech Pathology. Such big programs can seem difficult and hard to join especially to incoming students. But Alexis noted that that's how PTECH can feel to an incoming freshman. Alexis mentioned that she truly does recommend that incoming freshmen should really give the PTECH program a try, as it offers a lot of opportunities for students to get ahead in their education.
"I would say to just enjoy your high school experience. It goes by insanely fast and it's not worth it to get into drama or to be scared of judgment. If you want to play an instrument, join a band or orchestra. If you want to play a sport, play soccer, tennis, or any other athletics offered. If you want to take leadership, apply to classes that will help with that. High School will offer you the resources needed to do what you enjoy."