Senior Spotlight: Inspiring New Minds
Inspiring new minds, Paxtyn Mangus graduates early to become an elementary teacher.
From moving to Frederick last year to graduating early Paxtyn Mangus is a hardworking caring student, who represents what it means to be a Golden Eagle.
Paxtyn has worked so hard to get to where she is. She said "it for sure wasn't easy to graduate early. I started working on this journey my freshman year to get all my credits and push myself to get the grades I strive for. It is one of my biggest accomplishments in life so far, to be able to set this goal and complete it."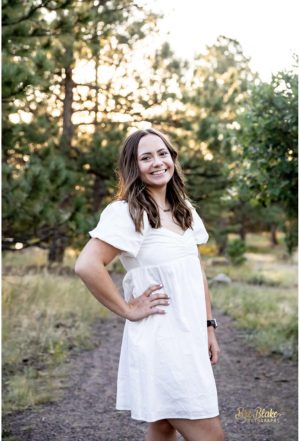 She is attending Kearney Nebraska at the start of January to begin her future as an elementary school teacher.
"I chose an elementary school teacher because I love watching kids get that lightbulb moment and I enjoy being the one to cause that change for them. I also love to ensure the students a safe place away from home."
She chose Nebraska because it has always been her dream college and they have a very good teaching program. Her older brother also attended Kearney and she thinks it would be cool to follow in his footsteps.
Paxtyn made so many connections throughout her time at Frederick, but before coming here she attended Burlington high school where she had made her forever friends.
"I can always remember asking Paxtyn what she was doing for the weekend and her answer would be driving to Flagler to go see her family and be with her friends from Burlington." Said, Ryley Anderson.
Graduating early is a huge step in a 17-year-old life and it can be very scary, but Paxtyn is very excited for the journey and to see where it leads her and what doors will open up.
She said "I am looking forward to the experience and the lessons I'm going to learn. Moving on my own at 17 will be a challenge but learning the independence aspect of life will be good."
While here at Frederick the bonds she had made and the impact on the people that she met will be with them forever. She has made so many relationships with teachers and friends it will be hard to leave, but she will make an impact wherever she goes and will build so many more great relationships.
"I don't know if I regret anything other than kind of excluding myself last year from social events, but after being more involved in my last semester of high school it made up for everything. Although I might miss out on a lot of activities it is nice to know I can come back for prom and graduation."
To Paxtyn, "I wish you the best in the future and I know you will inspire so many young minds. Enjoy college and doing what you want to do!!" -Ryley Anderson
"I enjoyed being around you and all of our walks in English. I wish you all the best in College." -Carlie Nagy
"Paxtyn you've always been a little ray of sunshine, best or worst days you always found a way to make me laugh. You had become by best friend in a matter of four months and we did everything together. You were one of my biggest supporters in softball and life, you even pushed me out of my comfort zone. I will always remember Homecoming night when we ended up getting ice cream from the gas station because our dates didn't work out. I will always miss your smile, optimism and just being in your presence. You've always been a breath of fresh air. I wish you the best of luck and thank you for everything." -Haley Howell