Bringing It to the Mat
Wrestlings bigger team changes their playoff picture.
Wrestling isn't like other sports, like volleyball or football that typically have a set number of players all working as a team. Yet, a wrestling team can be small enough to fill a van or large enough to fill two buses when it comes to wins at regionals, it's not the number of playoffs but their skill and support of each other. Luckily this year Frederick has both; after losing several promenade seniors last year, the wrestling team not only has expanded but has gone into a period of rebuilding to elevate so many new players. With wrestling regionals tomorrow, the whole state will see if this strategy has been well executed or if Frederick Wrestling still has some growing to do.
Over the past few years, Frederick wrestling hasn't had many athletes in the program; in the past, the pool of athletes may have only consisted of 15 to 20 wrestlers. Yet, this season, freshmen and sophomores have stepped up big time, and over 40 athletes have signed up this year. "Compared to last year, the team has shown improvement. We had a record number of athletes this year, which means word is getting out about how wrestling can benefit athletes and students from different walks of life. Last year was one of the best incoming freshman classes to date, and we're continuing that upward trend as a team. Some differences from last year are that our sophomores have really stepped up and led by example for the incoming class. We are a young team with mostly freshmen and sophomores, but we're making big statements. The biggest difference is team morale. Wrestling is a hard sport, but the hard training sessions have brought us together like never before." Coach Anthony states.
With a greater number of athletes coming out to compete this season, the weight class competition has expanded. Although the team is young and doesn't quite have the experience, this season was a building year, and though it set back a lot of their placings in tournaments, plenty of athletes on the team stood out on the mat. Coach Anthony further explains, "This season has been another building year. We have become more structured. As our numbers grow and the team becomes more mature, we will ultimately do better and better. The goal is to get better day after day, and we have done just that. We have a long road ahead of us. But with the core group we have, the sky's the limit as to what is possible."
"One of the biggest challenges we faced as a team this year was just injuries and sickness. With our sport, we train so hard that it can be a grind. But despite the setbacks, we have pulled together and are looking for a standout year at this season's regional tournament. With record numbers and a lot of new athletes to the sport this tends to happen. With more experienced athletes next season, this will definitely improve." explained by Coach Anthony.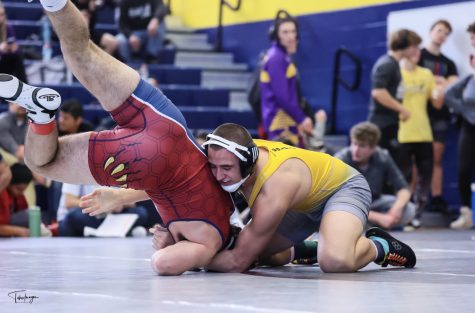 While the team continues to build and get stronger in their final week of the regular season, they have accomplished a lot and making sure to keep their opponents on their toes. Lots of individuals on the team have stood out and worked hard to be successful. "This year we had our first Golden Eagle Invitational champion in Diego Rangel. In my tenure at Frederick, this is the first time we have brought a gold medal back to the team. The team captain has led the charge this year, both in terms of work ethic and leadership skills. We have shown in our tournaments that we're biting at the heels of some of these fully established programs. We are placing more and more as a team and bringing home more and more medals as we compete and get better." Coach Anthony states.
The team has had several standouts this season, and it has shown. In particular, team captain sophomore Diego Rangel has stood out a lot this year, and he is a great leader to have on the team. As he has committed himself to training for the sport year-round, he has also been a super positive and supportive teammate. "Going into postseason I have a lot more focus and determination during practice and also visualizing each match and how I want it to go. During the season the team has had a lot of ups and downs with people getting sick or injured but overall, we have come a long way from how we started and if we keep working hard we will win a lot of duals and tournaments next year." Diego Rangel quotes.
With the team now finishing up their last week of regular season they are now preparing for bigger, as they head into postseason and with regionals coming up in a short amount of time. Frederick will be hosting regionals, and now or never, many athletes on the team are taking their next steps forward to compete at regionals in hopes of advancing farther individuals into the postseason and send those athletes to state this year. Coach Anthony quotes, "The team is ready for regionals. We have several standouts that we're hoping to bring to the state. In years past, we have only brought 2-3 athletes to the state per year. For the first time, now we can send more. We have one final week to push it to the limit and get ready to show what we're made of."
Regardless of the placings at regionals on February 10, the team has had a great season, and they are working hard to get better and grow in the upcoming seasons. Coach Anthony has some final advice for the team before heading into regionals. "I plan to tell the team they are ready. The season is long, and the finale is here. It's time to give the final sprint to the podium. It's time to show what we're made of. If we all wrestle to the whistle, if we all go out with purpose, Then we have an opportunity to make a big statement this year. I believe in each and every one of you. It's been a long road, but we're proud of each and every one of you."