A Couple Calls Can Make All the Difference
The Warriors take on the Mavericks in their last league game
Both teams entered undefeated, but after four quarters of a close game, the Mead Mavericks pulled out a win to remain undefeated, the final score was 20-27. Not only was the perfect season record on the line, but the chance to claim the 3A Northern Metro Championship title. Luker Dunker recalls, "We all felt pretty confident and we knew it was going to be a tough game, but we knew what we had in store. We knew we had a great opportunity to win."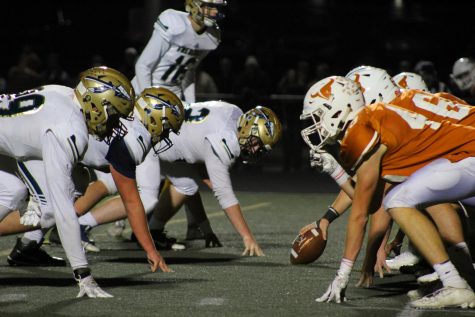 To start the game, Frederick won the coin toss and chose to receive the punt from the Mavericks. The warriors spent the beginning of the quarter running the ball down the field until they were stopped; Luke Dunker forced to kick a 32-yard field goal. Mead scored soon after making the score 3-6. At the end of the first, Jake Green ran the ball 40 yards for a touchdown ending the first quarter 10-6 warriors. In the second, Dom Schleif was quick to score for Frederick in a 10-yard passing play. Mead scored again, and the score was 17-12 going into halftime.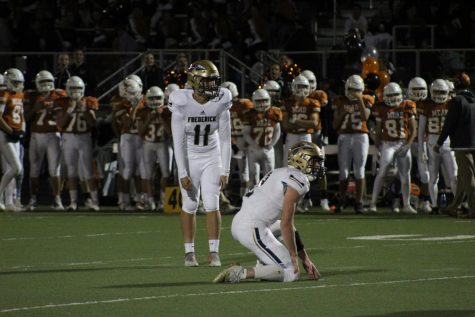 In the third quarter, Mead scored right out of the gates, taking the lead for the first time in the game. Soon after, Luke Dunker kicked a 34-yard field goal to tie the game 20-20. In the fourth, Mead scored their final touchdown, and with two minutes on the clock; Frederick still has a chance. Jake Green threw a touchdown to Dom Schleif, but a flag was thrown for illegal man downfield and the warriors were forced to move back 10 yards. They tried to run the ball in the fourth down but were unable to, which ended the game. After the game, Jake Green told us, "Our team played pretty well, some calls didn't go the way we hoped, but there were things we could've done to prevent those calls. Overall I'm proud of my team." Michael Clementson (offensive), Sean Holbrook (defensive), and Luke Dunker (special teams) were all named players of the game for Frederick.
Missed the game? Catch the Warriors in their first playoff game this Friday, November 15th, at home against Thomas Jefferson High School.