GIADA DEJULIO: Theatre Royalty
Giada DeJulio rules as the queen of Frederick Theatre (without actually being a drama queen)
There's a reason we call those on the stage "stars": they are bright, constant, and burn from an inner fire that can never be put out. All of these qualities fit Giada DeJulio, one of the nicest and most talented members of Frederick's Class of 2022.
If you attend Frederick, you know who Giada is even if you don't know her name. For the past two years, she's been the voice of the morning announcements (the bubbly one, not the deep one). She has a striking appearance: shorter in stature ("I'm not that short," she says), she zips through the halls like a hummingbird with her bright yellow backpack, her music case covered in colorful stickers, and her long hair trailing behind her. More than anything, you'll recognize her by her wide smile.
"People think just because I smile all the time that I'm always happy," Giada told us. "I'm not. I mean, I'm happy most of the time, but no one is ever always happy. But if you're sad or upset, you can stay that way and be miserable, or you can smile anyway and try to make things better. And I always want to make things better."
Giada's infectious smile and affability make her a natural leader. As a Link Crew leader and Jumpstart student presenter, Giada did a lot to make this year's freshmen feel comfortable coming into Frederick and seeing the seniors as potential friends instead of scary young adults with attitude problems. She has become a leader in both the orchestra and choir programs, helping others play better while doing her part in her musical efforts.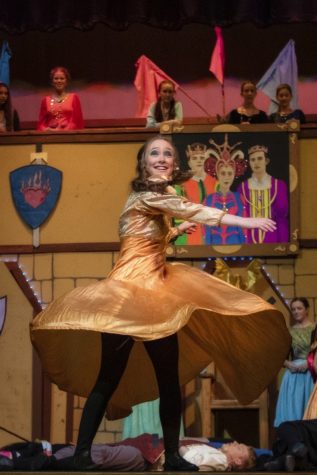 But while these are passions for Giada, her heart is most devoted to theatre and dance. From the first show of her freshman year, Giada auditioned for every play and volunteered for every opportunity at Frederick. She proudly wears the term Thespian, which is another word for someone involved in theatre, and is Troupe President of Frederick's branch of the International Thespian Society. She also was the first Frederick student to win a Best thespian award, the first student to direct a mainstage show for Frederick, and was recently the lead role in Frederick's fall musical Once Upon a Mattress.
"I came into high school knowing I wanted to be on stage and perform," Giada told The Lantern, "but I didn't realize that I would want to push my learning and be a part of the Theatre leadership team. I love helping facilitate how our theater department should run, and being able to try new things is what really impacted my high school experience." 
Giada's leadership has already had a major impact on the Theatre program. Thanks to Giada's efforts, Frederick will stage two musicals in a single year for the first time ever. In addition to Once Upon a Mattress, Frederick will present a musical called High Fidelity in April. Giada's care for others inspired her to fight for two musicals when she heard some of her friends lament that they couldn't fit a musical class into their schedules.
"It was a lot of work," Giada said about getting another musical. "I had to write up a proposal for the show and convince Mr. Coon and Dr. Fox to go for it. Then I had to help Mr. Coon find musicians and make a fundraising plan to pay for the set and other things. Now I'm trying to hype everyone up to audition because I love this show and think it will be really fun!"
Giada is no stranger to leading and organizing theatrical projects: last year, she co-directed Frankenstein with Mr. Coon and has helped choreograph and direct seasonal plays at her church. She put her skills to the test this September when she directed her own one-act with her best friend Joelle Richard and was selected to present it at Miner's Day for the entire community.
Giada's fellow senior and actor Kaydence Young was not surprised at all when Giada earned these opportunities. "Working with Giada makes for a very happy working environment. She always strives to make sure everyone is included and happy."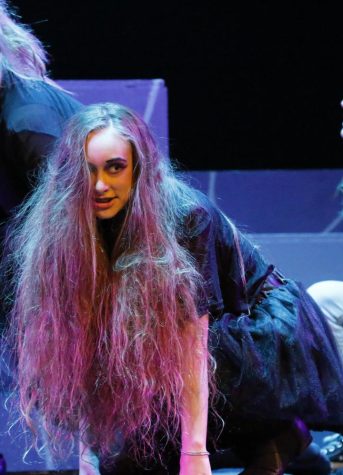 Just because Giada always has a smile on her face doesn't mean that everything comes easy for her. Giada is constantly busy between keeping her 4.0 GPA up, practicing her violin (who she affectionately calls "Ricardo"), spending quality time with her friends and siblings, and of course, attending theatre rehearsals that can sometimes go from 3 PM to 9 PM. Yet even though Giada can get tired, she doesn't get irritable. Even when she is overwhelmed, she doesn't frown.
"Giada is one of the most interesting students I've had the privilege to teach," Mr. Coon told us. "She has this well of energy that she's always pulling from that allows her to always do more and go forward when no one else can. It's not a burning passion–it's electric, and I've seen her quite literally give others a charge of enthusiasm just by talking with them. She can get down but never out, and unlike a lot of drama students, she never has a bad word to say about anyone. There is no one quite like her."
Giada's peers agree. Senior Gabriel Zierlein said, "There is almost nothing she can't do when it comes to performing. She sings, dances, acts, and plays the violin. Giada is hard-working and dedicated to everything she does. She is constantly full of energy and is very optimistic, even when the environment around her is negative and pessimistic." Senior Rylee Lorimer added that "she lights up every room whenever she's present, and she will do everything she can to make people smile." 
These qualities made Giada a perfect fit for Frederick's fall musical Once Upon a Mattress. The musical features a quirky, charming princess named Winifred with a big heart and a loud voice who soon wins the affection of an entire kingdom. Starring onstage as a princess became a dream come true for Giada.
"Obviously, my favorite princess is Rapunzel," Giada told us, laughing as she stroked her waist-long hair. "And when I got to play a princess last year in A Backwards Fairytale [a one-act Frederick performed for local elementary and middle schools], I was super happy. But getting Fred was a hundred times better because now I'm a princess who gets to sing and dance too."
Just because Giada reached a dream role doesn't mean she'll stop anytime soon, as she's ready for new challenges and opportunities to perform. She is currently auditioning for theatre scholarships, and she will choreograph an entire full-length show for the first time this spring. Giada plans to attend the University of Northern Colorado next fall, pursuing Musical Theatre as a major, as she wants her high school passion to become her life's work. Yet she's also looking at minors in dance and business–she also has a dream of owning her own dance studio where she can teach young dance students, and she says she'd be just as happy doing that as acting for a living.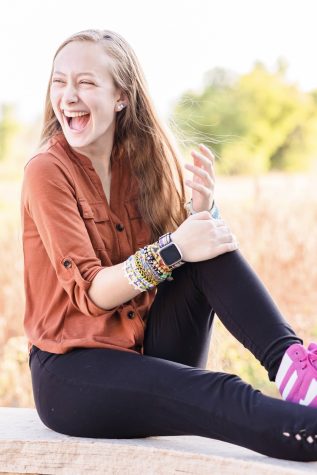 "Even if I don't end up on Broadway or starring in a movie, there are amazing places that create shows, and I would like to perform either way," she said. She brought up all the examples of what she has done at Frederick, proving that if an opportunity isn't there, she will create it.
However, Giada is currently living in the present, as she's spending this next week finishing up Once Upon a Mattress, auditioning for the Frederick winter play, helping create audition materials for the spring musical, recording a theatre scholarship audition video, playing in an orchestral concert, inducting new Thespians into her Honor Society, and practicing her competition piece for State.
"The thought of graduating hasn't really settled in yet," Giada said. "There's so much to still do. That's the thing I'll miss most about high school: participating in things. Not everyone is a football player or a trumpet player, and that's okay. But everyone has something that keeps them going, and seeing people wanting to try new and different things is amazing. For me, it's performing."
This is what makes Giada not just a princess in a musical but a drama queen (but not THAT kind of drama queen because she's the nicest person on Earth). She is not only killing it at everything theatre, but is humble and caring enough to make sure everyone is having a good time in the audience, onstage, and backstage.
According to Mr. Coon, this is the secret of Giada's success. "It's her heart. She's so good at theatre because she loves it. She loves the audience. She loves her fellow performers. She loves the lights and the set and every little thing onstage. And if something goes wrong, she loves the challenge. And when you see someone love something that much and that openly, it's impossible not to love her back."