Softball Makes Regionals Again
Frederick softball headed to State after hosting and dominating regionals
On Friday, October 14, Frederick's varsity softball team hosted the softball regionals right here at Frederick High.  Four teams: participated: our Golden Eagles, the Wheat Ridge Farmers, the Pueblo West Cyclones, and the Air Academy Kadets all participated. These regionals would determine the top two teams that would go to state. 
The first two matchups were Frederick High Cchool vs. Wheat Ridge and Pueblo West vs. Air Academy. Frederick beat Wheat Ridge 11-6 and Pueblo west beat Air Academy 7-4.
For Frederick's first game against Wheat Ridge, they were neck and neck. Sometimes Frederick would be in the lead of 4-3, and then the next inning, Wheat Ridge would gain the lead of 4-5. But, this all changed in the fifth inning. Wheat Ridge was up by 4-6 and it was our turn to bat. While we were batting, we had an insane streak of getting 5 runs in. The score went up 9-6. Many batters got double hits including Avery Salisbury (#21), Haley Howell (#27), Tatum Ross (#30), and Hailey Simmons (#12). 
There were only two more innings to go and surely enough Frederick won. The final score of the first game was 11-6. Frederick was guaranteed state at this point and everyone was happy. While we were playing, the winner of the Pueblo Cyclones and the Air Academy Kadets game.  
For Frederick's second game, they faced off against the winner of the previous match, Pueblo. The first inning begins and Frederick starts off with a lead of 4-1. By the third inning, Senior Haley Howell (#27), hits a ball over the fence and gets a home run. At this point, Frederick is in the lead by 11-1. It only lasted 5 innings and the game ended with the final score being 12-2. 
Heading to State after run ruling the cyclones and the momentum on Fredericks's side.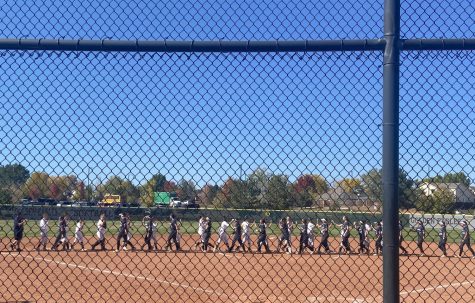 Although both Pueblo and Frederick were guaranteed to go to State after their first games, this shows how Frederick is dominating all of their opponents this season. They have an overall score of 23-3 games won. 
For the Varsity softball team, this means going to state on Friday, October 21. It will be held at the Aurora Sports Complex.  Saige Brown (#39) said, "I'm really proud of our team. I hope we do well at state but there will definitely be some really hard opponents."