En Elev Utomlands Äventyr
Swedish student Greta Kicklighter finds a home away from home at Frederick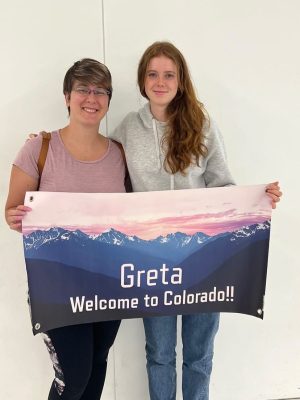 Weld County is home to Frederick, Dacono, Firestone, and other communities, each with its own culture and history. Yet Frederick High School has also become an educational home to several communities as teenagers from other countries attend Frederick each year through the Student Exchange program. These students follow their dreams of living life (even if briefly) in the United States while Frederick benefits from having these students share their culture with them.
One such student is Greta Kicklighter, who is a senior from Sweden. Her father was born in America and lives in Sweden with her mom and sister, both exchange students in America. Greta wanted to find out what life was like in the United States for herself and utilize her great English language skills. In addition, when asked why she wanted to attend high school in the USA, Greta stated "because my dad, my sister, and my mom went here." Their experiences are what inspired Greta to discover an association through her Swedish high school that allowed her to go abroad.
Greta was fortunate enough to be able to choose the United States as the country where she wanted to study but not the state. On August 5th, 2022, Greta arrived at her host home in Colorado. Fortunately, she loves it very much.
At Frederick High School, Greta is on the volleyball team. She practices every day and plays two games a week, which she does not mind. She likes being active and in Sweden, they don't have P.E. classes. This allows her to make friends in school. In addition, Greta participates in courses that do not exist in her school in Sweden. She isn't getting credit for her exchange year, so she took fun classes like "ceramics, choir, psychology, US History, and English" as well as participating in the musical and taking math to keep her skills sharp.
Some other differences between schools in Sweden and the USA she has noticed are the types of classes available to students. In Sweden, there are four categories: "social sciences, National, economics, and math /engineering." Two, the school day schedule is also different in Sweden, as she starts at 8:30 am and finishes around 4 pm. Thirdly she only has two classes during the day for three hours each. Greta said she likes school in Sweden more because she says the school is "easier in the US, but there is more work" and she prefers "to work harder for a shorter period of time."
Another difference Greta notices regarding the types of interactions between students. Here in the US, she feels the interactions are more superficial, whereas, in Sweden, she feels friendships are more meaningful. Lastly, she has observed US students do not take their education as seriously as her cohorts in Sweden. After school, she enjoys watching movies and TV shows with her host family as well as hanging out. She says that it's very nice to have this quiet time to chill and rest because she is very tired.
To finish Greta would recommend someone to do an exchange program because she has learned a lot about herself. She said "You should do it! You find out so much about yourself–you grow as a person."