Senior Spotlight: Going Places With Her Education
Haley Howell is an accomplished Frederick student… and Mead student, and CETC student, and Legacy student, and more
Haley Howell is a busy student. She is involved in a variety of school activities, including National Honor Society, Key Club, softball, and basketball. Haley has also taken a full load of classes since her freshman year. She has always challenged herself to be the best version of herself, and while lots of seniors try to make their last year as easy as possible, Haley is making sure every day counts.
"I always try my best to be a good classmate and a good teammate, no matter what challenges life brings me," Haley told The Lantern.
Unlike most seniors with full schedules, however, Haley's not at Frederick most of the time. Once Haley graduates, she is planning on attending a four-year college to study elementary education as her major, with a minor in developmental psychology. To take classes that will further her toward this goal, she needs more than what just Frederick can offer. So she splits her time between five campuses: Frederick, Mead High, the Innovation Center, Aims Community College, and Legacy Elementary.
"My class locations are split 50/50," she says. "I have Early Childhood Education as a professional at the Innovation Center, English 1021 online through Aims Community College, and Early Childhood Education Field Experience at Legacy Elementary. On the Frederick campus, I have AP Stats, Front Range public speaking, and crafts. I consider myself lucky to be able to immerse myself in a variety of different learning environments, all with unique groups of peers."
Not only is Haley's schedule tough to navigate, but with several college-level courses spread throughout the community, she has to work hard to keep on top of everything. Even though it may be intense, Haley prefers the rigor of her hectic school schedule to the regular senior experience.
"Most seniors would take the easiest classes they can take simply to get the credit and then also take advantage of all the school activities like sporting events and musicals. However, all of my classes are college-level except for crafts. So my workload is intense in the sense that I'm required to constantly be performing at the next level with difficult concepts."
Taking classes at different schools may be a challenge, whether it's fitting in, understanding the content, or blending well with the teachers. "I would say taking AP classes is hard just because of the type of work you are required to do, but all of the teachers that I've had experience with make the classes manageable and are absolutely willing to help with whatever you need! Taking classes at other schools, such as at Mead high school, the Innovation Center, or at Legacy Elementary, I would not necessarily consider it hard. Although it does require more communication with the teachers and the intimidation of knowing no one in your classes, I feel like it's more of a fun and unique opportunity." But why would you take on such challenges when you can just take an easy A for credit? Well, Haley has bigger goals for her future and she wants to achieve them to excel in everything she does. Who wouldn't? Haley quotes, "I challenge myself with these upper-level classes because I'm working to gain college credit before I actually get into college."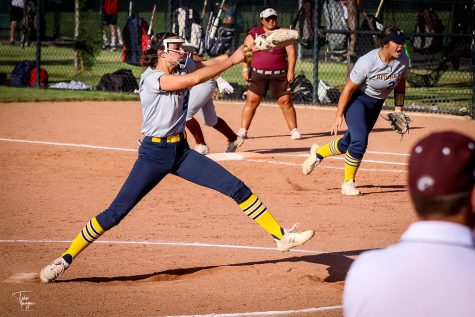 Haley may excel in school and have an outstanding GPA, but she is also a big-time athlete at FHS. Haley has now lettered all four years for varsity softball. She maintains a really big role on the diamond as her pitching is always phenomenal to watch. She is a great competitor and always works hard for her team. She has had many accomplishments during her four years, but is hoping to go to state for her final year at FHS. Haley also has experience on the court. She may have only played one year, but she made a difference as she lettered her sophomore year for the basketball team.
While being a student-athlete, Haley manages her time well and she finds time to put herself first. She has developed an outstanding work ethic and continues to work extremely hard even when it gets challenging. "I feel like sometimes it's a challenge to be in AP/college-level classes and still be a part of clubs and sports, especially with a larger reading load and more complex math. However, it is definitely achievable. On occasion, the workload just requires you to sacrifice sleep or time with friends and family."
What makes a strong motivation? Haley surrounds herself with people that share the same achievements and support her no matter what. In order to complete tasks in both academics and athletics, "I would say that the people around me, such as my parents and sister, share their achievements, so they inspire and push me to have achievements of my own. Also, I find motivation through checking items off of a list." With Haley surrounding herself with positivity, she finds herself being more successful than others and getting one step closer to her goals every single day.
From doing both school and sports, she's learned time management, organization, and sacrifice,  Haley quotes, "Over the years, you can develop many skills and face many challenges. It may be challenging, but determination is what will get you through those obstacles. Some skills I've picked up from being a successful athlete are how to multitask, how to study only what matters, and how to be okay with whatever results come from my trying my best. When it gets hard to overcome challenges, I cope by talking to my family and by placing myself in a productive environment with very few distractions."
Haley has had great and many accomplishments at Frederick High. She has made not only accomplishments in the classroom but also very big accomplishments on the field. Haley quotes, "I've earned both athletic and academic achievements. A few academics include academic letters every semester of high school, an award for AP Government, and the CHSAA Academic-All State. In athletics, I've earned Longs Peak Player of the Year, Longs Peak All-Conference, CHSAA All-State first team, and BoCOPreps All-Region first team. " Though Haley has made many academic and athletic achievements, she is still striving for more. She wants a little more than just awards.
"One thing I'd still like to accomplish is taking the time to slow down and enjoy my last year of high school. I feel like in the past three years, I have spent a lot of time studying and have sacrificed going to sporting events with my friends. This year, I feel like if I slow down a little, I'll be able to develop my relationships with the people around me."
Outside of school and sports, Haley enjoys spending time with her family, doing things like hiking, exploring mountain towns, and watching movies. She also enjoys hanging out with her friends to go get ice cream, go bowling, or even lift weights in the gym. Haley has had great success and has made a huge impact at Frederick High. She is going to come out on top and continue to progress in the next steps of her journey.