Fighting Up Stream
Streaming is more popular than ever and it can be incredibly confusing as to where the best place to watch new movies and shows is.
Back in pre-COVID times, one of the best activities that I loved to do was go to the movie theaters with my dad on Friday nights. It was one of those activities that we did religiously and we saw so many different films together while giving our opinions on them while driving home. Though going to movie theaters has been halted for the past year because of COVID and while audiences may still be able to go to some theaters for some films with heavy restriction, there still aren't a whole lot of films being produced or shown.
Though, an old and common way of watching movies has skyrocketed in popularity with anyone being able to watch a new film (if you have the subscription.) This has mostly been going on with HBO Max and some of the bigger films like The Snyder Cut of Justice League and King Kong Versus Godzilla, but other more "under the radar" films like Bad Trip have been released on Netflix and other services are beginning to claim new movies for themselves so they can exclusively stream them. Though, with all kinds of different apps nowadays, which one is the best? It's not as black and white as you'd think as all of the eight mainstream streaming apps have their flaws and pluses, so maybe one of these is right for you:

-HBO Max:
This is mainly run by the people over at Warner Media, who work for Warner Bros, and they've made a lot of different films these days. While HBO Max had a rough start with little subscribers, it's since had an explosion of popularity with now having about 17 million subscribers currently and over 1,300 films and shows. With the subscription sitting at $14.99 a month, it's pricey compared to others, but it does come with some other plans from phone providers like AT&T.
Pros:
All kinds of DC films and TV shows that are both new or old can be found on here specifically, especially since the collapse of the "DC Universe."
There's also a lot of old films and TV shows that you can pick from on this service, so if into older actors and directors like Charlie Chaplin, then this will be a great pick.
$14.99 isn't the lowest, but it's not the most expensive service (with no ads) on the list. As mentioned, you can also get it from some bundles with different companies.
Cons:
This service takes part in the idea of sharing some shows and movies with other services, almost like Netflix. They've been undergoing the situation of shows or movies only being up temporarily because of other deals.
It's also recently been reported to have access problems on different TVs. Meaning that some smart TVs don't allow HBO Max to be downloaded yet.

-Netflix:
We've all heard of Netflix, come on, does it need to be described? The red and black logo with all different kinds of original series and movies as well as familiar films all for $8.99 per month with the basic plan, $13.99 per month for the standard plan, and $17.99 per month for the premium plan. This service is so old that many can remember a time when we all used to order Netflix movies in the mail, but these days, they have over 200 million subscribers and are still holding strong with an all-digital platform.
Pros:
The Netflix app on TVs and phones is really easy to navigate and is commonly downloadable on every kind of device.
Some of their original films are pretty great and some others are meh, but most are decent.
They have a very wide selection of anime to watch for all of those people who are into that.
They also are currently adding a lot of classic Nickelodeon shows for everyone to have that little bit of nostalgia
Cons:
Lots of other big shows and movies are leaving or have left the platform for other deals, so it's incredibly unstable. This has also resulted in them losing a big percentage of their viewer base as of just recently.
Their prices are reportedly growing slowly so they can stay competitive with other apps.
The judgemental "Are you still watching?"

-Disney+:
Being of the newer streaming services, Disney+ took off in a major way with 95 million people currently subscribed to it. Everyone now has the chance to dive into old Disney movies and relive their childhood or entertain the next generation with films for the whole family. A subscription, to those unfamiliar, will cost you $7.99 a month or $79.99 for a year.
Pros:
All kinds of Disney movies from past and present lie here, though it's not just Disney movies, tons of films from the Marvel franchise are here with a few other miscellaneous ones as well.
This is the most kid-friendly app as there aren't any violent or too adult films on here that a child could stumble upon.
The subscription is fairly priced for very few films and TV shows, but they are trying to expand a little bit.
In the coming years, they'll also be doing the same thing that DC is doing with HBO Max, and that's releasing new Marvel movies both in theaters and on the app.
Cons:
Even though there are only Disney movies and Marvel movies, that doesn't leave a very wide selection to viewers and doesn't allow for a massive audience.
Most people canceled their subscription just to watch a single show or film and haven't returned, the biggest example of this is the Mandalorian and how many subscribers Disney+ lost after the show was concluded.

-Hulu:
Hulu is one of the older services and has undergone so many changes and edits that it's had so many good and bad stories to tell with its history. These days, Hulu sits around 39 million subscribers and that doesn't seem like a lot compared to others, but they haven't been at their best lately. Hulu currently offers a subscription plan for just $5.99 for the most basic plan, which does include ads and their most expensive plan is $69.99 which includes Live TV and no ads.
Pros:
There is a certain package, as mentioned, that you can buy that gets you live TV, and getting that is uncommon with most services, so if you're one of those people who still enjoy live TV, Hulu is there for you.
While yes, ads are annoying, but 6 dollars for tons of films and shows? That's certainly the lowest price on this list, but it probably makes up for how basic it is. They could be overcharging you for nothing.
It is annoying that you have to add on packages for certain films and shows. At least it lets you customize it in terms of price so you're not overpaying for tons of films and shows that you won't watch.
Cons:
This is one of the few streaming services that allow ads in their service and no one wants to pay extra for no ads ever, that should just be given.
You also need many different kinds of add-ons to watch certain movies like the "STARZ" package and all sorts of other packages that will be added to your bill.

-Paramount+:
This service is the newest platform to be released as it's not even a month old yet, but they already have 18 million subscribers. Paramount+ is just now dipping its toes in the pool of streaming services by offering CBS, Nickelodeon, and Comedy Central shows for the price of $99.99 a year. However, their 100 dollar bundle is their only bundle that offers no ads, but a base subscription for $5.99 a month will get you over 2,500 movies and TV shows.
Pros:
Currently, at this very moment, you can find every episode of Spongebob Squarepants, everyone's favorite show and sea-sponge, on this service right now.
$5.99 a month is competitive with Hulu and doesn't try to be incredibly bold with what it's offering.
Considering this is CBS and Nickelodeon programming, there's tons of family-friendly content that everyone can watch. Eventually, most of Nickelodeon's shows from past and present will lie here.
Cons:
Being so new, there is currently VERY little original content on here, which they could've prepared in advance, but they didn't. Though, an original Star Trek show is coming.
There isn't a watchlist option, which is a massive deal-breaker for most viewers.
Things like streaming in 4K and offline downloads are only for premium users only, so beware. You'll have to spend 100 dollars if you want to download something.

-Apple TV Plus:
While this one is almost like its own company like Xfinity and DirecTV, Apple TV Plus allows viewers to watch anything that they want, but some movies, you might have to buy. Currently, the service stands around 10 million subscribers and is exclusive to Apple products, smart TVs, and TV devices. Valued at $4.99 for a subscription, that's pretty good for access to a lot of shows and films, though, additional purchases may be required.
Pros:
There are tons of originals for Apple TV plus, some may not be very good, but there are lots of different originals to choose from.
Tons of access to all different kinds of media, as mentioned you may have to buy some of that media, but you have lots of access.
It's affordable for most people and can be bundled with Apple Music.
Cons:
It's exclusive to Apple devices and other third-party TVs, so if you don't have an Apple device, this could be a deal-breaker.
They took Charlie Brown from regular cable, so that was a little mean, but it's business.
Navigating the app isn't easy, it's way too cluttered and full of different things, so you can't find your way around.

-Prime Video:
It seems like with each passing day, Amazon has something else that they've made or is introducing. One of their earliest services was Prime Video and being the second oldest streaming service, it at around 150 million subscribers today. At $8.99 a month for just a membership to Prime Video alone, or for just $12.99 a month, you could get an Amazon Prime membership and a Prime Video membership, which is all decent. Prime Video also has a wide variety of TVs that it can be on and is the second most used streaming service, with Netflix being the first.
Pros:
All kinds of smart TVs use Prime Video, so it's incredibly versatile.
Being able to bundle a streaming service with one of the largest and fastest shipping services in the world is a really good deal.
There are a few Prime Originals that you can indulge in, as everyone likes original content.
There's also the Amazon Fire TV Stick, which plugs into your TV via HDMI, and this grants you all kinds of other streaming services, so it allows your TV to become even smarter.
Cons:
There are still some movies and shows that you'll have to rent if they're not in at the moment.
There are all kinds of bundles you can get with Amazon that include other services. If you're not good with technology or figuring out deals, then this could be confusing for you.
While there are originals, there aren't any memorable ones or even a lot of them.
Why give Jeff Bazos more money? Come on.

-Peacock:
Being a stem from NBC, Peacock offers lots of different films and TV shows for free, but it'll cost you because you'll have to watch ads. If you don't want ads though, it'll be $9.99 a month which is a very standard price. It currently sits at around 33 million subscribers and was introduced only back in July of 2020, so it's been doing pretty well for its short time in the limelight.
Pros:
It's an incredibly simple service compared to most because of how easy it is to navigate it and also purchase. Not only that, but it's also easy to navigate.
The ads aren't really that bothering and can provide a nice break, but still, they can be annoying sometimes.
You get live TV free with Peacock and for lots of people, that's a huge plus.
There are also some older Universal Studios films here for those who love the older classics from Hitchcock and the Marx Brothers.
Cons:
There are only a few originals, but the originals aren't something teens of this generation would ever know because they're continuations of older shows like Punky Bruster.
$9.99 is only slightly pricier compared to other options, especially with little flavor to the service.
While simplistic can be great for some people, this service by itself needs a lot more originality. They don't have a massive reason for viewers to subscribe to them.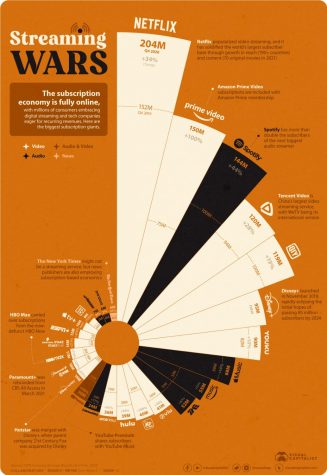 While this graph may contradict the statement of, 'it's all up to the viewers of what they want to watch and each experience is going to be different,' it doesn't. Some of the different services may have way more popularity and subscribers than the others, but as many audiences find, sometimes the most taboo service may be right for them. There isn't a legendary streaming service right now that has everything that everyone wants and the ethics to back it up.
It's probably the most evident at the time of writing this with the fact that shows and movies are always changing hands with new services being introduced as well as old ones rising and falling in popularity, which shows just how fragile this area of media is. It's all a different kind of politics and almost a game, but at least we have them at all in this time where we still can't freely go to the movie theaters with our mothers, fathers, and friends.