FHS Cheer Takes it All to State
First place might not always be the best
The Frederick cheerleaders day has come. It's time to shine and they were as prepared as possible. The team took everything they had to state and left an amazing performance on the mat.
The Frederick Cheer Team has decided to enter themselves into the new Game Day Division for Chsaa Spirit competition. There were a total of 32 teams that have joined the new division this year. Being a new division no one could be extremely prepared for what could happen. The FHS cheerleaders decided throughout the season to participate in other GameDay competitions just to make sure they were prepared for State.
The day of state: The day of state was an extremely stressful day for the cheerleaders. They had just enough time to watch some of their competition before they went on.
When the cheerleaders went on their parents were their biggest supporters. They were cheering loud and they even have learned the cheers throughout the season. The parent section was a party. There was laughter even some crying once they went on.
The girls hit a 0 deduction routine meaning they had a chance of taking it all. They were crying and extremely excited to hear the results of that night. They watched their performance over and over again while waiting for the results. Parents were extremely proud and so were coaches.
8:30pm comes around and it's time for the results the girls sit there waiting to hear if they made finals. They called the first 8 teams that have made it to finals but unfortunately they didn't make it. They got 11th place. It was so close yet so far.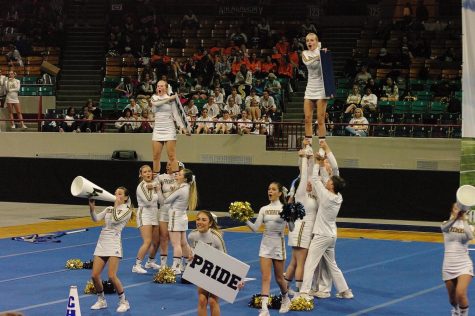 "I believe that the girls put in their all and we all worked as a team to go out on the mat and give a great performance. Finals was definitely a goal of our and we were ready for it if it came our way. The whole team is proud of what we put on the mat especially getting 11th place because that's the best we have ever done." Kayla McManus(Sr.)
They have competed with the other teams before but this time was different this time it seemed harder and like a whole new world. They might have not given the best performance over all but it was still perfect in their eyes.
"My senior year was one of the best cheer wise. I'm very proud of what we did at state and I'm glad that that was how I finished my senior year. I will always remember that day and I will always remember the feeling when we got 11th at state." Kaelynn Villalobos(Sr.)
We are extremely proud of what our girls put on the mat and we will always remember that moment. The girls may have not taken first or have even made it to finals but there's always next year and they will always and forever remember the routine they put on that mat in December 6th.