On to the Next Round
Frederick Football continues their wins by moving on to Round 2 of the playoffs
After making it to the first round of playoffs for the second year in a row, Frederick's varsity football team set out last Friday to take on No. 11, Thomas Jefferson High. With a close game in the first half, the Warriors pulled out a big win against the Spartans with the final score being 45-14. Dylan Sindelar recites, "Up until this point, that was the most important game I've ever played in and it's an amazing feeling knowing I have another week to play with my boys."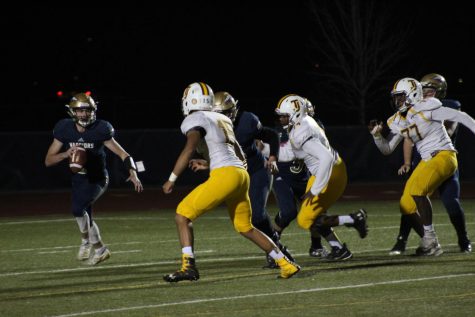 At the start of the game, the Warriors kicked off the ball to the Spartans since Thomas Jefferson won the coin toss. Later in the quarter, Brandon Hornby was the first to score for the Warriors, followed by a touchdown by the Spartans to end the first. In the second Jake Green scores on a 14-yard run to give the Warriors a 14-7 lead. Defense takes over and stops the opponent's offense giving us another chance to score. Parker Ayres scores for Frederick, making it the last score in the first half. Thomas Jefferson scores at the end of the second, making the score 21-14 going into halftime.
In the third Jake Green scores his second touchdown extending the lead 28-14. The defense does a great job of holding the Spartans at 14 for the rest of the quarter. At the end of the quarter, Luke Dunker kicks a 32-yard field goal. The score was 31-14 going into the final quarter. In the last quarter, Jake Green scores his third and final touchdown adding another seven points for Frederick. Towards the end of the fourth, Isaac Zavala received an interception leading to Tyler Weston scoring the final touchdown for the Warriors. This victory captured Frederick's first 10-win season in program history. The Warriors will be moving on to Round 2, where they will face Discovery Canyon; the team they lost to last year 34-31 in double overtime.
Jake Green told us, "It was a great feeling knowing that we had done something no other team in Frederick history has done and I hope we can make it more of a record." After the game, seniors Joey Notaro and Sean Holbrook threw a bucket of water on Coach Peeples to start the celebration.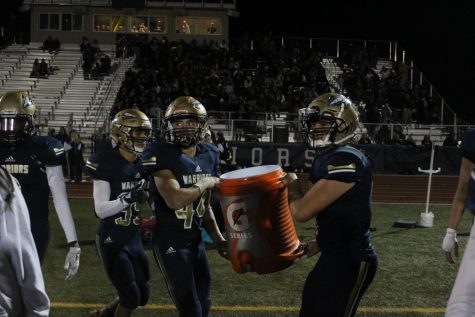 Missed the playoff game? The next game is this Saturday at 1 pm at the D20 Stadium in Colorado Springs.