Posted Up in Denver – Post Malone 2022
On October 30th, Post Malone came out to Denver's Ball Arena and performed live here for the first time in over 2 years. Post Malone was the last show to perform live in Denver before the pandemic hit and shut everything down. On his Twelve Carat Tour Roddy Ricch was opening but unfortunately couldn't make it to the show in Denver. The DJ went extra long at the concert to fill in for Roddy Ricch but Post Malone also got extra stage time and almost performed for 90 minutes. 
Post Malone of course has somewhat recently released an album called Twelve Carat Toothache so the concert featured a lot of those songs. Songs with features of Doja Cat, Roddy Ricch and The Weeknd were all performed live as well, just cutting out the featured part of the song. Post Malone has been known in the past for having very immersive concerts and this one didn't disappoint. From flickering lights, to flames, to smashing guitars and shooting off fireworks he had it all in Ball Arena. Interestingly enough Post Malone's famous hit 'Circles' was performed twice in this show, both acoustic and normally.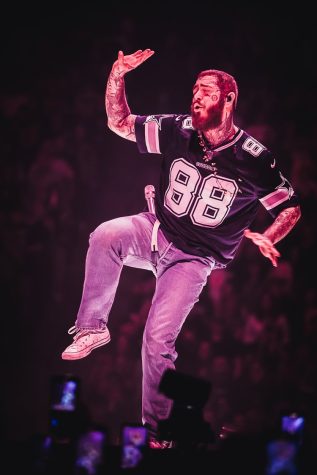 Post Malone had no interruptions to the show and it went very smoothly throughout. He did stop every 2 or 3 songs though and reiterated how thankful he was for everyone who showed up and talked through the last few years and how they were for him. He said that he had gone through some really dark times in the last couple years and that he even lost his passion for creating music. Post Malone expressed his dismay for the expectations of the music industry and how his music should sound. He went on to say that with his recent album he really made it how he wanted to, and didn't conform to what is expected from him. 
To begin the concert he started with his song 'Reputation' from Twelve Carat Toothache. He had flickering white lights flashing from the entrance of the stage and smoke coming from the center. Red lights started flashing down further on the stage and Post Malone slowly emerged from the darkness to a crowd of 20,000 people cheering as loud as they could for him. He performed in his classic Cowboys NFL jersey and later on in the show brought up the Cowboys to a stadium full of Denver fans and comically got booed for him liking the Cowboys. He performed songs from all of his albums including all of the really popular ones like 'Wow', 'Rockstar', 'Better Now', 'Sunflower', and more.
Halfway through the show, the joking Post Malone is, got settled with his guitar to perform 'Stay', 'Go Flex', and 'Circles' acoustically and said that this is the time to take a bathroom break because it's definitely the most boring part of the show. A fan favorite that Post Malone performed is 'Take What You Want' for this part of the show the fireworks went absolutely wild behind him and the crowd was loving it. At the end of the song a guitar came up from the stage and he completely smashed it to bits and pieces. He grabbed the large pieces and handed them to staff for obvious safety reasons but handed the smaller bits to people in the audience near him. He ended the show by jokingly saying he saved his only good song for last, and went on to perform 'White Iverson'. While the music faded out from 'White Iverson' Post Malone went up to the front of the stage and signed 5 or 6 people's shirts and other accessories they brought to the concert. He gave his last remarks and thank you's and everybody started walking out of the arena. 
The crowd and I absolutely loved the show and was super loud and engaged throughout. I was up at club level and still felt super immersed in the experience. The flashing lights, fireworks, guitar smashing, and talent coming from Post Malone never disappoints and it was definitely a worthwhile concert.