More Than Just Taking Out the Trash
Head custodian Brandon Dominic had an incredible life before coming to Frederick
Brandon Dominic, our custodian has been with Frederick high school off and on for the past two years. This year, Brandon has taken over our old custodian Andrew's position. He said, "I am a continual learner and like helping teachers set a good environment for the students." First starting out with Frederick, he was a part of the night crew, but a position opened up at Legacy elementary school for the day shift, so he took that position.
After Andrew left Brandon jumped on the job opening to work the day shift here at Frederick. He said, "I left Frederick because there was a day job at legacy, and I wanted the same hours as my wife." Before becoming a custodian at Frederick Brandon worked at Bacchus and Schanker law as a case consultant, for people who were involved in car accidents.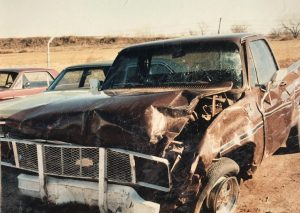 He said, "It was an office job, and I don't like sitting down that's why I left." Brandon has a bachelor's degree in agriculture ecology and science from Independence college in Kansas, where he also got the opportunity to play football as a defensive end.
Brandon's freshman year he had gotten hurt from a previous injury and was out for the season, but he enjoyed the performing arts department and liked one of the girls who were a part of it. While he was out with his injury he started to sing and got a scholarship for it. After he recovered he played one more year but got injured again and decided it was time to stop playing. He has lived in Kansas, Cleveland, New Jersey, and Chicago, along with Colorado. Brandon grew up in a little town called Kiowa Kansas on a small farm.
He has had multiple jobs working in the salt mines for Cargill salt in Chicago, Bacchus and Schanker law firm, substitute teaching in Englewood, and so much more. He said, "I got the opportunity to coach at Englewood high school for 5 years while also being a substitute teacher there." Outside of helping out Frederick high school, with setting up for events, helping teachers through the day, and keeping the school safe. Brandon is a father of two girls,
and a loving husband to his wife, of 31 years. They met in high school, she was a freshman and he was a senior. They never dated in high school but he came back after college and met up with her again. They got married and the rest was history. He and his wife like to go camping anywhere, he said, "I mainly go with my wife, but sometimes we go with the kids." Brandon aims to be a genuine guy, and that's why he likes Frederick so much because it is genuine." He also said he enjoys Frederick because "it has the small town feel, and my graduating senior class was 25 students." Brandon said he enjoys working at Frederick because he doesn't know what the day is going to bring, like a surprise interview from a student, trying to catch a bat in the hallway, moving furniture from one room to the other, and so much more. Here at Frederick we are so thankful to have Brandon and all that he does for us. Mrs. Julie Wallace said "I like Brandon, I've talked to him a couple of times and he seems like a really nice guy. I also like that he does his job, and he does his job well."