Leaving Traditions on the Field
The final powderpuff game ends in a last-minute score by the seniors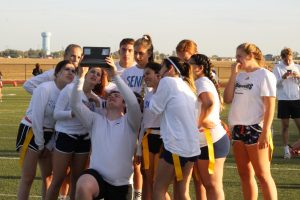 The final powder puff game took place this past homecoming week on Wednesday, September 25th, 2019. Juniors in blue and seniors in white set out on the field after a week of practice for the annual tradition. This year the stands were packed to see the final flag football game at Frederick. Both classes joined on the field to discuss the rules of the game, which included no contact, no fighting, and no rushing after the first half. With twenty minutes on the clock, the junior's offense started off the game. With a lot of back and forth, the score was 0-0 by halftime.
With the start of a new half, the teams switched sides with the hopes of scoring a run soon. A timeout was called by the juniors at five minutes left which allowed the seniors to discuss how they needed to score. With only 38 seconds left in the game, senior Aria Bragalone takes the ball from Amber Esquivel and starts to run up the field. The juniors couldn't take her flag in time as she reaches the end zone. The whole senior team, as well as the coaches, greet her with excitement. There was still time to score for the juniors as they set up on the 40-yard line. For the next 30 seconds, the seniors held the juniors to zero runs, and the game was over. We interviewed seniors, Carson Balman and Aria Bragalone, about the importance of the game and the emotions they were feeling with going out with a win.
SCOUT: How did you guys prepare for the powderpuff game?
CARSON: We practiced three times before the game, and our coaches drew up plays for us on their iPads.
ARIA: During the game, they would show us the drawing of the plays and walk us through what each of us was going to do.
SCOUT: Was it sad knowing that this was the last ever powderpuff game at Frederick?
ARIA: I think it's going to set in next year when they won't be doing it on homecoming week like the previous years.
CARSON: It's going to be upsetting to the Freshman and Sophomores because they won't get to play in it at all, but at least the Juniors got to play in it once.
SCOUT: How did it feel when Aria scored a touchdown with only a couple minutes left on the clock; knowing the seniors had won for the last time?
CARSON: It was really exciting because it happened so fast, it was real and wasn't rigged! I was so happy for her and us as seniors going out with a win for the last time.
SCOUT: How did it feel scoring for your team?
ARIA: It felt like such a rush when I was running with the football up the field. When I scored, I was greeted with all sorts of excitement from my team, and it felt great!