Here's Why Lunches May No Longer Be Free
FHS might get rid of the free lunches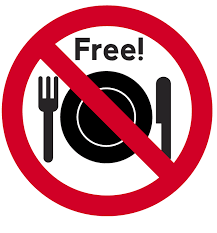 Ever since the pandemic, free breakfast and lunches have been given out to students. However, you've probably noticed that kids throw plates of food away on a regular basis. It's prompted the SVVSD district leaders to reconsider if Frederick's lunches and breakfasts are even worth the preparation time and the money spent if it's just being wasted. Here's what the students of FHS have to say. After all, the free food is incredibly convenient.
Freshman Haley Nelson, is conflicted on the matter. When asked if the free food should be taken away, she said, "yes and no, because kids are so wasteful and waste a lot of things that some people just don't have. I know some kids who just use the opportunity to eat in the morning to take a juice box." However, Haley also had said that it's great for the kids who actually take advantage of the free food. Some kids genuinely can't afford three meals a day, especially during the hard times of this pandemic. In cases like this, free food is much needed. In Haley's case, she enjoys the breakfast because she grabs only the food she wants to eat and nothing more. She also mentions that she noticed "kids grabbing handfuls of trays just to throw them away."
Brooke Nickels, another Freshman, said that "free lunches are very convenient despite the waste. However, some people can be disrespectful to the advantages that they have." She had also told me that sometimes she gets there early and there is no time to grab some food on the way out, and it's not very convenient to walk through the halls in the morning with the huge crowd trying to reach the food.
Fredrick High School does not have a complete idea if there will be free lunches for next year. Mr. Jackson, assistant principal of FHS, says, "those decisions are district decisions. We haven't heard what the plan is for how much lunches are going to cost. Once we understand what the finances are, then we will come to a decision." Jackson states the staff will get a clearer picture of what will happen closer to the summer. Students will soon find if the free lunches will return.