No One Will Miss Her Will Throw You For a Loop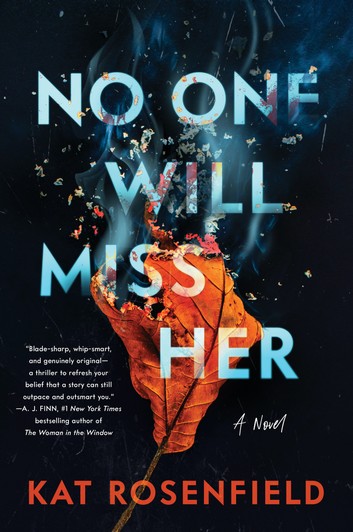 The newly released book No One Will Miss Her by Kat Rosenfeild is thrilling with many plot twists and mysteries that are just waiting to be solved. So much suspense building up throughout the whole book. Straight from the beginning the book is instantly gripping and this story is astonishing and unique. As said on the front cover of the book, "Blade-sharp, whip-smart, and genuinely original — a thriller to refresh your faith in the genre, your belief that a story can still outpace and outsmart you."—AJ Finn, #1 New York Times bestselling author of The Woman in The Window." No One Will Miss Her is written so precisely it's easy to just get sunken into the plot and not be able to climb back out.
One morning in Copper Falls, Main there was a huge fire in a junkyard nearby a lake house that is being rented out by a woman named Lizzie Oullette. Soon close to the lake house she is found brutally murdered with her husband Dwayne no where to be found. Once the community finds it out it sends them into a tailspin. The community has so many questions and so many whys and hows they are just itching to ask. But Lizzie didn't have much of a liking in the small town so many of them just care about how it happend. She was sort of an outsider and she was also struggling with her money. Her struggle was what initially led her to rent out the lake house. Near the lake house she met a woman named Adrienne and her husband. After Lizzie and Adrienne find out they have some similarities and start spending a good amount of time together. Did the connection between the two make Adrienne an automatic suspect?
The chapters that are told in Lizzies point of view really help you start to learn a lot about her and it makes you feel very connected to her character. You soon learn about of her past like how she was bullied, poor, and didn't grow up with a mother in her life. Lizzie was also pretty much set up into a marriage with her husband Dwayne which is a big reason to why the town doesn't like her much because they think shes tying him down. Their marriage has been a rocky road and they have had some struggles throughout the marriage. But you will soon also learn that Adrienne and her husband are the complete opposite. They are wealthy and privileged. All eyes then end up on Adrienne and her husband as they are getting all the blame for Lizzies murder. From there on out the book just automatically escalates.
Straight from the start of the book you just know what's coming is going to be something huge. What makes this book even more interesting is how Lizzie is the narrator from beyond the grave. There's just so much to unpack from this book it sends you for a whirlwind. No One Will Miss Her is just overall well written and has a major twist that is just simply jaw- dropping. Kat Rosenfield keeps the book moving at a good pace making what comes next after every page crazy and different.
I loved this book. It was so interesting and thrilling. Mystery thriller books are always so fun to read especially ones like this. No One Will Miss Her was a fun book to read with all the twists and turns. The characters' point of views were all simply what made this book even better. And getting to know the couples and each of their backgrounds instantly made you feel more connected to the story. Especially with Lizzie knowing her past and her background made you feel all her feelings and words. If you're into books with character depth and love a good thrill this book is perfect for you to crack into.