Frederick High School Diving Into Something New
This semester Frederick High School has a new addition to the athletics curriculum! We dipped our toes into the water, ended up diving in, and came out with a Frederick swim team! 
Frederick high school has shown through athletics that when you're a part of a team you're a part of a family. Riley Kilmartin a member of the swim team says, "So far, the thing I like most about the Frederick swim team is how much my teammates have individually been excelling at our meets and I like how we support each other through everything we do. I feel like everyone on the team is there for each other." Being a part of a team and supporting teammates is so important in athletics. Our swim team has shown great loyalty to their school and team motivating each other and themselves by embracing something new and fun. Swimmer Kylie Dionysius says that "I get motivated by getting a good night's sleep, eating well, and listening to my playlist that gets me in the mood to swim and compete."
Some sports are coming back during the spring semester at Frederick. After having a rough start to sports during last semester because of the COVID-19 pandemic. Frederick is following CHSAA guidelines to keep our swimmers safe and has implicated safety guidelines of their own to ensure the safety of the swimmers and the Frederick family. Athletics Director Ty Gordon says, "We have several different protocols that are set and mandated by CDPHE, CHSAA, and Boulder County Health. All swimmers must stay masked until they enter the pool. So, everyone on deck at the pool is required to have a mask on. We are only allowed 4 swimmers per lane. We have our standard protocol of asking our student-athletes the 4 COVID questions and checking their temperature prior to practice." You can safely support the swim team by watching the live streams of the meets from YouTube.
Despite the challenges of the COVID-19 pandemic, swimmer Riley Kilmartin has set personal goals to overcome her challenges for the season, "I feel like my greatest challenge in swimming this year will be dropping my personal record for the 100 free event. This race is the most challenging for me but I know that if I keep practicing it I will definitely have my best race for an upcoming meet." The swim team has great goals for the season and is ready to swim a good season. "It's a really good accomplishment to know that you or your team won a heat. You get that sense of relief knowing your hard work paid off." Kylie says.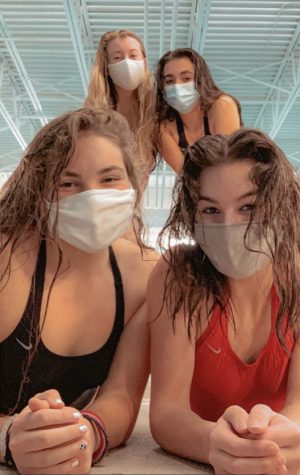 Our swim team definitely works hard to get in shape and prepare themselves for swim meets. Both swimmers from the swim team shared with the scout that they do extensive core and cardio workouts to condition themselves for swim meets. Riley Kilmartin says, "Somethings I do to condition myself for swimming is doing some land exercises like running through my neighborhood or just doing some core and leg exercises in my room. Sometimes I go to the gym and do some lifting for legs and arms." While Kylie does the same she stays in shape by, "I also swim laps here and there just to stay in shape."
Frederick students and staff wish our swim team good luck this season. We are hoping for lots of victories so that they can proceed to state. Frederick High School will be cheering for our swim team to compete the best they can and give everything they have out in the water.