Warriors Softball Team Plows Through the Season with a 4-1 Record
How the coronavirus has affected and improved the team's focus and determination this season.
Due to a raging COVID-19, most Fall sports in our district have been pushed back to Spring. But, with all of our big sports like football and volleyball missing, the girls softball team has really been something to keep up with. The team, has been nearly undefeated with a 11-5 record and are playing with great determination for an even better season. That's right, no virus can stop our lady warriors from coming out on top, but nevertheless it is still a challenge. 
Since the beginning of the pre-season, the Warriors have been working hard for good results. Senior Peyton Gale says "the season is going great! Since my freshman year this is the best we've done." Gale described practices as different, but the same. Everyday there are new drills and workouts to complete, just like any normal practice, but now they are with masks and socially distanced. This doesn't seem to bother Gale, though, because this is one of their most exciting seasons with more viewers than ever before. "We have to wear masks, but other than that games are fun when all of us are having fun."
Balancing remote learning and being an athlete? No problem for our softball players. Gale describes it by saying, "honestly balancing school and the sport now is actually easier." Student athletes like Gale have opened up about this saying online school is easier because you have a lot more time to get assignments turned it, and more time to focus on things besides schoolwork and a sport. We are no longer sitting in a classroom all day, which opens up some time and energy for our student-athletes to put their all into both schoolwork and their sport. "I find it easier to get that work done now since we're not in the classroom physically." Gale states. 
Now, this remote learning and socially distanced practice doesn't come without a challenge. Gale says the biggest challenge has been following all of the rules that CHSAA has put in place for the safety of our athletes. Imagine your teammate makes an amazing play, and you can't even give them a high five. That is sports in 2020. But, none of the athletes question the importance of wearing a mask and social distancing, so with best efforts, the season has been stomping on like usual. "I'm super proud of this team," Gale says, "we are all in it to win it and we don't give up."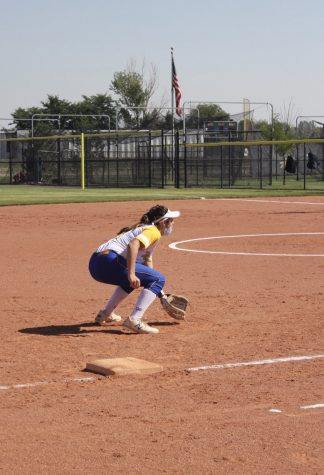 There are high hopes for the team as they continue in their journey into the state competition. "I hope for the rest of the season that we keep growing and improving. Pushing through and making it to state." Guess what, they made it. All of this time and hard work has turned into something the warriors will carry with them forever, especially the seniors. In a year full of disappointments,  the girls are bringing back the hope of a better year. Hard work and high hopes will carry you anywhere. "I am so exited to make it back to state, if we are loose i have a good feeling. This whole year has been the best, all the girls are there for each other and we all love the game. I'll always remember all of the memories we made and laughs we had." Senior Payton Gale said. The girls have been preparing for this all season and their hard work has finally paid off.