The Frederick Golden Eagles Varsity football team is scheduled to play the Scottsbluff Bearcats for the FHS homecoming game. Not Mead. Not Erie. Not even Niwot. Instead of playing up a local rivalry, our homecoming game is against a team located 176 miles away in another state.
Why?
Not only is Scottsbluff not in our division, being a Nebraska school, they are not even in CHSAA, the Colorado High School Activities Association that governs high school sports in our state. Scores of parents and students criticized the move to have Frederick play Scottsbluff last year when players and fans had to make the three-hour drive for the away game at Scottsbluff High. While Frederick hosts the Scottsbluff game this year, the distance to travel criticism was replaced with another criticism: that the non-league game against an out-of-state competitor was slated for Homecoming, a game that most fans agree should be more local and more meaningful.
Playing Out of Bounds
Playing football against a team from another state isn't unusual–according to MaxPreps, 26 other Colorado schools (out of the 200 active teams listed by CHSAA) play a team from another state this season. Playing across state lines primarily happens at schools within 75 miles of the state border:
Meeker, Norwood, Plateau Valley, Mancos, Dove Creek, and Ignacio High Schools play Utah teams
Pagosa Springs, Montezuma-Cortez, Bayfield, Dove Creek, Mancos, and Durango High Schools play New Mexico teams
Moffat County and Yuma High Schools play in Wyoming
Wray, Eads, Holyoke, Springfield, Burlington, and Cheyenne Wells High Schools play Kansas teams
Sedgewick County, Fleming, and Holyoke High Schools play against Nebraska
Springfield High School plays in Oklahoma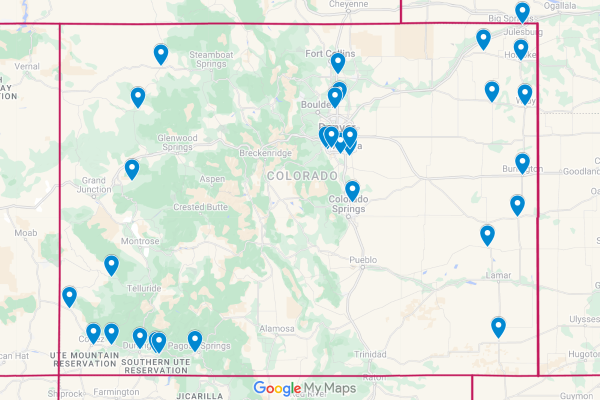 It's also not uncommon for private parochial schools with large athletic budgets to play other out-of-state religious schools: this year, Lutheran High plays in Missouri, Valor Christian plays in Georgia, Regis Jesuit hosts a Catholic school from Washington state, and Resurrection Christian plays against Wyoming and South Carolina teams.
There are six other schools that play teams outside the state this season that are not close to the border or private schools. One is Frederick vs. Scottsbluff. Pine Creek High School in Colorado Springs hosted Las Vegas High School for their first game of the season. Littleton has three schools with out-of-state match-ups: Chatfield hosted the Taylorville Warriors from Utah, and both Dakota Ridge and Columbine played away games in Orlando, Florida this weekend.
The case of cross-state play that hits closest to home is our neighbors/rivals at Erie High School, who spent their first game of the season in Ocala, Florida playing the Vanguard Knights.
The Wrong Team
It may be difficult to argue that Frederick shouldn't play any out-of-state team after learning that 13% of all CHSAA teams play at least one team from a school outside of Colorado, but that still doesn't mean that Scottsbluff is the right team we should play.
Scottsbluff, Nebraska is a three-hour, 176-mile drive away from Frederick High. This can be considered very far away, as all of Frederick Football's other scheduled games take place within a 75-mile radius (our most distant opponent this year is Fort Morgan at 68 miles away) — Scottsbluff is more than 100 miles farther away than our second-farthest opponent. The distance to Scottsbluff is even anomalous when looking at past seasons: using MaxPreps season data (which goes back to the Fall 2004 season), Scottsbluff is the furthest Frederick High has had to travel for a regular season football game.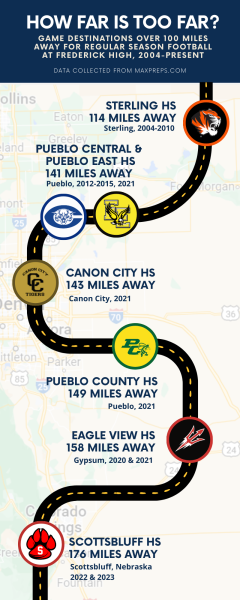 In all fairness, Frederick isn't the school in St. Vrain that travels the farthest: setting aside Erie's recent trip to Florida, Skyline High plays both  Grand Junction Central and Fruita-Monument (280 and 288 miles away, respectively), and Mead High had to travel 370 miles to play Durango High last year (they host them at home this year).
But why play distant teams at all when there are 200 teams to choose from all across the state? Traveling far may be difficult for fans, but it is a great way for student-athletes to bond and mature outside of practice. If our high school programs are supposed to set students up for what college and professional levels are like, traveling for sports is an important experience since NCAA and NFL teams are constantly traveling out-of-state and it takes experience for a player to know how to adjust their gameplay to jet lag and sleeping in a hotel bed.
This doesn't mean that the Scottsbluff Bearcats are the right team to play. Typically, teams of about equal size face off against each other — size of the school, not the size of the team. The logic follows that the higher a school's student enrollment, the more students there are to try out for a team, meaning the more talent a school can draw from and the stronger the overall team.
According to the Nebraska Schools Activity Association, they are currently number four ranked in their Class B division. Frederick Football is 3A. While these might not seem to match up, both school populations are pretty similar: Frederick's 3A class is based on an overall population of 1,076, while Scottsbluff is based on a population of around 800 — a close to even match.
The Wrong Time 
Even if it's reasonable for Frederick to square up against Scottsbluff once a year, there has still been criticism over the fact that Frederick is hosting the Bearcats for Homecoming and the majority opinion is that Frederick will lose. Last year when the Golden Eagles played Scottsbluff, we got beat 43-20 with all of the starting seniors on the field. With those seniors gone to college, this year only has seven seniors to face against Scottsbluff. In such a rebuilding year, why would our athletic director set us up for a losing game for our homecoming game?
Truthfully, this decision isn't made by Frederick athletic director Ty Gordon. While traditionally Homecoming is held at the first home game after the farthest away game, modern Homecoming scheduling is done at the district level over the summer. It's because of this that every school's Homecoming is in September this year, with Mead, Lyons, and Silver Creek holding Homecomings on the same day as Frederick. They do this because going by the traditional system would make it more difficult to schedule games, as there isn't always a home game right after the farthest away game — this year, our farthest away opponent is Fort Morgan on September 22, and we don't have another home game until we play Mead on October 27, which would make for a very late Homecoming.
There are some students who think the late Homecoming would be worth it. Senior football player Caleb Pickett said he "would rather play the Mead Mavericks and get the whole town excited for a rivalry game with all the prep rallies and how close the Mavericks are. It would be a packed stand on both sides. I would personally love a hard-fought game against a rival than a blowout game from a faraway team."
While it's impossible to guarantee a win for Homecoming every year, it is reasonable to pick a close-by opponent that will be a bigger draw for the crowd, since crosstown fans can fill up more stands and add more energy to the game. Instead of playing Scottsbluff, we could have scheduled a game against Erie to bring the Miner's Cup. Erie may be a non-league team classified as 4A, but we played Monarch High — a non-league team classified as 4A — the week before Homecoming. A better option could also have been to have Homecoming on September 15, when we host Silver Creek, another non-league 4A team that is close enough to feel the same electricity of a rivalry.
Still, it seems that most of our football team is ready to play Friday night, regardless of the opponent or the outcome. Senior Kemarly Davy, who will be taking the field again after a two-game suspension, said, "I don't care about anything but playing football with my fellow teammates and Mac crew members. I don't care who we play — I just want to be there to play hard and have fun for his last homecoming game."
While Homecoming may not go perfectly and we may not be against an ideal opponent, at least our athletes have the right attitude. And despite whatever the outcome will be, our game against Scottsbluff will certainly challenge our players to be their best and to earn the Homecoming festivities on Saturday by showing Scottsbluff what a Colorado team can do.