Harry Styles Is On Cloud Nine with 'Fine Line' Release
The artist pours his emotions into this second album to end the year on a high note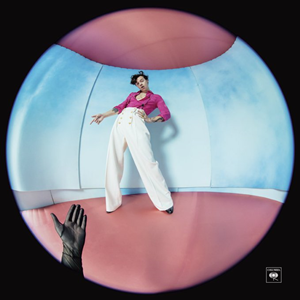 Harry Styles has made a comeback after a two year hiatus, delivering his passionate fans an album with twelve tracks for just in time for the holiday season. He dropped this album on December 13, 2019 after releasing three singles beforehand to the public, all receiving great reviews. Styles has officially gone his own way after his enormous former band, 'One Direction', split up to the dismay of their millions of fans. The artist has definitely changed his image since then and is just now unapologetically himself. The album is very raw and Harry Styles has nothing to hold back.
The body of work goes through various stages of emotions in the nearly forty-seven minute length span. My personal favorite songs are the first four introductory songs. He kicks it off with the song 'Golden', the very best off the album in my opinion. The melody and stimulating beat never fails to put me in a happy, cheerful mood. In the song, he describes how infatuated he is with a woman that he is so clearly in love with, how she is so 'golden'. For some reason, I just feel warm inside when listening to this one, like a ray of sunshine is beaming out of my heart.
We keep the pleasant, charmed feelings throughout the next three songs. My second favorite being the second track, 'Watermelon Sugar', which reflects the enjoyable highs everyone has at some points throughout their life. This one never fails to being my mood up because of the catchy lyrics and the upbeat tone that it has. Then, 'Adore You' also has intoxicating lyrics that are so wonderfully romantic and happy that there is no way you cannot love this song. Styles wrote about a woman who had his heart in the most rhythmic and beautiful way.
Although, the tone of the album switches up quickly after the first few tracks. With songs like 'Cherry', 'Falling', and 'To Be So Lonely' he reveals his heartbreak within his lyrics. These three tracks together will definitely hit anyone who listens that has gotten a broken heart. They're all melancholy but have been beautifully crafted, so you really feel what Styles is singing about. Many fans around the world, even myself, have revealed this small section of the album has brought tears in their eyes.
Although, after a bit of a depressing mood, Harry Styles experimented with many different sounds of this album. 'Canyon Moon' and 'Sunflower Vol. 6' do not have that typical Harry sound that fans are used to hearing. Yet, the harmonies and tones on these are still superbly done to give the fans something they haven't heard before, some variety. All of these songs together, including the order that they are in, couldn't be arranged in a better way with the way he sings about the stages of the different feelings that come in relationships.
Overall, Harry Styles really knocked it out of the park with his highly anticipated sophomore album. He experimented with new sounds that worked to his advantage, as well as just giving the listeners several songs that they could listen to while in any type of mood. He delivers some of his amazing vocals, shocking lyrics, and infectious melodies on the album 'Fine Line'. I definitely recommend this album to anyone –especially the One Direction die hard fans–listen and give it a chance because you may find one of your new favorite songs on the track.