New Season, New Expectations
Fredericks' boys and girls basketball want to surprise people this season
With both boys and girls basketball being 1-0, they hosted their second home game of the season last Friday. After both Varsity teams found success last week playing against Niwot, Ali Davis had this to say, "We weren't well last year, so I don't think a lot of people were expecting us to win. I think this year we are going to surprise people because we play as a team instead of individually." Both varsity teams won against the Northridge Grizzlies for an overall 2-0 record.
At 5:30, girls varsity stepped on the court in white to face the Grizzlies in red. After the first quarter, the Warriors lead by 2 and extended that lead in the second. At halftime, the score was 30-19 but the girls weren't done putting the heat on Northridge. After the half, Frederick scored another 10 points and still held the lead heading into the final quarter. In the fourth, the Warriors scored 15 points making the final score 55-43. Freshman Megan Majeres led the team with 18 total points followed by Senior Lauren Leitner with 14 points.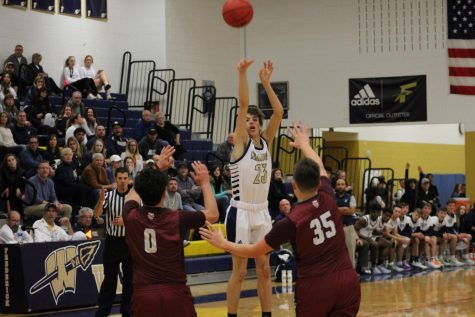 Just after 7 pm, the boys took the court to begin warm-ups. The warriors started with a strong lead and after the first, the score was 32-7. During the second, the boys put up another 32 points before going into halftime. To start the second half, the Warriors had a 44 point lead but kept the pressure till the end of the game. By the third, the score was 87-34 and the final score was 96-42. Izayah Elize lead the team with 22 points, followed by Joe Cartelli with 16 points. The player of the game was junior Izayah Elize. After the game, senior Logan Zimmerman told us, "The game was so much fun, the whole team performed their best, and it was just awesome to be a part of and experience."
Missed the game? Girls play on December 20th against Monarch at home and on January 4th both teams host Holy Family.