We've Got Spirit… Oh Wait, We Don't
Testing and administrative apathy robbed us of our 2023 Prom spirit week
For your senior year, imagine getting told for your senior prom that there is going to be no more spirit week. Spirit week is part of the entire prom experience. At Frederick High School for 2023 prom, there was no spirit week or pep rally. There's no fun the week of prom when that gets taken away. 
What is prom? 
Prom is a formal dance and is usually the last dance of a senior's high school career. It's one last chance to get together as a class, have fun, and celebrate their accomplishments. In most schools, the junior prom and senior prom are held together, so only juniors and seniors are allowed h however, you are allowed to bring a date and that can be a freshman, sophomore, someone from another school, pretty much anyone in high school or under the age of 19. Culturally, prom is a big deal to a lot of people. It's a rite of passage to adulthood from adolescence, and it's a major social event for teens. It's also a chance to show off your fashion sense and dance moves.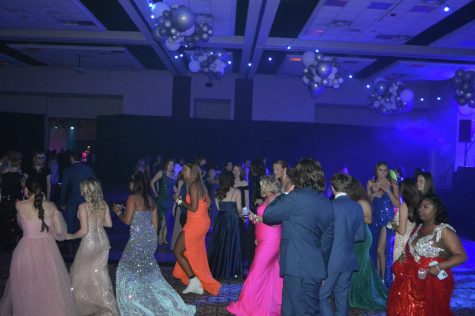 Fun Fact
Prom is actually a shortened version of the word "promenade," which means to walk around in a formal and showy way. Back in the 1800s, it was an event for couples to walk together at a dance and show off their good manners and fine fashions. By the 1900s, it became the ultimate high school dance, and eventually, the walking or promenade part fell out of favor.
What is prom spirit week?
Spirit week is where there's a different theme everyday that you dress up to, for example, white out, adam sandler day, beach day, hawaiian day, country day etc. The purpose of spirit week is to get the kids enthused and supportive of the school and get into school spirit. The week also serves to get students involved who can't or won't go to prom. The students aren't the only ones dressed up for Spirit Week either, teachers and staff dress up too. Students decorate the walls, halls and classrooms with banners, posters and other adornments. Spirit week posters and banners can reflect the theme of the week, the pride in the school, or show any other creative support of the school. 
Prom isn't just about dancing, it's about shopping for your dress or tux, the week before spirit week, on friday the pep rally in the gym with all of your other classmates and teachers, it's about taking pictures with your date and friends, dinner before prom. 
No prom spirit week at Frederick High School was such a let down to the juniors for their first prom and to the seniors with their LAST high school dance. Frederick High School staff said that since there was SAT testing on Wednesday and Thursday the week of prom, and since last year's SAT scores weren't the best in the district, they were taking away spirit week and the pep rally. Most juniors and seniors were very upset about this.