Frederick Admin Passes Away
Doug Jackson's death has moved staff, students, and the community
On January 13, Frederick High Assistant Principal Doug Jackson lost his battle with cancer at the age of 54. As the longest-serving administrator at Frederick High, Mr. Jackson inspired countless young minds over the years, and his death has left our entire community in mourning.
Dr. Russell Fox, the principal at Frederick said "What I will always be grateful for was the way that Mr. Jackson committed so much energy, time, and talent to FHS. He loved the students and the staff, and he deeply cared about the success of our school."
Doug Jackson served as a teacher and as Frederick's Assitant Principal for 18 years, taking on the tasks of making sure registration, scheduling, and Infinite Campus were working for teachers, counselors, and all students. He would coach teachers through proposing new academic courses and made it a point to work with each department to create more rigorous and diverse class offerings for students. To the staff at Frederick, he was a key component of Frederick's success.
Ms. Megan Lesage, an art teacher at Frederick, said, "He was one of the only people I knew who could walk into a classroom and see all of the things that weren't immediately visible. He could see all of the work teachers put in behind the scenes to get their classrooms running smoothly and to get students engaged on a deeper level. He always assumed the best in everyone, and he had a way of making everyone feel welcome, comfortable, safe, and valuable."
"Doug has been invaluable to this school and to me specifically," theatre teacher Mr. Brandon Coontold us. "He has always been supportive of the theatre program–he even played Teddy Roosevelt in our production of Newsies. He had a brain for numbers but the soul of an artist."
While always level-headed and professional, Mr. Jackson always took time to have fun. Whether it was playing his guitar at the end-of-year staff parties he would host (which he was very good at) or running the fantasy football league for the staff, Mr. Jackson reminded many at FHS that play was just as important as work.
Mr. John Crosby, a math teacher at FHS, said "Mr. Jackson was one of the founding members of the staff fantasy football league and my favorite opponent. Every year, he came up with a new and clever team name, which paid homage to whatever theme was then dominating our teachers' lives. In 2020, for instance, his team name was 'WebExcellent!,' with Bill and Ted as his team logo. I will miss the fun of seeing what he comes up with each new season."
Before becoming an administrator, Mr. Jackson taught US History, a particular passion of his. He specialized in his extensive knowledge of World War I and World War II, and was occasionally brought in by both history teachers and English teachers as a guest lecturer on these topics. While he impacted scores of students as an administrator, he also left an indelible impression when he had his own classroom.
Chris Pepper-Yowell, one of Mr. Jackson's history students, said that Mr. Jackson was "one of the top influential men in my life… He was one of my most beloved teachers and instilled in me a passion for history–and more importantly, story. His hands-on opinion-off approach taught me how to think for myself and make connections between seemingly related things. To this day, I still use the skills that he had taught me, almost on a daily basis."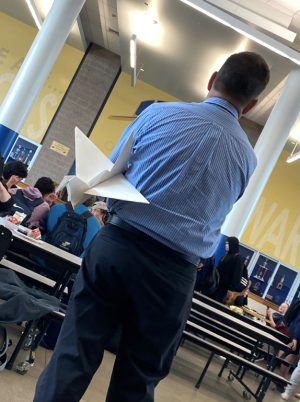 Frederick senior Samantha Hernandez perhaps summed up the feeling of many students best: "Rest easy Mr. J. I'm graduating for you and I'll be shaking your hand no matter what: you are my motivation."