More Than Just A Game
Frederick's Football team takes down the Holy Family Tigers and remains undefeated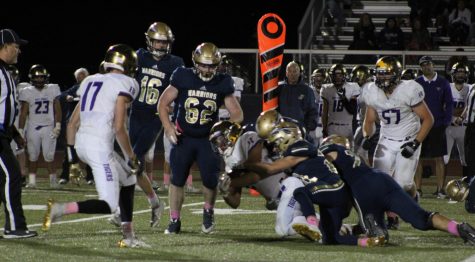 On October 17th, the Frederick Warriors hosted their second league game against the Holy Family Tigers and won, 52-21. The friendliness of the teams hasn't always been present in the last couple of years, but this game was more about raising awareness as the crowd dressed in all pink. The Warriors were honoring a mother of students, Hilary Smith, as she is battling breast cancer. The Holy Family tigers were honoring a student who passed away last year from cancer. Although the warriors played the game to keep their undefeated title, raising awareness was their biggest goal.
In the first quarter, Jake Green was the first to score a touchdown for Frederick with an 84-yard run. Later in the quarter, Brandon Hornby scored to give the Warriors a 14-7 lead. He was quick to score again in second quarter, but the tigers came back to score two touchdowns; tying the game at 21-21. At the end of the second quarter, Luke Dunker kicked a 34-yard field goal to put Frederick in the lead 24-21 as they go in for halftime. During halftime, Dylan Sindelar restates, "At halftime, we got our acts together and knew that we had to step it up if we wanted to win."
In the second half, Jake Green and Don Schleif connected on a 48-yard scoring touchdown. In the middle of the third quarter, Dylan Sindelar made a 15-yard touchdown including another touchdown to extend the lead at 45-21, which endeed the quarter. In the final quarter, Dylan Sindelar scored the last touchdown for the warriors; Holy Family didn't score at all in the second half, which made the final score 52-21. Jake Green, Dylan Sindelar and Brayden Weingardt were all named Frederick Football players of the game. At the end of the game, Brayden Weingardt told the Scout, "I'm proud of my team and I for pulling together and securing this win. This win wasn't only for us, but those who are dealing or have had to deal with cancer."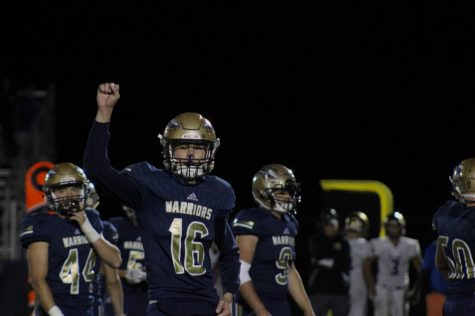 Missed the Pink Out game? Catch the Warriors for their final home game against Denver North, which they will be honoring all the seniors on Varsity.