Ohana Means Family
Netflix's newest film Finding 'Ohana is a perfect and extremely entertaining movie for family movie night.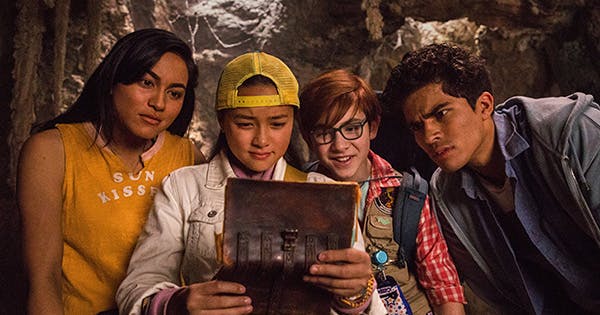 On January 29th, a new reason for the meaning of Ohana hit Netflix's platform, in their latest film Finding 'Ohana. With a total run time of 2 hours and three minutes, this film is a fun-filled, action-packed, family-friendly movie. Starring Kea Peahu (as Pili), Lindsay Watson (as Hana), Alex Aiono (as Ioane), and many other amazing actors/actresses Finding 'Ohana keeps viewers on the edge of their seat as they watch a giant adventure begin all because of one unexpected family trip to Hawaii. 
Finding 'Ohana is a movie about two Brooklyn raised siblings (Pili and Ioane) who travel to rural Oahu with their mom Leilani to help out their grandfather who had a heart attack and is struggling to keep his life together. Little do these siblings know that this summer trip to Oahu won't only bring up old memories and more problems but will also bring a fun adventure in search of lost treasure with new friends and a reconnection to their Hawaiian Heritage. 
The film opened up with a fast-paced, upbeat song as the camera scanned over New York City's edges slowly bringing viewers to watch a group of kids race down the city's sidewalks while competing against each other in a competition to see who would win a trip to geocaching camp. The film then transfers over from the team being crowned champions to Pili, Ioane, arriving with their mom at their grandfather's house in rural Oahu. From there the film continues to develop in a profound and intriguing sense that it keeps viewers in awe and contentment. 
To make things even better one of the best parts of this movie is the message being told throughout it. While watching the movie, I noticed that the word "Ohana" which means family in Hawaiian continued to appear. It then dawned on me that the message behind the film was to help teach kids that there is a very powerful meaning and importance that comes alongside family.
Alongside that, the film shows viewers that even if you get into a disagreement or fight with your family. When that family member is in need you help them despite your difference of opinion or differences in general because in the end family comes first. It teaches a very important and powerful lesson and couldn't have been shown any more perfectly than it was in this film. 
I also loved the fact that the producers included culture in the film. Most movies show culture all the time but Finding 'Ohana was really able to grasp the Hawaiian culture and show it throughout the film. Whether it was using the native language (Hawaiian) for certain parts, showing the beauty and nature of the majestic island, or even bringing in the beliefs and rituals that occur within the culture.
The film brought the whole culture together to show viewers what living in Hawaii looked like and just to bring new light and perspective that may not always be seen come to light.
To top it all off the film's use of camera angles, lighting, colors, and the overall storyline kept me and other viewers intrigued as well as super curious throughout the whole movie. The low-angle shots were some of my favorite shots to look at as they gave me a thrilling chill and kept me on the edge of my seat. The lighting consisted of a good amount of darkness that would always tell you that the scene was going to be super intense while lighter ones would make you feel more comfortable about what was going on but still keep you on edge slightly.
The movie also consistently used the same color (blue) throughout the film. It used it as a bioluminescent color in a pool of water, it used it in a fire that was lit, as well as the sibling's grandfather's house. It was a color that you saw repeatedly throughout the movie that helped give off a significant feeling as well as remind you of the ocean and water in general. 
Finding 'Ohana was released on January 29, 2021, and is a movie that I highly recommend. The film is a family-friendly film that gave me a lot of good laughs, moments of thought, and just made me fall in love with Hawaii and its culture. If you're looking for a fun-filled, funny, and adventurous movie that may make you want to pick up a new language then, Finding 'Ohana is the perfect film for you or family movie night.