October 5th: Introducing the Hybrid Model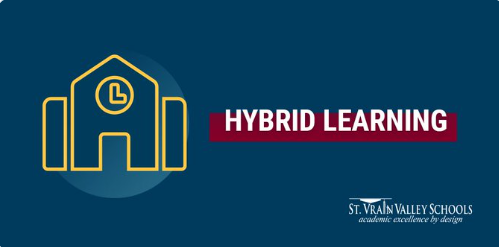 Grab your syllabi and start a shopping list– St. Vrain is going back to in-person learning.
Superintendent Don Haddad and the Board of Education announced the change of learning plans on September 21, 2020 at a town hall meeting. Dr. Haddad explained that research showed that the recent COVID-19 reported positive cases have reached a plateau, so the decision was made to create a similar hybrid schedule that had been originally planned for the beginning of the school year. 
This research and data, provided by the Executive Director of the Boulder County Department of Health Jeff Zayach, was shown to the SVVSD Board of Education and Superintendent Don Haddad and using data collected from Boulder County, Weld County, and Broomfield county, it shows that as of now it is safe to go to a hybrid-type schedule.
Although things aren't fully 'normal' quite yet, steps are being taken to establish something similar to pre-COVID19, and going to a hybrid schedule is one of those many steps. Going to a hybrid schedule may be scary for those at risk to the novel coronavirus, but the schools need to keep pace with the rest of the state. It is mandatory during times that students are in-person that they wear masks and socially distance themselves from their peers to stay protected.
 According to Don Haddad, there will be more custodial staff hired to clean and sanitize heavily trafficked areas in the schools throughout the day to lower the risk of infection. There are also new ventilation systems in schools to increase air quality. Teachers, staff, and other adults all have to test for COVID-19, which helps the students out because if their teacher gets sick then they know to get a test themselves and stay home. 
For students at risk of infection, there is also going to be protective gear provided. Before school, students need their temperature taken to make sure that they don't have fevers. If a student is sick, then they will have to follow the current online model and stay at home.
Unfortunately, there can't be any large gatherings like assemblies because of social distancing, but hopefully, these normal parts of school will return soon.
According to Dr. Haddad, inside the schools, there are signs and posters on the walls reminding students to wash their hands, as well as stickers on the floors to direct the flow of traffic in the building and promote distancing.
For students not willing to go to the hybrid model, LaunchEd is still an option one could go for. Launch Ed is a fully online program that started at the same time as the rest of the schools did, and it's for students who can't/aren't willing to do any in-person learning at this time.
Hybrid learning starts on October 5th, and as previously mentioned there is an option to fully enroll into Launch Ed. The preschool schedule isn't changing because they are already limited due to state regulations. Students in kindergarten through eighth grade will be separated into two groups, Group Oneattending on Mondays and Wednesdays, Group Two attending Tuesdays and Thursdays. For those in high school, Group One attends on Mondays and Tuesdays, and Group 2 attends on Wednesdays and Thursdays. Special needs students have the option to attend any of the four days mentioned for groups one and two. Fridays are remaining fully asynchronous, similar to the online model but giving the students to also go to the school by appointment to receive more instruction in a small group.
The bell schedule for the groups is similar to last year, with lunchtimes being based on what floor a student's third-period class is on. Here is the bell schedule for in-person days:
Bell Schedule:
Daily Schedule – 1st lunch
7:45-9:20 Block 1/5
9:25-10:55 Block 2/6
10:55-11:30 1st Lunch (if block 3/7 is on the first floor)
11:35-1:05 Block 3/7
1:10-2:45 Block 4/8

Daily Schedule – 2nd lunch
7:45-9:20 Block 1/5
9:25-10:55 Block 2/6
11:00-12:30 Block 3/7
12:30-1:05 2nd Lunch (if block 3/7 is on the second floor)
1:10-2:45 Block 4/8

Friday Schedule
7:45 – 8:10 —– Office Hours
8:10 – 8:50 ——– Advisory 
8:55 – 9:30 ——– Block 1
9:35 – 10:10 —— Block 2
10:15 – 10:50 —- Block 3
10:55 – 11:30 —- Block 4
11:35 – 12:05 —- Lunch
12:10 – 12:45 —- Block 5
12:50 – 1:25 —— Block 6
1:30 – 2:05 ——– Block 7
2:10 – 2:45 ——– Block 8
On October 2, there will also be a transitional half day for students in kindergarten, sixth grade, and ninth grade, to get them acclimated to the school. 
It's going to be tough the first couple of weeks, but so long as we follow the guidelines put in by health officials, there should be little to no issues.
It's time for back to school, for real this time.