The movie Old Dads was just released to Netflix on October 20th, 2023. A lot of viewers speculated that the movie was going to be good because the director is Bill Burr. For those who don't know who Bill Burr is, he is an American stand-up comedian, actor, and podcaster. He has released multiple stand-up comedy specials, including You People Are All the Same (2012), I'm Sorry You Feel That Way (2014), Walk Your Way Out (2017), Paper Tiger (2019), and Live at Red Rocks (2022). Since the director was Bill Burr everyone had such high hopes for this movie.
In Old Dads, Jack (Burr), Connor (Bobby Cannavale), and Mike (Bokeem Woodbine) are a group of friends and business partners, living life while still missing the good old days when people didn't worry about every little detail and every word that was said. It's when they lose their throwback jersey company to a millennial named Aspen Bell (Miles Robbins), who ended up firing everyone born before 1988 and installing cameras at his employees' houses and rental cars without their consent. After getting fired, the lives of the trio go downhill, taking a toll on everything from their relationships to their fatherhood.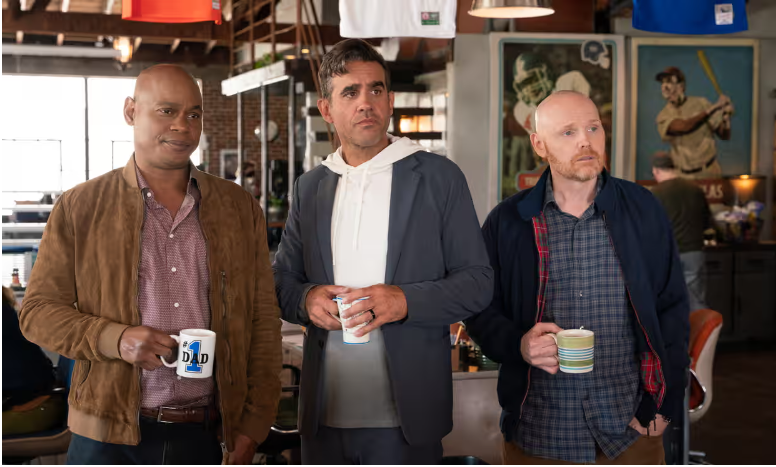 The actors themselves are funny; however, the movie itself is not as funny as you think it would've been. Some parts of the movie give me a little giggle, and other times in the movie, there is a question in my mind about what is going on. Throughout the movie, there is a lesson on how to deal with emotions. Jack has his outbursts when he gets too mad and starts cussing at people and saying not-so-nice things. Near the end of the movie, his wife snaps at him, letting him know that he needs to get his emotions under control, and until he does, he has to leave the house. Jack, not responding in the right way, went on a trip with his buddies, eventually causing him to meet the older version of himself. It was a little too late, but it made him realize how angry a person he is and that he needs help.
Overall, the acting was okay—not the best I've seen, but it wasn't terrible. The transitions into other clips were awkward because it was like it jumped to a different part of the movie as it didn't go as smoothly as it could have. It would be Jack and him and his wife, and then the next it would be Conner and his wife; it was just all over the place. On top of that, this movie is not a kid's movie at all because there is nudity and lots and lots of profanity. I would only recommend this movie if you need something to watch, but I've only watched it once, and that was enough for me.