According to Safe to Tell, in recent years, suicidal thoughts have been on the rise. Especially in the younger generation. Unfortunately, the age group with the highest suicide rates is ages 15–24, which is around high school and college age. Now, this could be for a few reasons, one being school. They could be stressed and anxious in school about their grades, friends, or whatever it may be. Another could be the stress of starting their lives and futures. It's no joke that starting life is a stressful thing, and sometimes this can really get to people.
Suicidal thoughts can also stem from their home lives. If their home life isn't the most stable it can be, that can bring those bad thoughts. Unfortunately, one of the more common reasons for these thoughts is bullying or cyberbullying. When someone is bullied, it can make them feel bad about themselves or sad to the point that they would consider hurting themselves.
"The percentage of American teens experiencing persistent feelings of sadness or hopelessness increased from 26.1% in 2009 to 36.7% in 2017 according to the CDC. The share of teens who considered attempting suicide, made a suicide plan or actually attempted suicide also grew from 2009 to 2017."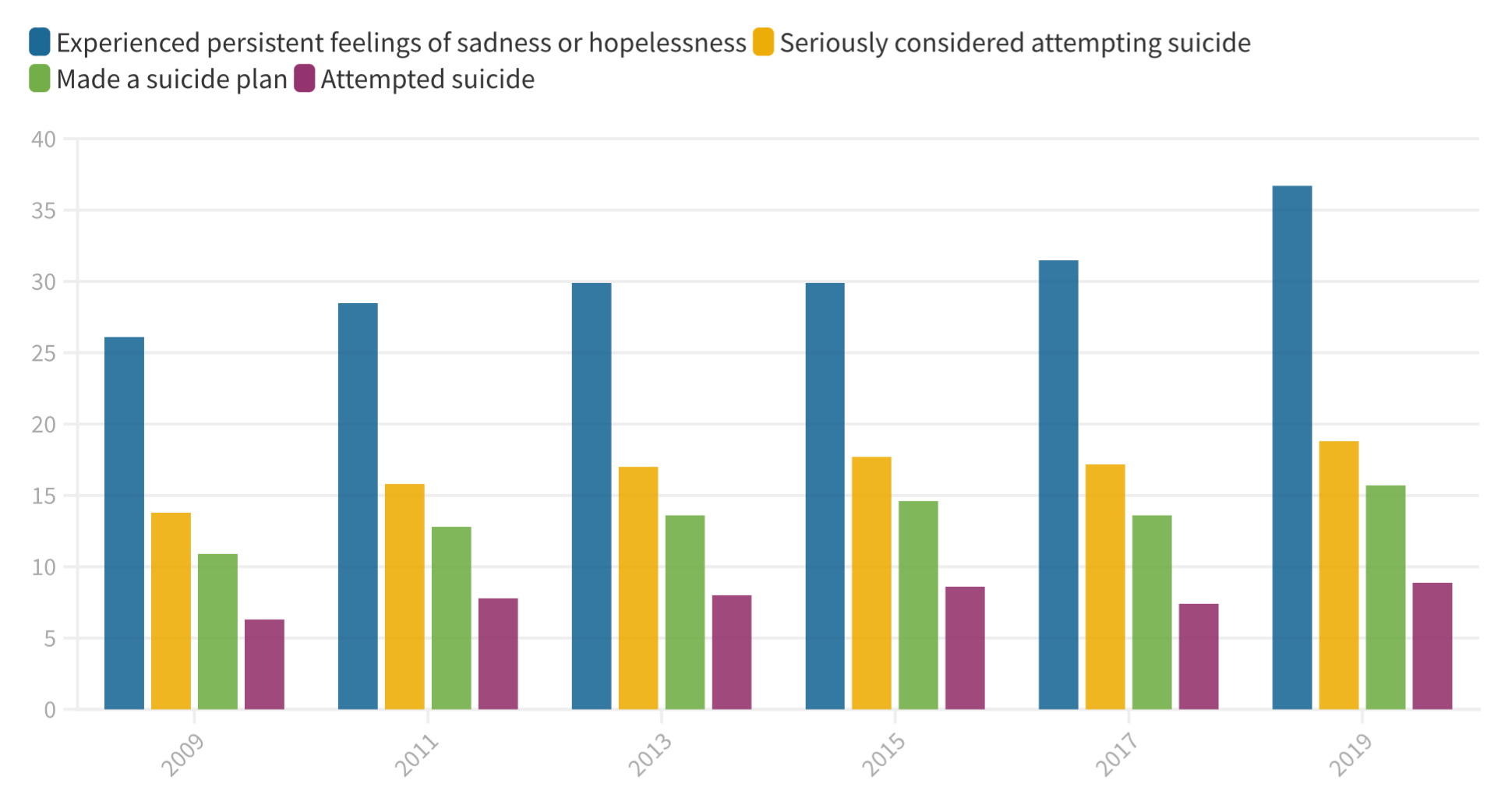 Suicide and suicidal thoughts are much more common in males than they are in females. Why is this? One of the leading causes of this is the fact that women communicate their feelings of distress significantly more than men tend to do. Another cause could be the pressure put on them. In society, it is the norm for men to provide for their families, and if they aren't doing this as intended and expected, it can really get to them. The third and final reason that suicide rates for males are higher than females is societal norms. In society, men are expected to be masculine, and if they express feelings of distress, this can be seen as not very masculine. In this case, society doesn't see it as not masculine, but the men with those thoughts see it that way.
Now you might be asking how we can stop this or change it. Well, there are multiple ways you can stop this, one of which is to get help from a trusted person. If a person isn't comfortable with that, they can call the suicide prevention hotline to help them get through it. If a person is in a school environment when having these thoughts, they can speak with their counselor, and their counselor will help them through that situation.
It's devastating to think about the fact that many people in the world, or even just America alone, struggle with suicidal thoughts. Which is why we need to do everything we can to stop these thoughts and help people with these thoughts through their situation.