After a bitter royalty dispute in 2018, Taylor Swift has been re-recording her first six studio albums — those albums and her former label Big Machine were sold to controversial music executive Scooter Braun and several private equity firms. Since Swift wanted to own the rights to her own albums, she has re-recorded and rereleased her second, third, and fourth albums  Fearless, Red, and Speak Now. This past Tuesday, she added another re-recording to that batch: 1989.
On October 27, exactly nine years after the release of the original 1989 album, 1989 Taylor's Version was released. In addition to new recordings of the original tracks, 1989 (Taylor's Version) adds new songs onto the re-recordings of her albums that were in the 'vault': "Slut", "Say Don't Go", "Now that We Don't Talk", "Suburban Legends" and "Is It Over Now?" These songs talk about past relationships she had during the time she wrote 1989 and things she experienced during that time.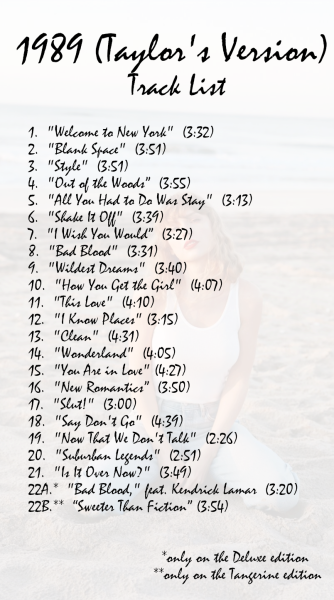 The first vault track "Slut!" Swift addresses how people viewed her dating life multiple times in the original 1989 tracks: in "Shake It Off," Swit mentions that "I go on too many dates / but I can't make them stay / at least that's what people say," and in "Blank Space," she touts having a "long list of ex-lovers / they'll tell you I'm insane." "Slut!" is written in the same vein, showing how she dealt with being shamed for her romantic promiscuity in her early years and how she is embracing the word by using it in her music. Swift states in her lyrics on this song that  "if they call me a slut / you know it might be worth it for once / and if I'm gonna be drunk / I might as well be drunk in love." 
"Say Don't Go" touches on one of Swift's famous flings, as it is rumored to be about Harry Styles (Styles and Swift dated in 2012-2013 when Taylor started writing 1989). The song captures the sadness of someone falling out of love with the singer when they want them to stay: "Why'd you have to lead me on? / Why'd you have to twist the knife? / Walk away and leave me bleeding." If this song is about Styles, this wouldn't be the first song Swift has written about him: both "Style" and "Out Of The Woods" are about Swift's former relationship. 
"Now That We Don't Talk" is also suspected to be about Harry Styles, though some fans believe it's about Conor Kennedy, whom she briefly dated back in 2012. The song shows details a messy breakup where Swift feels she can't be friends with whoever the song is about. A possible clue regarding the song's subject may be in the line "You grew your hair long" — shortly after Swift split with Styles, he grew long hair. However, like Carly Simon and "You're So Vain" decades before, Swift is tight-lipped about the specific men that inspired each song.
Taking a break from her personal experience, "Suburban Legends" features the story of two star-crossed lovers who find success beyond their town but stay together against everything. The song goes on about how a high school relationship is not meant to last. "Suburban Legends" isn't like the other songs on 1989 (Taylor's Version) but is most similar to "Mastermind" from her latest studio album Midnights — swirling synths back haunting melancholy vocals that give the song a bittersweet tone. 
The last of the new vault tracks is "Is It Over Now?" The song talks about Swift's relationship with a self-obsessed man (again, probably Styles) and how the events leading up to their breakup got messy. Swift calls the subject of the song a "lying traitor" only interested in appearence: "If she's got blue eyes / I will surmise / that you'll probably date her. [. . . ] You search in every model's bed / for something greater, baby." The lyrics have fueled rumors that Styles possibly cheated on Swift during their relationship if this song is indeed about him.
Each of the vault tracks has a harsh and wronged tone, and while a couple of 1989's original tracks match this tone (notably "Bad Blood), it's clear that Swift originally left off these vault tracks to keep the album from sounding too negative or self-indulgent, two criticisms levied at her by critics about her next album Reputation. Where the single release of "Look What You Made Me Do" and Swift's edgier Reputation album seemed to come out of nowhere for many listeners, these vault tracks show a much more progressive evolution from the "old Taylor" that Swift declared dead with her first Reputation track.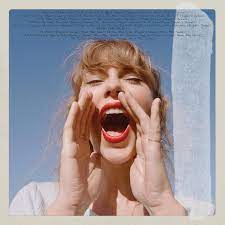 The original 1989 songs have been updated for 1989 (Taylor's Version) as well. The classic thirteen songs on the album have been given more background instrumentals. Taylor's voice has also matured over the years, giving these songs a resonance and weight the originals lacked. Taylor also released a deluxe version of 1989 (Taylor's Version) which features Kendrick Lamar on "Bad Blood. The Tangerine Edition of the new album also has a recording of "Sweeter Than Fiction," a song Taylor wrote for the film One Chance during her Big Machine era.
Swift only has two more albums to re-record now before she officially owns all of her album masters: her debut album Taylor Swift and Reputation. These are expected over the next two years, but their release is dependent upon Swift finding the time to rerecord between her world tour and filming her directorial debut film (not to mention all the Kansas City Chiefs games). It remains to be seen if these albums will also contain new vault tracks, but if they do, they will surely give more insight into the life and musical evolution of Taylor Swift.