Playing the Long Game
Frederick welcomes a record number of students committing to college athletics 
Most high school athletes decide not to play at the next level but here at Frederick, we've had a record of signees this year. This past Wednesday, seven Frederick seniors signed to continue their athletic and academic career in college. From the fall sports to the winter sports, three will be headed out of state and four will be staying in Colorado. Coaches, students, and the families of these students gathered in the library to celebrate the student's next journey. The athletic signees were Blake Duran, Lauren Leitner, Dylan Sindelar, Josh Dean, Jackson Ramer, Jake Green, and Riley Dufour.
Jake Green to the University of Nebraska at Kearney
After getting BoCoPreps offensive player of the year and being named on the first-team all-state list in 3A it was no surprise that Jake would be committing to play football in college. After getting 4 official offers Jake tells us, "I chose Kearney because they are close to home and had really nice facilities with an offense that complimented the way I like to play." Jake being the starting quarterback for Frederick the past three years will continue that position in Nebraska. He explained, "It feels good to be playing at the next level, it has always been a dream of mine and I'm glad it's coming true."
Blake Duran to Dakota State University 
From playing both offense and defense to having an unforgettable game-winning catch in playoffs, Blake knew he wanted to play at the next level. Blake told us he got two offers and chose Dakota State, "The location and the team were the two main factors. When I went on the visit it was everything I wanted, a good football program and a town full of great people. The campus size is perfect for me and I feel like I can thrive there." Blake will continue his academic and football career in South Dakota playing corner. Blake finished with, "I want to thank my family and friends for giving me so much support along the way and through this process. I also want to thank the entire FHS coaching staff for getting me into this position."
Dylan Sindelar to Missouri Western State University 
Being only one of three Frederick football players to make first-team all-state, Dylan was selected to play in the CHSCA all-state game in June before he sets off to Missouri. He had four other offers but chose MWSU to continue his athletic career playing tight end and had this to say, "when I went for my visit I felt good about the place, I could see myself being successful there… This is something I've wanted to do since I was a little kid and I'm happy it's gonna happen." Dylan would like to thank all his coaches, teammates, family, and friends.
Jackson Ramer to Adams State University 
Jackson was a key part of the Warriors offense and defense this past season and decided he wanted to take his play to the next level. He will be headed to Adams State University in Alamosa to continue his academic and athletic career. Jackson didn't have anything to say.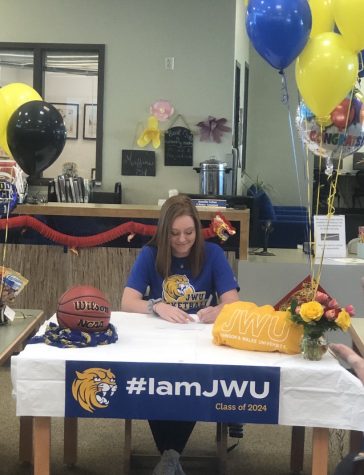 Lauren Leitner to Johnson & Wales University 
Lauren has been playing basketball for Frederick the past four years. She recently got two offers to play in college. She's heading to Johnson and Wales University in Denver which she said, "I chose Johnson and Wales because it has an amazing culinary program which was my first choice and playing basketball was always a goal. When I got the opportunity to study what I love and play want I love I knew it was the school for me." Lauren finished by thanking everyone who has believed in her and pushed her to be the person she is today.
Riley Dufour to Otero Junior College
His senior year, Riley played both football and baseball but has decided to stick with baseball in college. He will be heading to Otero Junior College in La Junta to continue his athletic and academic career. No comment from Riley.
Josh Dean to Trinidad State Junior College
Josh has been on Track and Field the past four years running 100m dashes for Frederick. He has chosen to stay in Colorado and attend Trinidad State Junior College to continue his athletic and academic career. Josh had nothing to say.