Marching band is a big part of our school's culture. The marching band pumps up the team and the rowdy crowd at sporting events, perform a halftime show at each football game, march in town parades, and play catchy cadences at pep rallies and school events. The band also attends many events and competitions outside of school.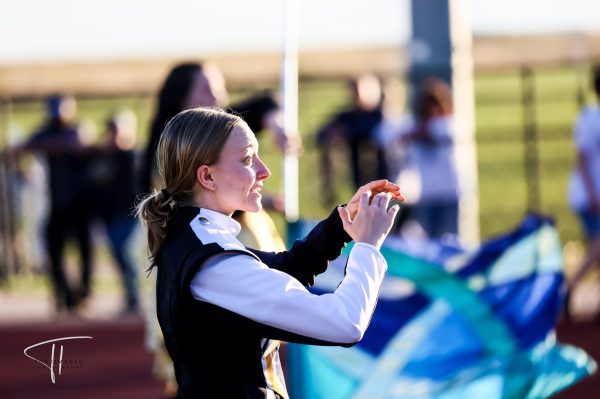 Senior Lily Haas is this year's drum major. The drum major conducts and leads the marching band. She has been in band for 7 years and joined the marching band as soon as it was available again after COVID. Being a drum major has given her new opportunities to learn and grow as a musician and also to grow closer to the other people in the band. Lily is seen as a leader of the FHS marching band and she has many who look up to her as the drum major. She told the Lantern, "It can be very difficult at times, but I believe it is an experience that has allowed me to show those gentle aspects of being a leader and friend to my peers. I believe band, marching band, or any kind of leadership role can be a rewarding experience."
This year, the marching band has performed at 5 home football game halftime performances, 4 parades, the Friendship marching contest in Eaton, and St Vrain band night at Longmont High School. There are about 80 students involved with the marching band this year, including wind musicians, percussionists, and color guard performers.
Our marching band has been working really hard this year to be the best they can be. They have had a successful season and they continue to grow and improve their craft. Mr. Thomas, the band director, told the Lantern, "I am very proud of all of the dedication that the FHS students put into this marching season."